Visiting Director of Ashrafi Publication in the Session of "Oral History of Book"
I Advertised in Newspapers for Introducing Book
Faezeh Sasanikhah
Translated by Ruhollah Golmoradi
2017-05-07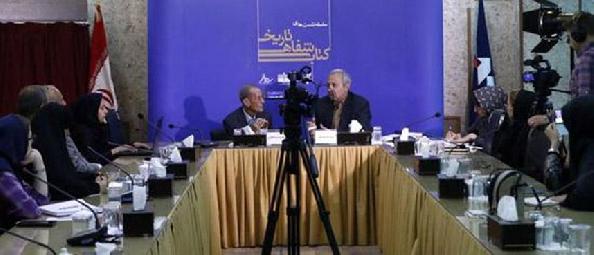 According to Iranian Oral History Website the third session of new term of sessions titled "Oral History of Book" was held with effort of Nasrollah Haddadi, author and researcher, in Khaneh Ketab Institution's Saraye Ahl-e Ghalam. The meeting hosted Abolghasem Ashrafolkottabi, one of protagonists of publication field, on Wednesday April 26, 2017.
Necessity of Next Generation in Using the Old Publisher Experience
At the beginning of the conference, Nasrollah Haddadi introduced guest of the session and said: Abolghasem Ashrafolkotabi, director of Ashrafi publication, is our guest in this week, he has come from Khansar. Good mood, good name and his support from his surname is evident for all those who know him.
Then he pointed out reason of holding session of oral history of book and added: one of reasons that I insist holding such session in presence of the large-hearted men is that issue of ago of these persons is very important. We missed three of these persons who had participated in the first series of meetings. In these meetings we try to, if the dears wish, express unspoken discussion of publication. We want to use their bitter and sweet experiences, and transmit them to future generations. We do not look now, we think about next fifty years. Paper publication is increasingly at risk. As any bookstore to be closed, a prison to be opened and quickens a kind of lawlessness.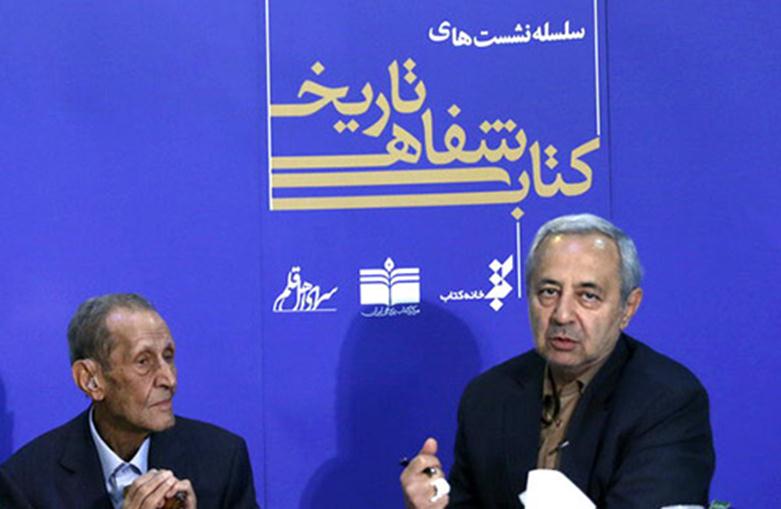 Childhood
As the meeting continued, Abolghasem Ashrafolkottabi introduced himself and said: I was born in Khansar in September 23, 1924. I had two sisters and two brothers, and I was the third child of my family. My mother's name was Khatun and my father's name was Mullah Mohammad Mehdi. My father was a clergyman, teacher and calligrapher. I studied in my father's Maktabkhaneh and learnt Amma joz[1] and Saadi's Gulistan and Bustan. Our family members were all teacher, owner of Maktab and calligrapher. My mother was teacher of Maktabkhaneh and mistress of girls. Since childhood I was interested in reading book. My father had Nasekholtavarikh in lithographic and Folio printing that I read it. However, I could use my father's classes for two years and a half.
When my father died at the age of 63, I was 8 and a half year old. As my mother and two sisters were at home I left school and according to my brother request I went to his grocery shop and became his apprentice. Khansar was a sparsely populated city; about fifteen or sixteen thousands people. We obtained our livelihood trough the shop. I was a few years with my brother and later I was apprentice of another person. I felt period of World War II. Khansar was unorganized and had all things had been couponed.
The old publisher continued: I came to Tehran in 1943 and started activity in field of book. We had many khansari relatives that had bookstore in Tehran. One of our relatives saw me and said: Ali-Akbar Elmi wants an apprentice. His bookstore was in Naser Khosrow and near to Shmsolemareh. I was accountant of Mr. Jafari and helped him. At first, I was not very professional, but because I liked my job I stayed. I knew Siyaq Account.[2] I was paid 80 Tomans per month. Then it increased gradually. After that Mr. Jafari went, my salary increased to 200 and around 300 Tomans.
We were busy from morning to night. We published First to sixth school textbooks. I worked about 8 years with Ali-Akbar Elmi. We worked a lot; we weren't insured and worked seventeen hours per day and worked from evening until midnight for other cities. I became nosebleed due to hardworking. I had tired and wanted to leave there, but Mr. Elmi didn't let me to go, he said: you must account published books! He meant that I don't go. Finally I left him and opened a grocery in Saraye Delgosha, street Cheharsad Dastgah. I wore white clothes during working. My work was regular and the people welcomed. I was there for a year and a half to two years, until one day Abdolrahim Jafari, founder and director of Amir Kabir publication, Seyed Mohammad Noormohammadi and another man came into the shop. Mr. Jafari insisted me to work with him. I rented my shop and we started our cooperation. At first we came under Shamsolemareh and started our activity there. I had several apprentices. I worked with him for eight years. There was a small room and three phones and when they were rang, we got so annoyed. After a while, Mr. Jafari became ill and I did a lot of works for him. I went before Mohammadali Farhoodmand, paper seller, to not dishonor promissory notes and to extend them.
Establishing Ashrafi Publication
Founder of Ashrafi Publication spoke about how the publication formed and added: after that I left Amir Kabir Publication I was unemployed for a while. Two of my acquaintances, each one, borrowed 3000 Tomans that I paid its repayment myself. I bought a shop at the street Mazandaran located in Imam Hossein (AS) Square which was then known as Fawzia Square by the loan. Later I took books from Ahmad Ataie and others and sold them.
He explained: I established Ashrafi Publication in 1963. At that time Publishers Union had not yet been created. I was the third licensee. The first one was Ebrahim Ramezani, founder of Ibn Sina Publication. I published "What is civility and who is literary?" by Mohammad-Ali Bamdad which asked by his son doctor Mahmood Bamdad. I also published "Culture of food properties" by Ahmad Sepehr Khorasani. One of another works was publishing a 1600 pages encyclopedia that TV performed a match for it and it was sold so much and was republished several times. After that other publishers also started to publish encyclopedias, but I did my job and did not enter the competition. I did not prioritize certain books in publishing. Each book that I liked I chose it and later I would never regretful for publishing a book but I liked religious books a lot and most of my published books were religious. I had no political orientation too. I wanted to publish a lot of books, so I worked in different fields.
Mehdi Soheili, Perviz Aasadizadeh, Ahmad Shamlou, Mehdi Azar Yazdi and Nosrat Rahmani came before me to publish their works, I read them and selected. My contract with writers, authors and translators was 10% for them. The books were copied 2000 to 3000. I chose the best cover and color and worked with numerous printing-houses like Golbam and Golshan. If I wanted to republish a book I priced it according to current market rates.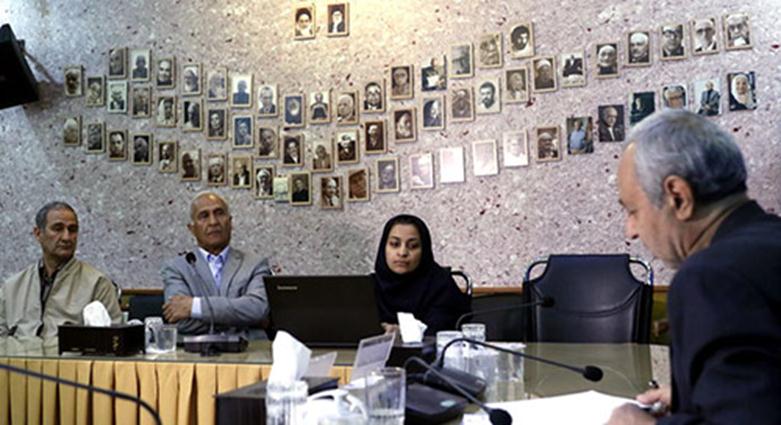 Three or four laborers worked for me. Asghar Samak worked with me. I sent my published books for different cities such as Mashhad, Torbat-e Heydarieh, Tabriz, Ahwaz and Abadan, but Abadan bookstore was closed during the war and I lost some money. Overall, I was in touch with sixty, seventy bookstores in cities like Tehran-Tabriz and Shams in Tabriz, Bustan, Sasan and Jafari in Ahwaz and sent books for them. To introduce and sell books I announced Kayhan and Etelaat newspapers and it influenced selling them. When I saw my book in other cities I became very happy.
Selling Books by the Kilo!
Abolghasem Ashrafolkottabi explained about books that weren't sold: some of the bookstores weren't sold stayed in storeroom, so I had to sell them to paperboard maker 11 Tomans for per kilo and due to I was upset.
Arrested by SAVAK
He also narrated his memory about being arrested by SAVAK because of publishing book and said: I was arrested twice by the SAVAK for books. I published these works of Gholam-Hossein Sa'edi: "Khane-ye Roshani" (House of Brightness), which was five plays, and novel of "Tup". I intended to republish five plays of "Khane-ye Roshani" that he called and wanted me to go and made a contract. The next day the Criminal Investigation Department Police called me and told: Where were you at that time? They meant the same time that I visited Sa'edi. I said I had gone to pay his book money. The second case was related to Mr. Khomeini's Resalah.[3] Publishing Resalah was free, but when it came to the event of June 5, 1963, SAVAK went into streets in order to gather Ayatollah Khomeini's Resalah. There was one Resalah in the shop. A rural-like man came and asked: "do you have Ahga's Resalah?" I Said: I have just one. He asked insistently: do you have any more? I said: No! Then they arrested me and got in the car and brought to Criminal Investigation Department Police. On the other hand, my family, unaware of every anything, had looked for me until night. They interrogated me there. I said there is nothing but Quran and prayer in the Resalah. The officer who interrogated me, said: "you're too insolent", then he firmly kicked my right foot that its scar is still evident. I was released at around 10 p.m. They also put Sadeq Hedayat's Books and "of Air and Mirrors" of Ahmad Shamlou by an excavation into a truck and took them with their selves. Someone had called and announced that Ashrafi is printing two books of Tudeh Party. A 900 pages book, after 500 page book censorship, was published in 400 pages. A man named Moharam-Ali Khan was censor. He came to check that who publish what, he visited even printing houses.
Remembering Mehdi Azar Yazdi
Manager of Ashrafi Publication remembered Mehdi Azar Yazdi and said: Azar Yazdi had come just from Yazd and at first worked with Ali-Akbar Elmi. He was editor there. His first book was "Kheir o Shar" (good and evil). Amir Kabir and Ibn Sina Publications did not print it. I printed also both "Haq o Nahaq (right and false)" and "Mard o Namard (manly and unmanly)". I published them and gave him 10%. Ferdowsi, Bamdad and Khooshe periodicals without being announced by me, advertised books of our publications.
Toward Bankruptcy
Then Abolghasem Ashrafolkottabi pointed out how Ashrafi Publication went to the brink of bankruptcy and said: Abdolrahim Jafari opened his shop at the corner in front of us. I told him I came out of town, here is neighborhood. You established several stores. I went Union and sued. At the time, every store that worked like other, it had to locate three hundred meters away. Mohammad-Ali Ardehali and Haj Mohammad Taraqi supported and defended me. They tried that Jafari to not open bookstore and only sell stationery. Jafari was very upset due to my complaint. One night he sent Kafshdoozan, one of paper dealers, and he said for him: I fail. This shop is your own! Shortly he deceived me and I accepted, but I approached on the brink of bankruptcy. I had to do usury and I pay interest. My debt was about 800000 Tomans and I had twenty million books in my cellar. Over time, debts and creditors were increased. My two sons and I worked in the shop to pay debts. However, I forgave Jafari. If I saw him again I respected him. He was a very good publisher. He was very hard worker. He worked from morning until end of night. He toiled a lot and published best books.
Future of Book Publishing in Iran
The protagonist publisher finally, referring situation of book publishing, stated: now I do not encourage anyone to open a bookstore because book was destroyed by television and Internet and no one buys book. Some publishers now print five hundred copies. Those days, book was cheap in comparison to other products, now it is the same too, but book is second priority in life. While Ministry of Culture and Islamic Guidance tries to promote reading books culture through book Donation Bin and holding different exhibitions, at the other hand much tax is taken, the cost of gas, electricity and telephone are high, business signboard revenue is taken and generally costs are high and sale is low.
It should be noted that the first session of the new term meetings of "Oral History of Book" had been held in presence of Haj Beitollah Radkhah (Moshamachi), director of Tehran–Tabriz Publication on Wednesday April 12, 2017 and the second meeting had been held in presence of Jamshid Esmailin, Director of Parto Publication on Wednesday, April 19, 2017.
As well as, the first term of sessions of "Oral History of Book" was held with effort of Nasrollah Haddadi in Khaneh Ketab Institution's Saraye Ahl-e Ghalam from second half of 1393 (SH) to summer of 1394 (SH). The result of these meetings was published in a book titled "Oral History of Book" in 560 pages.
---
[1] 'Amma Juz' is 30th Juz' of Quran and Amma is the first Arabic word of Sura An-Naba.
[2] A kind of traditional mathematical accounting in Iran and some neighbor countries.
[3] Also Resalah Amaliyah is a book written by an Usooli Marja' that contains his practical rulings arranged according to topics dealing with ritual purity, worship, social issues, business, and political affairs, and outlining the principles used to derive specific rulings.
Number of Visits: 785