Zahra Siahpoust Memoirs-2
Translated by: Zahra Hosseinian
2021-02-23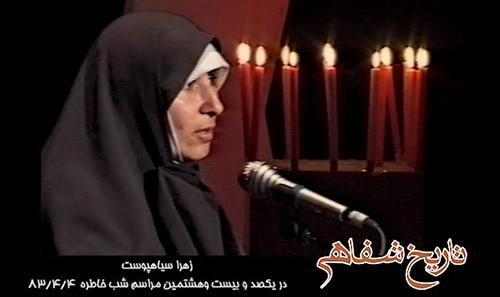 Zahra Siahpoust, a rescue worker during the Holy Defense, was the guest on the 128th of 'Night of Memorials' (June 24, 2004). She shared her memoirs of her first mission in the front. She said that the first place they were sent was near Abadan, called Darkhoveyn. A field hospital had been set up in Darkhoveyn, where we treated the wounded of counter-attack operations for two weeks. Let's watch her narration.
In collaboration with the Office of Literature and Art of Resistance of Hozeh Honari, the Center for Resistance Culture and Literature Studies and Research has been held 321st 'Night of Memorials' so far. The next session will be held on February 25, 2021.
Transcript:
"When I went to the front, the first place I was sent was near Abadan, called Darkhoveyn. A field hospital was set up where we, who had arrived from Tehran, were sent there. We announced our readiness to be sent wherever needed. So, they sent us to Darkhovin where we served for two weeks. The wounded of counter-attack operations were transferred there; now what was our duty? The first thing I want to tell you is that always remember that the hijab, especially Chador, is not cumbersome. We have proved it in our operations. We, the group of women who served in the IRGC along with working in the Ministry of Health - I was, of course, later recruited by the IRGC - but during those operations that only God knows how hard and heavy they were, the number of wounded were brought there, perhaps reached to thousand people, and we had to lay them down on the ground side by side; sometimes the leg of a wounded was next to the other wounded's abdomen. But what we did was that we sewed a rubber-band on the top of our chador - the women who have done it, know how it is - so that, the chador fitted and fixed on our head. Also we sewed the front margins together in such way that only our hands exposed.
I remember that at that time a number of nurses from the Ministry of Health visited the zone and even complained that we transmitted and spread the infection here and there; or our chador is cumbersome. But, I myself, worn in chador that only my hands exposed, lifted the stretcher off the ground and pulled it from side to side. And the most interesting thing was our patients', those wounded people's satisfaction, when told us, 'sister, we feel calmness when you are busy treating us, while worn in chador. If once we clap eyes on you, at least we feel where we fought, what the goal was; at least we are not tainted with sin here. If we talk to you, if we sometimes slap eyes on you, at least we are comfortable that you have protected yourself and we talk to you calmly and safely.' So, it was very important issue that maybe we dealt with during the war, maybe until the end of the war. Many objected to us that why are you like that. But we also had groups of women who were sent to the zone, in manteau and trousers and scarfs, in fact in full hijab. Yet, we wanted to prove that chador is not something cumbersome. We can work much easier with chador."
Number of Visits: 48









A Piece of "Lasting Memories"

History of Establishment of Islamic Republic Party
I have been thinking about creating an Islamic political party and society for many years ago. Especially after the 1953 and coup detat of August 19, 1953, and given the experience I gained from the National Movement of Iran in 1950-1953, I hardly believed that our forces should become an active Islamic political organization. Hearing news of Islamic political organizations from other societies was interesting for me.
Interview with Zahra Tabatabai, an active student during the Sacred Defense era

The Efforts of Female Students in the War Support Headquarters
From the first days of the Baathists invasion, mosques, husseiniyahs, and even houses became important centers for the service of the fighters. These days, women and girls volunteered in the War Support Headquarters to collect public donations, sew clothes for fighters, making jam, do cultural works, and so on. Zahra Sadat Tabatabai is one of the women who actively participated in the War Support Headquarters of Tehran 14th district with the beginning ...

The 320th Session of Memory Night-1

Destruction and Explosion in Iraq and Syria
The 320th session of memory night was held online on the Aparat website on Thursday, December 24, 2020. In this program, "Mehdi Zomorodian" and "Dr. Fani" recounted their memories of fighting alongside the martyred Sardar Hajj Qasem Soleimani. In this session, Davood Salehi was present as a presenter. The first narrator of this session was Mehdi Zomorodian, one of the commanders of destruction in Syria and Iraq, a friend and comrade of Hajj Qassem Soleimani.