The Everlasting Upright Men in History
Faezeh Sasanikhah
Translated By: Zahra Hosseinian
2021-02-09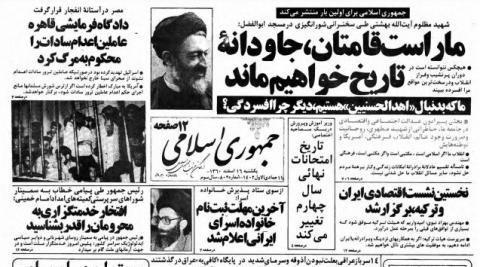 "How long do you want to hold these hostages?" A few days ago, the British ambassador had come, and asked.
"How many times did you ask about that?" I said, "Their state was clarified. The nation and their representatives in the Islamic Consultative Assembly did it. Would it be better than this? Do they spend bad conditions? You killed our young men in American prisons, but these live in the embassy hotel, what the hell do you want? During this period, it was attempted to treat them in accordance with the Islamic ethics. But it is also tragic that the best youth of this nation have been forced to be guardians of fifty Americans for five or six months, and I told these dear youth – sometimes around 300 to 4oo of them are watching over there - that it's a pity that even two of you spend an hour here, believe me. Out of here, you are needed so much that your absence obviously felt. I've told them many times. Anyway, the Shah's crime and the betrayal and the crime of the United States caused our revolutionary and passionate students to take the American embassy and arrest a number of Americans there, and did a great job, but at the cost of months of watching over this aimless people, who nag to get us the American daily newspapers."
"But the US government can't wait another two months." British Ambassador said.
"They can or can't wait," I answered him, "but our nation said that they make the decision ourselves and they're in progress."
"You're dealing with political issues very unrealistically." he said.
I said: "That's that, we're going to deal with issues in an idealistic way. Our revolution is the revolution of ideals, not the revolution of surrender to facts. We made a revolution to change the facts, not to accept the facts as they are."
He spoke of the economic siege. And I added: "From the very beginning, it was decided that the revolution will progress and we consume things, which manufacture and produce in our country. Thanks to God, these two years has spent great till now. Good news for the Imam, so far Iran's wheat crop has become much better than last year. Our policy is that even if one day it'll supposed all people will eat only a loaf of bread, but will fight against the United States.
At last, the British ambassador was angered and startled and said: "America will militarily intervene." (It was all the US' favor which was had been done by the British ambassador, because they themselves have no longer an ambassador).
"We have been ready for US military intervention for a long time." I said, "It's not against our expectations, but every American soldier who enters the borders of Iran and comes among the people, there is no more place for him but in a grave underground. God's command, of course, had already been foreseen for them, and that was to be charred and burned."
"This could turn into a full-blown war." he warned.
"It will be a war between a devoted nation equipped with the least weapon against an enemy equipped with the latest weapons." I did not want to tell him that 'did America forget the Vietnam experience so soon?!'If Iran is an Islamic Iran, it is superior to Vietnam. We won't bow under the burden of hardships and problems, we will remain upright forever in history, we won't stand upright only when we are either killed or wounded and fall to the ground, but no power can bend us. I have quoted this to my friends many times.[1]
---
[1] Lecture of the Shahid Ayatollah Beheshti in Abolfazl Mosque, Sattar Khan St., Tehran, April 30. 1980, Jomhuri Eslami Newspaper, No. 802, March 10, 1982.
Number of Visits: 369









A Piece of "Lasting Memories"

History of Establishment of Islamic Republic Party
I have been thinking about creating an Islamic political party and society for many years ago. Especially after the 1953 and coup detat of August 19, 1953, and given the experience I gained from the National Movement of Iran in 1950-1953, I hardly believed that our forces should become an active Islamic political organization. Hearing news of Islamic political organizations from other societies was interesting for me.
Interview with Zahra Tabatabai, an active student during the Sacred Defense era

The Efforts of Female Students in the War Support Headquarters
From the first days of the Baathists invasion, mosques, husseiniyahs, and even houses became important centers for the service of the fighters. These days, women and girls volunteered in the War Support Headquarters to collect public donations, sew clothes for fighters, making jam, do cultural works, and so on. Zahra Sadat Tabatabai is one of the women who actively participated in the War Support Headquarters of Tehran 14th district with the beginning ...

The 320th Session of Memory Night-1

Destruction and Explosion in Iraq and Syria
The 320th session of memory night was held online on the Aparat website on Thursday, December 24, 2020. In this program, "Mehdi Zomorodian" and "Dr. Fani" recounted their memories of fighting alongside the martyred Sardar Hajj Qasem Soleimani. In this session, Davood Salehi was present as a presenter. The first narrator of this session was Mehdi Zomorodian, one of the commanders of destruction in Syria and Iraq, a friend and comrade of Hajj Qassem Soleimani.