The 320th Session of Memory Night-1
Destruction and Explosion in Iraq and Syria
Oral History Website
Translated by Ruhollah Golmoradi
2021-01-05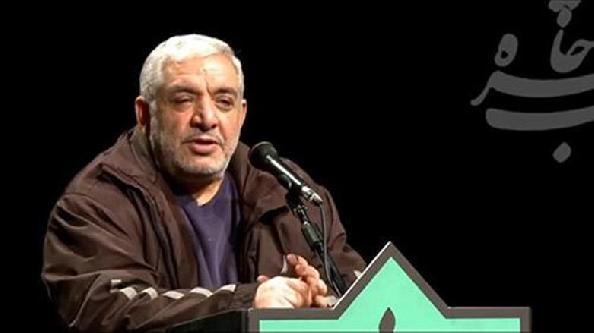 The 320th session of memory night was held online on the Aparat website on Thursday, December 24, 2020. In this program, "Mehdi Zomorodian" and "Dr. Fani" recounted their memories of fighting alongside the martyred Sardar Hajj Qasem Soleimani. In this session, Davood Salehi was present as a presenter.
The first narrator of this session was Mehdi Zomorodian, one of the commanders of destruction in Syria and Iraq, a friend and comrade of Hajj Qassem Soleimani. He first introduced himself as a thirty-year-old soldier of this great general and said: Sardar Soleimani was a brave commander that we all obeyed him because of his insight, courage, manhood, wisdom and intelligence. Martyr Soleimani was a person who literally exported our revolution to the whole world. One of his morals was that no one could lie to him.
Zomorodian continued his speech from the beginning of his cooperation with Martyr Soleimani in Khatam al-Anbia (PBUH) Headquarters and said: The best option to command there was Sardar Soleimani, which happened by the order of the Supreme Leader of the Revolution and caused a positive change in this headquarter. He then pointed out his dispatch to Syria and said: "According to the investigations, we found that 95% of martyrdom of the forces was due to explosive traps, and regarding my 35 years of expertise, about a year after the Syrian conflict I was dispatched to the country. There, in addition to defusing roadside bombs, I trained troops. Zomorodian further referred to courage of Sardar Soleimani and said that he sometimes would approach enemy with courage without any protection, so that he could analyze the situation and make right decisions.
The narrator of memory night continued his speech by pointing out how he was sent to Iraq and said: "Once when I was going to return from leave and go to Syria, I was sent to Iraq instead of Syria by the order of Hajj Qasim and his deputies. In the first briefing in Baghdad, which was also attended by Martyr Soleimani and Martyr Abu Mahdi al-Mohandes, it was stated that ISIS has reached in ten kilometers to Baghdad on the Samarra road and that we must act as soon as possible to prevent the fall of Baghdad. There were no forces or facilities there, except for a number of forces from pre-trained resistance groups. At that meeting, I was ordered to block the enemy in any way so that it could not advance."
Zomorodian continued, "After that, I spoke to one of the commanders of the Iraqi army in a meeting and asked him to give us some mines so that we could stop the enemy. He said: according to the UN Charter, we cannot use mines. I told him that Baghdad is falling and that if we did not act faster, bad things would happen. He promised to cooperate with us, and the next day he gave us a very few numbers of anti-personnel wax-like mines that wasn't enough to our work in any way; therefore, I decided to produce these mines myself with the money I received from Sardar Soleimani, and we used them to stop the enemy."
The narrator continued the session with narrating another memory in Iraq: Sardar Soleimani informed us that a number of forces were besieged in the shrine of Imam Hassan Askari (AS) and Baghdad-Samarra road is also in the hands of ISIS; Imamzadeh Mohammad is also under siege in "Balad" and this road must be opened as soon as possible. When Hajj Qasim insisted that this road should be opened, no one could say "no". He continued: "Once we saw Sardar Soleimani personally enter the road with a Hummer car; a road that were attacked by ISIS from all sides, including surrounding palm trees and agricultural lands. We were all terrified, and this courage of Hajj Qasim motivated us to open about thirty to forty kilometers of that road. The fighting there was so much that this road was two hours under control of our forces and two hours in hands of the enemy. There we had a series of operations every day from morning to night until we finally reached Samarra and the road was completely handed over to our own forces.
Zomorodian then referred to Operation "Aziz Balad", a Wahhabi area on the outskirts of Balad. He said that in Aziz Balad, about seven hundred Shiites of Balad had been martyred and they intended to destroy Imamzadeh Mohammad, but there was completely cleansed around Samarra by the order of Hajj Qasim and conducting Operation Aziz Balad. He also spoke about Sardar Soleimani's order to liberate "Tikrit" and "Mekeeshfah" and how to liberate the two regions. The narrator of the session then referred to the Camp Speicher[1] and the massacre that took place at the base by ISIS forces and said: in that incident, 1700 unarmed Shiite students were massacred and dumped in the river. He said: "This was part of the crimes of ISIS that Martyr Soleimani humiliated them."
Zomorodian continued his speech: "One of my dreams was to deal a fatal blow to Monafeghin (hypocrites)." He then recounted his observations of Camp Ashraf[2] and described the camp. He said: Camp Ashraf was a barracks with an area of ​​about 20 km by 20 km that the Mojahedin Organization had tried to name its places, squares and streets based on the current names in Tehran. He then expressed his observations of Rajavi Palace and the anti-explosion underground complex that was built there and said: "In that complex, it was possible for thousands of forces to live with all the facilities." He then thanked God that thanks to the blood of the Holy Shrine Defender martyrs, the power of the Shiites had increased so much that the hypocrites could not do anything with all those facilities.
The narrator recounted a memory of the explosion of a bridge in Iraq during Ramadan, where about 350 troops were fighting ISIS, and he was instructed to do so by all means. Zomorodian said that at the beginning of my work, I went to the place to check the situation and took some photos, and when I returned, I met Itab, deputy of Hajj Qasim, who told me that there was no opportunity to check and that only the bridge should be destroyed. He then described how the bridge exploded the next day and said: "After this operation, I had just returned to the resting place when Hajj Qasim summoned me and after embracing me, he told me of the peace he had found by doing so."
At the end of his speech, Zomorodian thanked all those who keep alive memory of the sacred defense, holy shrine defender, and health defender martyrs, as well as memory of martyr Hajj Qasem Soleimi.
---
[1] Majd al-Tamimi Air Base, formerly known as Al-Sahra Airfield and after the presence of US troops, Speicher Airbase; It is one of the Iraqi military airports located near Tikrit in northern Iraq.
[2] Camp Ashraf was a camp set up by the People's Mojahedin of Iran (PMOI) 80 km from the Iranian border in Diyala province, Iraq.
Number of Visits: 51