318th Night of Memory-2
In Syria, We did not Have a Fixed Friend or Enemy, and Determined Land
Elnaz Darvish
Translated by Ruhollah Golmoradi
2020-11-10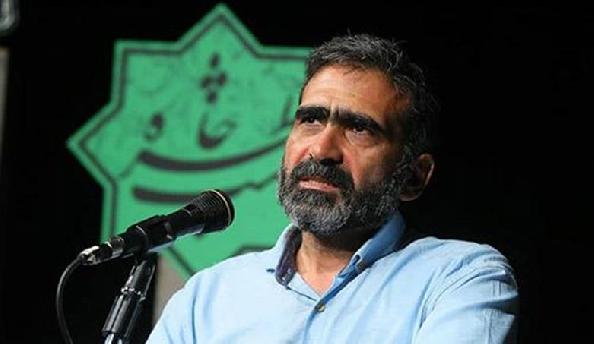 The 318th session of night of memory was broadcast online on the Aparat Website on Thursday, October 22, 2020. Dr. Daneshmandi and Mr. Ali Anabestani shared their memories in this session and Davood Salehi was also the host.
The second narrator of the session was Mr. Ali Anabestani. Becoming familiar with concept of revolution and war with his father as a child, he joined the front in 1985 and was wounded for the first time a year later. He studied nursing at university after the war. During his internship at Akhtar Hospital, he became acquainted with another current of resistance while Bosnian wounded were sent to Tehran. He went to Syria in 2012 and this time he played a role in this scene.
Mr. Anabestani began his talk on how to get acquainted with the Bosnian wounded as follows: After the war, I entered Shahid Beheshti University because of my interest in nursing. We were sent to various hospitals for internships, one of which was Akhtar Hospital. I met the Bosnian wounded at this hospital. The Bosnian wounded were interesting European men from the Balkan Peninsula; but contrary to our perception of Europeans, their knowledge of the world around them was very limited. From the Islamic world, they only knew the Prophet Muhammad (PBUH); of the Islamic countries, one of them, who was a little older than the others and had gone to Arab countries for trade, knew only Egypt. They did not know name of our country. In my opinion, in terms of personality, they were weaker people than Orientals and Iranians. They cried when we showed them The Scout (Deedeh-ban) film.
Anabestani continued his memories with how he was present in Syria and the conditions there: In 2012, according to the mission assigned to me, I entered into Syrian issues. The situation in Syria was different from the classic wars we experienced. In Syria, we had no fixed friend and enemy, and no definite land. Everything was changing in Syria and moving from moment to moment. For the first time in 2015, after the direct order of Supreme Leader (Ayatollah Khamenei), Iranian forces intervened militarily in Syria and we were given the mission to establish a field hospital in Syria. Until then, the forces were Hezbollah and Heidarion (Iraqis), Fatimids (Afghans) and Zeinabion (Pakistanis). Of course, the Syrian forces, which were partly trained in Iran and trained in the name of patriotic defense, and some in Syria itself, were in the combat cadre.
I was assigned to set up the hospital. About a month before the operation, I went to Baqiyatallah Hospital, where I spoke with various surgical, operating room anesthesia, nursing and paramedical teams to gather the necessary information in terms of quantity and quality (equipment and personnel). I first met Mohammad Hasan while talking to anesthesiologists in the operating room. He came forward and directly said: I am Mohammad Hasan Ghasemi; I would like to come to Syria. Can you take me with you? I said: Inshallah, I will try my best. What can you do? He said: I have a bachelor's degree in anesthesia. He began to praise himself in a way to win my heart and satisfy me. He sent me his information right there. I asked him to help me gathering field data. He said aye aye, sir! In two days, he provided all the necessary information in terms of equipment and people for each operation. His work helped me a lot, because according to the three principles I mentioned, we could not take too many or too few facilities with us. We had to take with us as much as necessary; Because either it was destroyed by enemy fire or we had to retreat and stay.
In September 2015, we headed to Syria and the city of Aleppo, Khanat region. Khanat area was under the control of the militants on both sides at a distance of two kilometers. The militants stationed here were one of the worst groups, and in fact the most Syrian armed forces that is Jabhat al-Nusra and the Nur al-Din az-Zanki and Tahrir al-Sham groups. These groups were among the most ruthless and heavily armed groups and were fully supported by Saudi Arabia and Qatar. These groups are equipped and financed incautiously. Their medical facilities were much more and maybe ten times more than our medical facilities and medical team. Unfortunately, these issues were never addressed; It has always been said that there was an ISIL group which was bloody and savage; Not! A perfectly cohesive group, with the exception of ISIS, other groups had a fully organized, trained, deployed, and equipped organization in all dimensions in terms of science and logistic, and they had these sometime much higher than us.
Anyway, we selected a building materials warehouse in Khanat area as a field hospital and started equipping it. Our hospital had an operating room and an emergency department. Due to lack of electricity, we used an electric motor. Operation Muharram began in September/October (SH: early Mehr). The advance was actually from Aleppo to Damascus. This path was one of Syria's most important transportation routes connecting northern to southern Syria. The enemy had controlled this main road for several years and our communication was cut off in this way, but the side road was in our hands. The journey from Aleppo to Damascus from the main road was about three hours, while from the side road it took seven hours. The arrow of the operation was towards this road and the first stage of the operation proceeded.
On the day of Tasua, the guys started an operation towards the village of Al-Hamraa and then town of Khalsa. In this operation, fighters of Saberin, Fatimids and Hezbollah acted from three axes, which unfortunately the operation was not successful. The kids attacked the line, but we suffered heavy casualties and a lot of injuries. Our group therapy consisted of eleven people, including three doctors and the rest nurses; Of course, several people of Fatimid relief forces also helped for transferring. A large number of injured people entered the hospital from 9:00 AM to 3:00 PM. The hospital had a capacity of thirty-seven people, but we received 350 wounded that day in a several hours. It may not be possible to cover this number of injured in any advanced and classic hospital in the world. I dare say that none of the 350 wounded who reached us alive was martyred. Initial measures were done to transport the wounded, but the side road that was in our hands had been also closed and the wounded were transported two days later. We laid the wounded low and treated them in the mosque, the surrounding buildings, and wherever possible, even in the courtyard and on the road. Thanks to God help, and sincerity and heartfelt faith of the guys in their purpose and work, they did all they can do to fulfill their duty in the best way.
Mohammad Hasan joined us in the next phase of the operation in Al-Hadher and we equipped the hospital. Mohammad Hasan had very interesting and unique characteristics. While he was an anesthesiologist expert, he was both theoretically and practically knowledgeable as equal as an anesthesiologist physician. Mohammad Hasan was one of the few people who had high knowledge and ability both scientifically and practically. In addition to medical information, he knew all the current weapons in the world. When he joined us, he took on many responsibilities. When I went on leave, all the responsibility was with him. When the guys saw Mohammad Hasan's abilities, they sent him to the operational area of ​​Nubl and Al-Zahra in the Shaykh Najjar area, which was a Shiite area and had been besieged by militants for years, in order to establish a field hospital there.
The next operation was in this area. I arrived in Shaykh Najjar before the operation. When Mohammad Hasan saw me, he said: Now that you have arrived, take over the hospital so that I can return to my original responsibility. All this showed humility and modesty of Mohammad Hasan. The operation began two days later. Before us, the Syrian army had carried out several attacks to retake the area of ​​operation, which hadn't been successful. Hence, the enemy realized the sensitivity of the area and provided a lot of weapons in the area and created a lot of fortifications in our path. The operation advanced difficultly. At three in the morning, a huge flood of injured people arrived at the hospital. We had two operating rooms there. When I entered the operating room, I saw that it was full of badly injured people. A 37-year-old Iranian man was brought that a gunshot had penetrated his body under his abdomen, and pierced all the internal organs and had cleaved his heart in two parts. About forty minutes had passed since his injury and he had no vital signs. When Dr. Vahid Hamidi saw him, he incised his chest and massaged his heart directly. His heart started pumping, but he had lost a lot of blood.
A wounded person next to him also had also lost a lot of blood, we needed blood that had to come from Aleppo. Suddenly we realized that Mohammad Hasan was not in the operating room, and Dr. Hamidi was upset that he was not there, but he there were so injured in the operating room that no one had time to look for him. After short time, I went to the next room to bring some device and I saw that Mohammad Hasan was donating blood. Immediately after donation, he himself brought a blood bag and injected it into the patient without any rest. At this time, a Pakistani wounded was brought. When Dr. Hamidi, who was himself a trauma specialist, saw the wounded man he quickly went over his head and incised his abdomen without anesthesia and the injured gut was poured out. The wounded Pakistani said in his own accent: "Doctor, you did not anesthetize me." Then he fainted. The doctor drew the gut aside and found the main internal artery and stopped the bleeding. Then he said: anesthetize him now to perform the surgery. Our operations in the field hospitals were such that we had to perform several surgeries quickly at the same time, surgeries that might not have been successful if they had been performed in the best urban hospitals.
Mr. Anabestani's next memory was about Operation Tadmor (Palmyra): "In Syria, in addition to experiencing a number of specific war parameters, we also gained different experiences in terms of climate and military position. More than a hundred Syrian cities were engaging the war simultaneously; From the coldest and most mountainous areas to urban areas and the desert area of ​​eastern wadi. We were based in Masyaf, one of the western cities of Syria. It was announced that we should gather all facilities of the hospital in the next six hours and go to Tadmor. Tadmor is gateway of Syria to the east and one of the most important and strategic cities in Syria. It is one of the ancient cities of Syria, and its old name was Palmyra. The city has many antiquities, and since it was belonged to Iranian governments for 600 years in the past, its stone carvings are similar to Iranian monuments, especially Persepolis.
We were ready to go with a series of facilities and seven ambulances, but at the last moment we realized that we only had five drivers. Shortly, we hardly found two drivers, and the cars started moving like a caravan. It took us about five hours to reach Tadmor. The city had been passed around twice between us and ISIS, and it had been completely destroyed, and no intact building had been left. We selected the previous hospital of city that had been destroyed and repaired it essentially and activated it; But we covered two operations by the hospital. Since the main axis of the operation was the desert and we were going in depth, we had to take the hospital with ourselves. This was one of the war differences in different parts of Syria. In urban warfare, when there is alley-to-alley warfare, this is not necessary, but in desert warfare, when we went in depth of sometimes seventy kilometers in a day, it was no longer possible to transport the wounded to the hospital. We also took the necessary equipment with ourselves and set up field hospitals with tents to treat the wounded.
The route of the operation was the main road from the west to the east of Syria. On the way, after the Deir ez-Zor, which had not been completely collapsed, we reached Al-Mayadin. In Al-Mayadin, the enemy resisted hard and did not allow us to advance. At this stage, a special and strategic order was issued by Hajj Qasem Soleimani, and axis of the operation, which was from margin of Euphrates River to the east of Iraqi border, was changed by Hajj Qasim's order. According to the command, we had to go back 300 kilometers in forty-eight hours, now it was completely impossible militarily to move facilities and equipment during this time. But we did that and went back and set up our hospital in the Humaymah area for the operation.
In the final part, Mr. Anabestani continued his speech with memory of martyrdom of Mohammad Hasan Ghasemi: After release of Nubl and Al-Zahra in late March, I came to Tehran for leave that unfortunately I didn't have the honor of being in the war area. During this time, Mohammad Hasan took full responsibility and we were in contact by phone. When I went to Damascus, Mohammad Hasan was in Aleppo that then went on leave. After his return, I came to Iran and we did not meet again and only talked on the phone. During Operation Khan Tuman, the gunmen entered Aleppo and we were too close to each other in some places. Our border with the gunmen was an embankment and a corrugated galvanized iron. There were many injured. The two critically injured in ICU were in the clinic and had to be taken back with a nurse and anesthesiologist. Whenever Mohammad Hasan considered the risk of work high, he himself volunteered; Therefore, he left with the injured by ambulance. A little they advance they are ambushed by the enemy; the gunmen struck the ambulance and the driver and the wounded were martyred.
Mohammad Hasan with two of Fatimid relief workers get off and take cover behind a power post. Mohammad Hasan tries to bring the portable transceiver that was left in the car. Because the portable transceiver has a series of security programs and the only way to communicate with rear, he again moves back to the ambulance to pick it up; when he returns, he is shot by the gunmen near the guys and is martyred. Mohammad Hasan's body remained there for four months as the area was handed over to the enemy. On the night that Mohammad Hasan had gone to transport the wounded, no one knew what happened. Everyone pursued him, and they even called me in Tehran and said that Mohammad Hasan was missing; After a few days, we received news of Mohammad Hasan's martyrdom. With liberation of the region, corpse of Mohammad Hasan was delivered to Iran and was in Meraj-e Shohada (Ascension of the Martyrs) to be buried after gathering of Zeinabi rescuers. Unfortunately, that day too I went to Syria on a mission and I just asked Mohammad Hasan to intercede for us and take our hand in the As-Sirāt. The pure body of Martyr Mohammad Hasan Ghasemi is buried in Flower Garden of Martyrs of Yasuj. May God associate him with the martyrs of Karbala and the righteous.
Number of Visits: 310









A New Narrative of the Crimes of Mehdi Hashemi Gang
Seyyed Mehdi Hashemi Qahdarijani, the brother-in-law of Ayatollah Hossein Ali Montazeri and the head of the Revolutionary Guards Liberation Movement at the beginning of the Revolution, was executed for supporting the assassination of Ayatollah Seyyed Abolhassan Shamsabadi Larijani and several others in 1976, and supported by Ayatollah Montazeri. This was the beginning of the problems of Imam Khomeini and the regime with Mr. Montazeri. This interview is the narration of one of the assassinations of Seyyed Mehdi Hashemi Ghahdarijan.

A guerrilla who was in much love with Islam and Imam Khomeini
The Role of Oral History in Making a Documentary on the Life of Martyr Mahmoud Kaveh, Commander of the Special Brigade of Martyrs.
Martyr Mahmoud Kaveh, the commander of the Special Brigade of Martyrs, is one of the commanders about whom many articles have been written so far; but in the world of the movie, not much attention has been paid to the narration of his life from birth to martyrdom. Mr. Ali Hamid paid attention to him in making one of the episodes of the documentary series "Commanders" and narrated his condition in the form of 25 minutes.

A Piece of "Lasting Memories"

History of Establishment of Islamic Republic Party
I have been thinking about creating an Islamic political party and society for many years ago. Especially after the 1953 and coup detat of August 19, 1953, and given the experience I gained from the National Movement of Iran in 1950-1953, I hardly believed that our forces should become an active Islamic political organization. Hearing news of Islamic political organizations from other societies was interesting for me.