SABAH (31)
Memoirs of Sabah Vatankhah
Interviewed and Compiled by Fatemeh Doustkami
Translated by Natalie Haghverdian
2020-10-13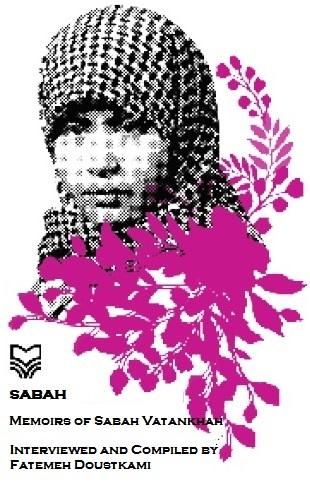 SABAH (31)
Memoirs of Sabah Vatankhah
Interviewed and Compiled by Fatemeh Doustkami
Translated by Natalie Haghverdian
Published by Soore Mehr Publishing Co.
Persian Version 2019
---
Zahra agreed with laughter. After Mahmoud Farrokhi mediated, the young man went to the medical box which was in the corner of the yard and started dividing the medicines. Then, when it was time for evening prayer, he went into a corner and said his prayers and returned to his task. When he wanted to sleep, he took off his white suit and wore a brown blouse and trouser as nightwear and went into a corner in the yard to sleep. His clean-cut behavior was the reason for our laughter. We even bet that he would live the city before four in the morning. How could a person with this appearance stay here?!
But our judgement was hasty and wrong. He, who later was known among us as Dr. Saadat, did not leave Khorramshahr and fought with the defendants of the city shoulder to shoulder. Saadat did some exercise after the Morning Prayer and went back to his task with medication at sunrise.
I had gone to Mosadegh hospital for help. When I returned from the hospital, I heard that other friends were talking about the incident which had happened in front of the mosque. I was curious to know what has happened. My friends said that while I was away, Colonel Sharif Nasab had come to the mosque and had said to the women that traffic police is requesting help since the soldiers have become demotivated and are not acting properly, please come and talk to them. They might accept your words.
At that time, Shahnaz had jumped up a truck and shouted addressing the soldiers: "where is your honor? You just stand there and do nothing so that the enemy will take your land away?! If you cannot fight, step aside and we as women will step up and think for a solution for our city and people."
After that she had gotten into a truck with Afsaneh, Parvaneh, Khadijeh and Fouziyeh and say that since you do not have any honor to defend your land and dignity, we go ourselves. When the truck had moved away from the mosque towards Chehel Metri street, the soldiers, offended, had chased the truck and stopped it. They made the girls to step out and moved towards the war zone.
The next day, three trucks came from Shiraz. All men in the mosque moved to embark the material. Like previous times, the materials included boxes of dry bread, date, nuts, cheese, oil, watermelon, apple and … even women were helping in embarking the boxes. I rushed to help. It was hard to carry around the boxes with chador. I thought to myself to take out my chador while there were no men around. I took my chador off and hung it to a nail on the wall in the mosque.
Ms. Pour Haydari was the first to start helping. Ms. Pour Haydari was mother of three. Her daughter, Maryam, was married. They had moved to Khorram Abad to live with the family of her spouse as the war had started. She had taken her brothers Mohammad and Morteza with her. They were both teenagers. Mohammad was about 16 and Morteza was 13 years old. Ms. Pour Haydari's husband was an active member in Khorramshahr. Ms. Pour Haydari came to the mosque during the day and went home to her spouse at night. Their house was in Taleghani district. As of fifth or sixth day, Ms. Pour Haydari settled in the mosque and did not go home any more. She was a religious and strong woman and encouraged us all. She whispered prayers and holy words all the time. She started all her tasks in the name of God. When she was working in the kitchen of the mosque, she read Throne Verse. When she saw me, she said: "Sabbah there are boxes of clothes among the received items, new and second hand. We have to take them to the courtyard and divide them."
We moved all the boxes of food supplies to the storage and took the clothes inside. We were busy with the division of the clothes. Some of the clothes were really old and worn out and could not be used but most of the rest were good and usable. While we were busy with the clothes, Ms. Pour Haydari approached us with a small package in her hands. When she came closer, I noticed tears in her eyes. I said: "what has happened, why are you sad?" she said: "Come and see what I have found in one of the boxes of the food supplies."
There were two three handful of local curd and a letter. She started reading the letter in a trembling sound. The letter was from an old woman. The old woman had sent her regards to the soldiers of Islam and had prayed a lot for them. She had also explained that this amount of curd has been the only thing she has had to help the soldiers and she knows that it is very little but she hopes that they can use it and God and the soldiers would accept it.
We all cried. I felt as if the old woman was sitting in front of me and was saying these words in person. My heart ached when I imagined how poor she has been and how much she has struggled with herself to send the curds and write the letter.
When our task was finished, I went to get my chador but could not find it. I looked in the bedchamber of the mosque. I went to look among the donated clothes. I asked all who were in the mosque but could not find it. I did not know who has taken it. Most of the time it happened that when a house was hit by a mortar bomb and the women jumped out of the house without cover and took refuge in the mosque, we could find them a cover very quickly. But since the supplies had arrived, nobody had come to the mosque in that condition. I could not believe that I should go on without chador. There was no chador among the clothes which had arrived either. I was ashamed to go out without chador. My clothes were loose, but I felt that I am bare without chador.
For one moment, I remembered my first chador. Shahnaz had two chadors. One day, I told her: "can you give me one of your chadors. I want to wear it." She became so happy. She gave me the new chador. As of that day, I wore chador even at school. It was a beautiful feeling. It boosted my self-confidence.
During this time, I had become dependent on my chador. I did not know what to do. I stayed in the mosque for one two hours. I didn't have the courage to go out. I looked at all places. As if my chador had vanished. Although I did not like to be without my chador at all but I had no option but to look for it in the yard. When I went to the yard, Fouziyeh looked at me with surprise and said: "oh! Where is your chador Sabbah?!"
I explained what had happened. We looked all over the places. I could not find it. I could not do anything. I had to wait until I could find another chador; a chador I could not find for a long time.
It was the morning of the eighth day of autumn. The Iraqi airplanes started hitting the city after sunrise. Today started with a lot of noise contrary to the day before which was a respectively calm day. When Mahnaz and I set out the mosque to go to help the bombarded locations, we heard a terrible sound. We ran towards the explosion. We got to Naghdi Street short of breath. The fire station had been hit. There was smog and dust everywhere; we could not see anything. Among the dust, a man walked out trembling covered in dust and shouted: "help others. They are injured!"
The man sat in a corner. Mahnaz and I entered the building. Among that much smog and dust, we noticed two individuals lying injured on the ground. One of them was an almost old man whose shoulder and arm had been hit by shrapnel. I ran towards him and Mahnaz went to the other man. I wanted to dress his wound but could not due to smog and dust. I helped him to get up and walk out of the building. I helped him sit outside the building on the ground. I closed his wound to decrease the bleeding. I do not remember where the other man was wounded. I just remember that the wound was deep, and we had to get him to the hospital quickly. We ran towards the street and got a taxi. We took them to Mosadegh hospital.
We had just returned from hospital that we heard that Chehel Metri and Quoran school had been hit. Shahnaz Haji Shah and Shahnaz Mohammadi had been wounded with shrapnel. They were from Quoran school. During the day, especially when the tasks were heavy in the kitchen, they came for help and we had become so close. My mom jumped when she heard that Shahnaz has been injured. She said: "Sabbah they were here one hour ago and helped us a lot." I said: "I will go to the hospital to get some news." My mom said: "wait for me. I am sick worried."
Shahnaz said quickly: "wait for me too."
Shahnaz Haji Shah was Shahnaz's classmate in the high school. It took us a while to get a taxi. My mother was pale and her lips had turned white. Shahnaz said: "Shahnaz Haji Shah was wearing a new cream color dress. When I told her that her dress is very beautiful and becomes her, she had answered jokingly: this is my bridal gown! Look how bridal I look in this dress!"
After hearing these words from Shahnaz, mom was so anxious hearing about her injuries and said continuously: "I am worried about her. I hope nothing has happened to her! Maybe she knew what was going to happen to her today."
To be continued …
Number of Visits: 77