SABAH (30)
Memoirs of Sabah Vatankhah
Interviewed and Compiled by Fatemeh Doustkami
Translated by Natalie Haghverdian
2020-10-06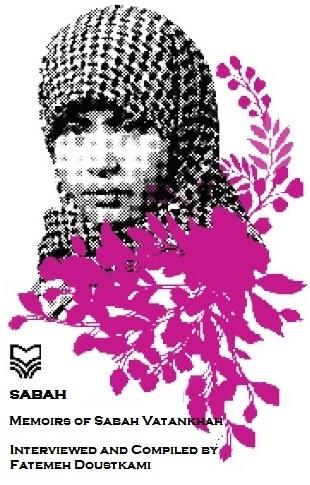 SABAH (30)
Memoirs of Sabah Vatankhah
Interviewed and Compiled by Fatemeh Doustkami
Translated by Natalie Haghverdian
Published by Soore Mehr Publishing Co.
Persian Version 2019
---
We walked towards Hosseyniyeh. When we arrived, nobody was there. Mahmoud Farrokhi said: "Sister Sabbah, it might be that you had a strong discussion with them yesterday and they found out that you might know things about them and felt insecure and threatened and left the place."
Behrouz Moradi confirmed his words. I said: "I don't know exactly. Maybe this is the case." Mahmoud Farrokhi said: "by the way, thank you for informing us. Please inform me or Behrouz if you notice anything suspicious. In this condition we have to be very careful about the fifth column."
We returned to the mosque. I went to the kitchen to my mom. I asked her about my father. I was relieved seeing Ali and now I was worried for my father. She said: "I forgot to tell you that your father came to the mosque yesterday when you had gone to the hospital. He is in the road police station with the Corps soldiers. He is fighting Iraqis with them."
I asked: "Is he ok?" she said: "Yes, thanks God he is safe and sound."
In that moment, I remembered our home and our life. God knows what had happened to our life. Saddam was striking Khorramshahr so intensively that I suspected that a cannon ball or a mortar bomb had destroyed our house. Everything was destroyed in one day. Last week we were sitting in our homes safe and sound but now?! If none of these had happened, I should have prepared myself for the university entrance exams.
Today, the city was a bit calm. The sound of blasts could be heard here and there. Saddam and his forces had the upper hand in the war. When they attacked, we had to defend. When they rested, we could also rest a bit and gather our forces for next combat.
I was sitting in a corner in the mosque and was busy cutting the band aids wound dressing. I noticed a young woman sitting silently in a corner, staring at one point. The young woman had a colored scarf on her head but her blond hair and white neck were quite exposed. She was holding her knees and crying silently. She had cried so much that her hazel eyes had turned bloody red. Mother Khosro would pass her by continuously and nag to her. She paid no attention mother Khosro and was just crying. I was curious to know who she is and why is she crying constantly. At that moment when I wanted to get up and walk towards her, mother Khosro approached me and said: "Dear Sabbah, do you see this woman? That woman sitting there and crying?" I said: "yes, do you know her?!" she said: "not much. I just know that she is homeless and has no place to live. It seems that morally she is not that good either. We are worried that she might be affiliated with the fifth column. I have to go somewhere. Can you keep an eye on her while I am gone?!" I said: "sure. I will stay with her. She thanked me and left.
I went to her and greeted her and said: "what are you doing here? Where is your family?" she answered me with a Turkish accent: "my family is here in Khorramshahr. Please let me go." I said: "your house is here?" she said: "Yes! But they have brought me here and would not let me go." I said: "do you know where your house is? Where do you live? Which street?!" she said: "I do not know the name of the street, but I know it by heart."
I looked around. I wanted to see which soldier is there. Behrouz Moradi was standing at the door. Since Mahmoud Farrokhi had advised me to report any suspicious cases, I went to Behrouz. I greeted him and explained that woman's situation. I said: "brother Behrouz, I want to see whether this woman is telling the truth or not! If she is telling the truth I will hand her over to her family but if not I will return her to the mosque. I do not want to go alone. Can you accompany me? He said: "yes, sister Sabbah, let's go."
Three of us set out. The young woman took us to the streets for two hours from one street to the other. She started from Fakhre Razi and then to Darvazeh square, then moved to Taleghani and then Chehel Metri. She was driving me crazy. Behrouz Moradi was very patient and noble and did not say anything. Finally I got angry at the woman:
You do not know where you live! Let us go back to the mosque! We have been going around for two hours.
She had nothing to say. We returned to the mosque. We stood at the entrance of the mosque. The woman entered. I kept a close eye on her. Behrouz Moradi said: "I have seen such individuals in the past days!" I said: "what do you do with them?" he said: "we send them to Abadan rehabilitation. They know what to do with them there."
Behrouz did not come to the mosque. I saw Haj Agha Mohammadi, our mosque prayer Imam at the entrance of the mosque. After greeting, I said: "Haj Agha, let us hold a special prayer in the mosque to uplift the spirits of the war stricken people who are in the mosque at the moment. They will feel better."
Haj Agha answered: "No! having a prayer session at the moment will harm the spirits and bring hopelessness." I said: "what do you mean? People will feel relieved in the name of God, why hopelessness?" Haj Agha moved his cloak and showed me his rifle and said: "you do not need to worry. I am aware of what is going on!"
I did not get his point. What did my words had to do with his rifle! I did not appreciate his behavior and never talked to him again.
I went inside the mosque. I saw a thin and tall girl in the yard who was talking to Mr. Ebrahimi. My mom came forward and said: "Sabbah do you know this girl?" I said: "no I do not know her, who is she?!" she said: "She is Zahra of our times. She has buried her martyred father with her bare hands. She is solid like a mountain and so patient!" I said: "are you serious mom? How do you know her?" she said:" yesterday I had gone to Jannat Abad with Shahnaz. She works there. She helps the abluters to prepare and bury the martyrs."
This was the first time that I saw Zohreh Hosseini. My mom and I approached and greeted her. She greeted us warmly with a smile. Although her name was Zohreh, but with the beautiful description that my mom had used for her, we called her Zahra.
After a few days, Haj Agha Farrokhi approached Maryam Amjadi and I and gave each of us a gun. He explained that he has watched us for a few days and we seem to have a reliable and adequate behavior. Then he asked us to help them with the guarding of the weapons and food supplies and not to let any individual enter the storage without coordination with him and the mosque's board of trustees. I had seen Maryam Amjadi on the first day that I came to the mosque.
In one of those days that I was talking to Zahra Hosseini and Maryam Amjadi at the entrance of the storage, a young boy entered the mosque. He was wearing a white suit and was carrying a Samsonite case. He was barely 27, 28 years old. He had relatively long curly hair with blue eyes and white skin. He was so prestigious and his clothes were pressed and neat that I looked at my clothes. What a harmony! Our clothes covered in soil and blood and his white and chic suit!
This young man caught the attention of all. He looked at the mosque through his glasses and went to Khalil Najar and shook hands with him. He said: "I am Abdollah Saadat. Cousin of Hossein Fakhri. I have worked in the pharmacy in Behbahan before. Now I have come to see what I can do."
Khalili paused for a short while and looked at him from head to toe and said: "Sorry Sir! We do not need this kind of material here. We are more than enough."
Poor guy walked towards Mahmoud Farrokhi hopelessly and said: "what can I do here, sir?" Farrokhi pointed to Khalil Najar and said: "let me introduce you to our friend and you can help them there." The young man said: "I have asked him. He gave me a negative response. He said we do not need this kind of material here."
Mahmoud Farrokhi smiled and said: "No problem, now you come with me …"
After that he took the young man to Najjar and they started talking. I looked at Zahra Hossein and told her sarcastically in a low tone: "those who believed they were Fadayi guerrillas could not stay here for more than half a day. How can an individual like this in his ironed and clean clothes could stay for half an hour!"
To be continued …
Number of Visits: 97