SABAH (21)
Memoirs of Sabah Vatankhah
Interviewed and Compiled by Fatemeh Doustkami
Translated by Natalie Haghverdian
2020-08-04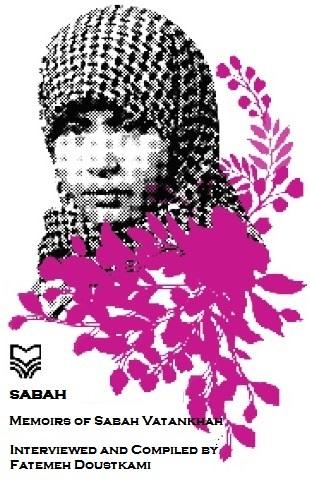 SABAH (21)
Memoirs of Sabah Vatankhah
Interviewed and Compiled by Fatemeh Doustkami
Translated by Natalie Haghverdian
Published by Soore Mehr Publishing Co.
Persian Version 2019
---
He was traveling from Tehran. According to him, he wasn't told if his sons were martyred or wounded. They had only told him to get to Khuzestan as soon as possible. My mom wiped her tears. She was an emotional woman. She was trying to comfort this impatient father but could not control herself.
Mom and Mohsen bought lentils with rice for dinner. We pressured the old man to have dinner but he refused. He could not eat anything.
At the time of Morning Prayer, the train stopped in one of the stations and we said our prayers. When the train set out again, the train conductor turned off the lights in the halls and coupes. The train was in absolute darkness and we could feel the dread of war.
Around eight o'clock in the morning we got to Andimeshk. In Andimeshk station, the train stop was longer to board and embark passengers. In that moment, a loud noise like thunder twisted in the sky. After that, constant explosions were heard. The Iraqi planes had broken the sound barrier[1] and bombarded the city. The city was covered in smog, dust, and fire. In a matter of seconds, the warplanes had bombarded a few places in the city.
This was the first time that we witnessed the city air raid. Many were terrified in the train, especially the elderly and children. The crying and moaning sound could be heard from some compartments. Many cursed Saddam. I couldn't move. I was looking around with my mouth half-open. The train moved.
It was then when the train conductor announced that since the Ahwaz-Khorramshahr railroad is raided the train will stop in Ahwaz. The passenger to Khorramshahr should embark in Ahwaz. A humming twisted among the passengers. They were all complaining: "How can we get to Khorramshahr under these circumstances?"
Ten in the morning, we got to Ahwaz. There was a huge population in Ahwaz station. People were wondering what to do. An Ahwaz Train Station staff came and said: "Wait here, and keep quiet. The army has arranged for a few buses to take the passengers to Khorramshahr."
It took an hour for the buses to arrive. It was like a doomsday desert. Everybody was talking about the Andimeshk air raid in bewilderment. The train conductors boarded the people in the seven, eight buses and we set out. The only thing that caught our attention in Ahwaz-Khorramshahr road was the movement of different kinds of cars; sedan and trucks, towards Ahwaz as if it was a one-way road. The roof racks, pick-up trunks and even trucks were full of furniture, women and children. People were fleeing the city. It was a moving scene. Where were they going? Tehran? Qom? Where?
An hour later, we reached Khorramshahr. They let us out in the train station. It was deserted. Although it was the first day of autumn, it was very hot. Khoramshahr passengers got of the buses and scattered quickly. The first thing that caught my attention in that chaos in the station was a thorn bush, which was lost in the whirl of wind moving around. At that moment, the destiny of war and the people resembled the vague destiny of that thorn bush; wandering around without refuge, from one place to another. It was as if the city had become forlorn in one night. I was worried about my family.
The city was deserted; like holidays. It was as if the dust of death had spread in the streets. There were rarely any cars. I remembered the first day of autumn of the last years. The city was vivid this time of year. But now, there are no cars to take us home. After waiting for a long time, finally we could send my mom and Mona home with a car to bring help.
Half an hour later, my mom and my father returned with a car. While waiting for the car, a few public forces who did not have uniforms but were armed, told us that Saddam has attacked Taleghani district last night and many people have been martyred and wounded. They told that a doomsday had been there last night. The wounded people were taken to Mosaddegh hospital and the martyrs were delivered to Jannat Abad. I could not believe my ears. How could this much disaster happen to my city over a night.
My father had rented a car to pick us up. We put the furniture in the trunk and set for home. Since car couldn't drive into our alley we set out in the street. The driver helped us to take our suitcases and stuff. I told Shahnaz that we can take the languages little by little and wait for the others. We started walking. We were mid-way that we heard a loud noise as if iron bricks were being dismounted from a few trucks simultaneously. The noise was so horrifying that the suitcases dropped from our hands. I don't know why but when we had our eyes on each other, we smiled and I asked: "What was it Shahnaz?"
A split second after our nervous smile and confusion, Fouziyeh came running and said: "hurry, come inside, it is mortar bomb. Hurry home so that the quivers won't hit you."
I had heard about it in the military training. Now I knew what the sound was like. Fouziyeh was familiar with the voice since they had repeatedly thrown mortar bombs since last night. She knew the name. The sound was only from a hundred meters away. We picked up the suitcases and went home. I asked Fouziyeh: "Fouzy! How do you know mortar bomb?!" She said: "there is a thing that they throw and it explodes immediately, that is a mortar bomb. When it explodes, the hot and sharp metal parts spread around and if they hit you, you may die. They are called quivers!" I asked her: "how do you know these things?" She said: "Do you know how many have been since last night? Everybody says its mortar-bomb. I've heard it from the neighbors."
I left the suitcase in the hall and went to the yard. My father was carrying Abbas. Although he was twelve years old but he was really frightened of the explosion sound. He was shivering, crying and shouting saying: "I do not want to die! I do not want to die!"
My mom dropped a few sugar cubes and her gold ring in a glass of water and quickly stirred the mixture and had Abbas to drink it. I told Fouziyeh: "I want to go and see where they have hit." She said: "Wait! I'll go with you."
As Khorramshahr had been attacked, Fouziyeh and Ferdows were walking around the house with manteaux and trousers and Maghnae (School uniform veil). They were afraid that they won't have the opportunity to wear their veils in case there is an attack to our house. They even slept with their clothes on. We rushed outside in order to avoid our parents' objection. Before getting out of the house, I took my black tarnish bag.
There was an old couple leaving near our house and they were both injured. People had gathered to help them. I told Fouziyeh: "People are here to help them. Let's go to Corps Office to see what is going on." On the way, I asked about Ali. Fouziyeh had no news on him.
The Corps headquarters was empty, and nobody was there. We asked about Ali from the guard at the door. He said that nobody is there, and all have gone to Shalamcheh. Then we asked about the women's Corps. We wanted to know where Saleheh was. He responded that the women are stationed in the stadium of Khorramshahr. The soldier had not finished his sentence that we heard an explosion close by. Fouziyeh dragged me towards the wall next to us. She was worried of the quivers hitting us. A few moments later, we moved towards the explosion. A mortar bomb had hit a house a few streets down. Smog, dust and gunpowder smell had filled the street. Near the house, an old man was lying in his own blood moaning. His head was broken and there was blood all over his face. The pavement was covered with quivers of different sizes but mostly the size of the palm of a hand. Fouziyeh ran to the street and stopped a car. We grabbed the old man and put him in the car gently. We took him to Mosadegh hospital.
To be continued …
---
[1] The sound barrier or sonic barrier is the sudden increase in aerodynamic drag and other undesirable effects experienced by an aircraft or other object when it approaches the speed of sound. The sound of an airplane is ten folded and resembles a harsh explosion.
Number of Visits: 240