SABAH (20)
Memoirs of Sabah Vatankhah
Interviewed and Compiled by Fatemeh Doustkami
Translated by Natalie Haghverdian
2020-07-28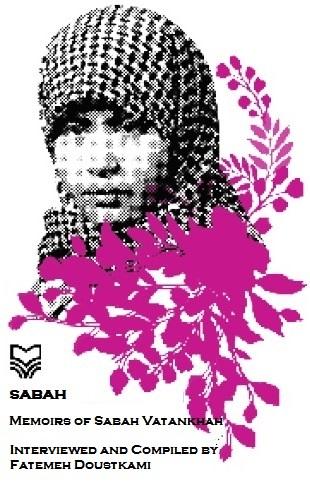 SABAH (20)
Memoirs of Sabah Vatankhah
Interviewed and Compiled by Fatemeh Doustkami
Translated by Natalie Haghverdian
Published by Soore Mehr Publishing Co.
Persian Version 2019
---
Chapter five
Summer of 1980 was uneventful. My only activity was to attend the Islamic Rules (Ahkam) classes held in the Bureau of Islam Advocacy. I attended the classes with Shahnaz. Shahnaz showed more interest in Ahkam and religious topics and decided to go to seminary in Qom to continue her studies. My parents disagreed with her going to the seminary in Qom or any other city. They said: "why do you want to move far from home? Who will take care of you in Qom? Where do you want to live in Qom?"
Shahnaz struggled a lot to persuade them. She tried every possible way and eventually succeeded. When my parents agreed, she went to Ministry of Education in Khoramshahr and filed a transfer request. Then she acquired an introduction letter from Mr. Islamic, who had many acquaintances in Qom, to present to the seminary in Qom. She was so eager to go, and it seemed that God paved her way in the process.
It was mid-September that Shahnaz was ready to go. My mom, Mohsen, Mona and I were supposed to go with her and stay for a few days and return once her accommodation and registration was finalized. It was almost two months that Saleheh had officially joined the Women's Guard Corps of Khorramshahr and didn't come home a whole month for her complementary military training. Ali did not come home during that month too. He was busy with the Corps tasks and trainings with others. Some girls, like Saleheh, had joined the Guard Corps. Some were official members and the others were reserves[1]. Maryam Amjadi, Noushin Najar, Zahra Donyapour were among the reserves and Saleheh, Fatemeh Banou, Sakineh Hoursi, Shahla Taleb Zadeh, Fatemeh and Narges Bandari and some others were the official members.
Although we had big faith in the Corps as a Revolutionary organization but I did not like to be put in a frame and managed. I did not like military tasks too. I wanted to be free to choose my way and path. Therefore, I never considered joining the Corps.
Fouziyeh, Abbas, Ferdows and my father stayed in Khorramshahr and Shahnaz, Mohsen, Mona, my mother and I packed our bags and headed to Qom. Shahnaz was supposed to stay in the top room of Mr. Islami's house in Qom. As he was the biggest incentive for Shahnaz to go to the seminary in Qom, he felt somehow responsible and did not want to send a young girl like Shahnaz to look for a place to stay. Therefore, and to fill his wife's loneliness, he had asked Shahnaz to live in the same house. This was one of the reasons that my parents consented to her study far from home.
On September 19, we set out for Qom by train. On the way, we had a lot of fun. We arrived on September 20, at the noon. We were the guests of Ms. Islami for lunch. After a short rest, we went to the Holy Shrine. This was the second time I was going to the shrine of Hazrat Masoumeh. My trip to Qom revived the memories of my previous trip and visit of Imam. The sweet memories of that trip were still alive in my mine. The next day, Shahnaz registered in seminary in Qom and we were content. After that, we all went to the market for shopping for Shahnaz. A cooking stove, two three pots and glasses and plates and bowls, a nine square meter carpet were all she got. The next day we went to the shrine and traveled around the city. Ms. Islami was a great and hospitable host and we did not feel a stranger in her house. We decided to stay for one or two more days and then return to Khorramshahr.
It was September 22. Mohsen, Mona and I went to the train station to buy return tickets. We waited in a queue until noon but the tickets sold out and we returned home empty handed. My mom had just spread the carpet in Shahnaz's room. At two p.m., we sat down for lunch. Ms. Islamic had cooked "Fesenjan[2]", a new version of Fesenjan. She had put sesame and tahini instead of walnut. The color and smell of the stew was awesome and so was its taste.
Radio was on. We had just started lunch that the news on the radio nailed us down. The news said that the Iraqi planes have bombarded Mehr Abad airport and a few other cities. My heart dropped. The other felt the same too. We looked at each other confused. We could not believe Saddam's arrogance. Though the news of the war was shocking but considering the recent events in Khoramshahr we were sort of expecting it.
I jumped my place unexpectedly, turned to my mom, and said: "I'm going to the station to get tickets." Ms. Islami said: "Wait! Let's see what we shall do! Where are you going to get tickets to Khoramshahr?!" I said: " It's war and the others are in Khoramshahr, why should we stay here?!" Ms. Islami said: "Ok. Go but eat your lunch first."
My mom was looking at me without saying a word. I changed clothes. I rushed out, without having lunch, and at the last minute, Mohsen and Mona joined me.
At that moment, Shahnaz got up and said: "Wait Sabah, I am going with you." I said: "Where do you think you are going?" She said: "I am going to Khorramshahr with you." I said: "Where to? You have packed you bags, bought stuff, struggled with mom and dad to come and study in Qom, now you want to go back?" She said: "It was before war, not now!" When my mom saw the situation, she said: "Wait, let us go all together."
Ms. Islami insisted that we have lunch. I stuffed some food in my mouth, said goodbye to Ms. Islami and her children and set out to get a taxi. Everybody had got ready and Shahnaz had packed her things. I returned with a taxi and everybody got in, stuffed the bags in the trunk, and went to the train station.
There were no tickets to Khorramshahr. God knows how many people were standing in the queue. The ticket seller said: "Just get into the train without ticket and then pay the ticket fee to the conductor. This is all I can do for you now."
I just wanted to return, seated or standing made no difference. I did not think about my mom, the kids, and the fact that it might be difficult for them. The train set out at five. We were in the hall. It was hot, we had a long road ahead of us, and only God knew how we were going to get there. It was a chaos in the train. Everybody was talking about war. Nobody had a clear image of the war and the events that followed. There was a rush. It seemed that everybody is anxious. Some were talking about the bombardment and the casualties. Most of the passengers were from Khuzestani, who were returning home from summer vacation. They were all rushing home not knowing what tomorrow or the day after holds for them. All the halls were full of passengers.
We could not stand for more than half an hour, and then we all sat down. The train was moving very fast. The weather was very hot. We were sweating under the veil. The drops of sweat was pouring down from our noise and chin as if we had just washed our faces. We were all thinking in silence. Thousands of different thoughts. We didn't have a clear image of war and it was all that we had heard or the videos that we had seen from II World War.
After as hour, one coupe door opened and a few soldiers gave their seats to us. They said: "You are a family and it is not good to sit in the middle of the hall." First, we did not accept. Why they had to suffer. However, they insisted and we accepted.
There was an old man, with grey hair, along the soldiers in the coupe that was crying nonstop. The train was running fast like a giant snake in the heart of the Qom desert. The old man was ignorant of his surrounding and crying silently. It was a sad ambiance. Nobody was talking. At the sunset, the heat decreased. I was listening to the voice of the train wheels touching the rails when my mom broke the silence. She started a conversation with the old man asking what had happened. The poor man said: "I have two sons in the military who are serving in the army. I have not heard from them since yesterday. I don't even know if they are alive or martyred! I am going to Khorramshahr to find out what has happened to my sons." My mom said: "Don't be negative. Hopefully nothing has happened and they are both well." He said: "I swear to God, if my sons are martyred, I will wear the military uniform and go to the war with Saddam instead of them."
To be continued …
---
[1] Official forces recruitment quota was full; hence some of the girls were reserves to join the official personnel if needed.
Number of Visits: 478