SABAH (19)
Memoirs of Sabah Vatankhah
Interviewed and Compiled by Fatemeh Doustkami
Translated by Natalie Haghverdian
2020-07-20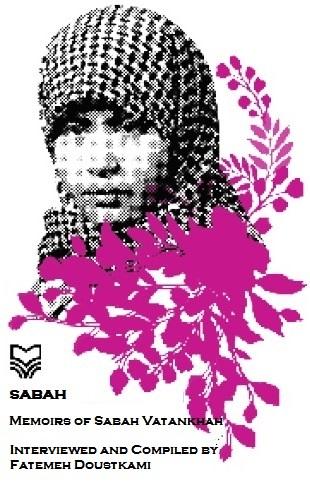 SABAH (19)
Memoirs of Sabah Vatankhah
Interviewed and Compiled by Fatemeh Doustkami
Translated by Natalie Haghverdian
Published by Soore Mehr Publishing Co.
Persian Version 2019
---
One of the topics we discussed about was the massive killing of Muslims by Stalin; a horrible crime, which happened in Russia due to resistance against Communism belief by Muslims and thousands of innocent men and women, were killed in one day. We asked for a justification for this crime. What kind of a dictatorship do you follow? They never had anything to say to convince us.
Sometimes the discussions heated up but each time God helped us and we succeeded. Despite these successes, there was a great need for mental input. I remember that when we traveled to Qom, I bought a pamphlet with the title of Laborer's right from Islam point of view which was extracted from a book called Tahrir ol Vasileh by Imam Khomeini. The pamphlet was very useful during my discussions.
These lefty Marxists, Maoists and resistance groups spread like fungus and were so wide spread that one day Ali came home and said that he has seen a person gathering a few boys from our neighborhood and is talking to them about laborer's rights and how to defend them through Mao[1] approach. Later, we found out that he had travelled to an Eastern Asian county and now after the victory of the Revolution had returned to sell his Maui ideas to his fellow citizens. As he was not a well-known person and was drinking and going to Cabaret, fortunately his ideas were not welcomed.
In June of 1980, Ali broke the news of martyrdom of two members of the Revolutionary Guard Corps. Abbas Farahan Assadi and Mousa Bakhtour were two guards who had been targeted by Iraqi forces in the border base.
Such news was hurtful. We could see that Khorramshahr is in danger. We did not understand why Tehran doesn't take action. It was as if all had forgotten Khorramshahr. No newspaper, no news in TV was publishing and broadcasting the events in our city.
In a summer day in 1980, the national news, announced the unsuccessful coup attempt in Shahid Nojeh base in Hamedan. It was shocking. We all panicked in front of the TV. Based on the news, the coup plan was to bombard Imam Khomeini's house in Jamaran and then other state sensitive facilities. However, thanks to God and with the help of Imam Zaman, this coup had been revealed by one of its members, and the information had reached the government authorities.
The news mentioned that the level of participation in this coup had been so high that many military bases all over the country were involved and in case of success, the state would have fallen in the hands of the coup d'états in a matter of hours. We could not believe what we heard. How could a number of people plan subverting Islamic Republic system? a system for which many were martyred. This piece of news, gave meaning to many movements which we had observed lately in Khorramshahr. Until a few days ago, when I went to Bazar or my auntie Maryam's house, or returned from high school, I could see strange, handsome young people, carrying Samsonite, travelling between Iraq and Kout Sheikh by boat; there were new faces who were neither local nor known people in Khorramshahr. It was not clear why they were travelling to Iran and Iraq back and forth. Now we could understand that these events were not that meaningless.
After the failed coup of Nojeh, the border was vacant of military forces. It was as if the 92 armored division of Ahwaz had been mostly dismantled. Before this event, the army guards used to guard the border regularly but after the Nojeh coup, the army could not handle its activities like the past and protect the border as expected. At this stage, the members of the corps took action and spread in the border stations in their limited number and protected the borders. Members were standing within the distance of hundred meters from each other and guarded the border. This news was brought by Ali.
Iraq was strengthening its border fortifications. The one line barbed wires in the border turned into three lines and those parts of the border through which they commuted, were paved. They equipped their stations and trenches and brought new equipment to the border.
All these movements were suspicious. We could smell the war. The corps member had all the movements at the border under observation and reported to Mohammad Jahan Ara who was the first Commander of Khorramshahr corps. Ali told us that Jahan Ara has reported the Iraqi border movements to Tehran a few times and has warned them that danger is only a few steps away from Khorramshahr. However, he never got a proper answer!
After the innocent martyrdom of two young corps members, Mousa and Abbas, the Corps, Jihad and Red Crescent held first aid training courses for the public which were known as rescue courses. I saw the announcement of the courses in Jihad bureau. Little by little, everybody believed that something is going on and we should be prepared. I decided to attend the courses. In rescue class, we were trained for orthopedics, dressing wounds, stopping hemorrhaging, opening the breathing canal, artificial ventilation and injections. The duration of the course was almost two weeks. We underwent very good trainings by a trainer from Red Crescent. I was very interested in the topics. I tried to write down every detail. The courses were both for men and women.
After the rescue courses, I went to learn military training. The Corps had arranged military training in a few high schools for boys. This training was for men and women who were active in the Corps, Jihad and advocacy bureau. I participated in a course held in our high school. Sister Mohammadi, Mahini, Mousavi and some of my classmates attended this course too and we learned about different kinds of weapons, opening and closing G3 and Kalashnikov, throwing grenade, three and five seconds leap and … I was very eager to learn and practiced many times.
I heard from my classmates that the Islamic Advocacy Bureau of Khorramshahr has started its operations a while ago. Islamic Advocacy Bureau was near Ahmad Zadeh square and was quite close to our house. I decided to go there with Shahnaz. We went. The head of Islamic Advocacy Bureau of Khorramshahr was a middle-aged man named Hojatol Islam Islami. He was one of the Ajam of Iraq and had lived in Najaf for many years. Mr. Islamic who was one of the students of Seyed Mohammad Bagher Sadr, was exited from Iraq to Iran with his family after Saddam and Baath Party had come to force were formed. He had gone to Qom after being exiled from Iraq and lived there. After a while, he learns about the movements of Arab Public and decides to come to Khuzestan and do cultural affairs.
Mr. Islami told us that some clergies had come from Tehran for ideology training. They were holding classes for youth and we can benefit from those classes. My friends and I attended a few sessions of their classes. They were good. There were mostly question and answer sessions on ideology and political issues.
After the clergies left, Mr. Islami held a series of new classes. It included grammar of Arabic language and Islamic Ruling classes. Little by little, many active youth of Khorramshahr started attending these classes.
One day Mr. Islami asked us if we knew how to type. I had already spent a training course in typing in Red Crescent and received a certificate, therefore I said yes. Mr. Islamic asked me to go to his office and type his letters during my spare time. I accepted. Shahnaz, Leyloun and her sister Gilan also joined us in the office and helped with cultural tasks.
It was not long that I was working in the Islamic Advocacy Bureau that Mr. Islamic brought his wife to the office and introduced to us. He said: "my family lives in Qom and sometimes they visit. As we have nobody in this city, I have brought her to the office to introduce her to you so that she won't feel alone." Mrs. Islami was a cordial and shy woman and connected with my family and me in no time. She and her children started coming to our place and after a while we became good friends.
It was in the middle of summer. I had a strange dream one night. It was night time and I was lying on the roof top. As I was looking at the sky, red clouds covered the whole sky of Khorramshahr. The clouds were moving rapidly. As I was watching the clouds, the city was torn and knocked over farther away. I was looking dumbstruck at the city; I saw that the Iraqis attacked the city. It was a full scale war. An Iraqi dropped a grenade behind our home. With the huge noise of explosion, I woke up terrified, breathing heavily. I had a severe pain in my chest, and I felt that my heart would stop. I chanted Salavat and felt a bit better.
To be continued …
---
[1] Contrary to Marxism-Leninism that considered the urban laborers as the main source of revolution and ignores rural areas, Mao recognizes the rural communities and the main revolutionary forces and believed that the Communist Party in China might be governed by them. Moreover, contrary to other Marxism-Leninism species which considered massive industrial development as a positive force; Maoism prioritized rural development.
Number of Visits: 552