The 314th of "Night of Memorials" - 2
Ahvaz Was Attacked By the Iraqis from Three Directions
Elnaz Darvishi
Translated by: Zahra Hosseinian
2020-07-14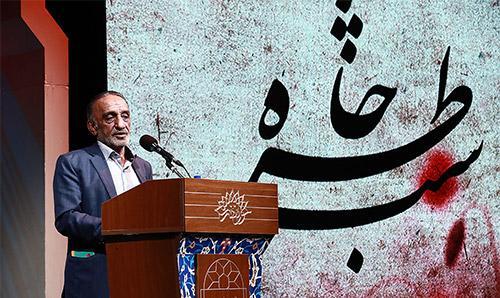 With the presence of three companions of Shahid Mostafa Chamran, the 314th of 'Night of Memorials' was held in July 2020. According to the website of the Oral History, the 314th of 'Night of Memorials', was held by maintaining social distance at Andisheh Hall of Hozeh Honari in June 25, 2020. In this meeting, Seyyed Abolfazl Kazemi, Hassan Shah Hosseini and Ismaeil Shah Hosseini recounted some memories of the sacred defense time and the irregular war groups of Shahid Mostafa Chamran and the role of motorcyclists.
The memoirs of the second narrator, "Sardar Hassan Shah Hosseini", one of Dr. Chamran's friends and fellow-warrior, began as follows:
'We're a forgotten generation which is betrayed. There were countless persons like Jalil Naghad in the war. I'm not a speaker or a preacher, but would like to tell everyone, especially the younger generation, what I've seen in the zone.
We were four brothers. Two of us were martyred, one by the hypocrites in 1978 and the other one during recapturing Mehran. I and Ismaeil are both disabled veterans, but we had no association with the Foundation of Martyrs and Veterans. 'Don't trade with any organization when you traded with God.' Our mother advised us, 'The reward of being indebted to God is much greater; otherwise, and I won't forgive you.' I mean that a clan of the Imam's generation had been like this.
Now that I'm about seventy-four years old, I'm no longer looking for my own interests, but want to tell facts to the younger generation, so that they understand at what price Iran has been preserved today, and they don't believe in every word they hear from outside and inside. The persons like Imam and Dr. Chamran have worked hard for this land. Now ask any question you have.'
* You have been with Dr. Chamran most of the time. Tell us about one of your good days with him.
My most beautiful day with Dr. Chamran was the day I buried his body in Behesht Zahra with my own hands, recited the Talqīn al-mayyit, and looked at his face. That day was a blessing that God had given to me; that day it was my turn to be there to bath and shroud the body of this dear Shahid, and then bury him and tell him what I had in my heart. This scene was taken by one of the photographers of Kayhan newspaper.
* Please explain about the photo which is being shown.
'At first, it was called Karkheh-e-Koor, but later its name was changed to Karkheh-e-Noor because of the martyrdom of a fighter in this place. This photo has a detailed story which can even be made into a movie. When we recaptured Sardasht, we left for Tehran. Arriving Tehran, it was reported that Iraq had attacked and we returned to Ahvaz with Dr. Chamran. Of course, I have to share a memory here. We knew of Iraq's invasion a few months before. A few months ago, according to my mission about the 'ADPF'[1], I departed with a volunteer group and a number of commanders and those who passed airborne courses in Shiraz, including Mohammad Tightiz, who trained us militarism. In this mission, an outpost near Harman and Shalamcheh was given to us. The ammunition was sent to the counter-revolutionaries inside by Iraqis, and they blew up the oil pipelines. We were there for almost two months and overthrew the counter-revolutionary with the help of God and the marine rangers and the governor of Khuzestan, who was then an admiral. One night, when we were still there, Mohammad Tightiz secretly took me about a kilometer inside the Iraqi territory from the Shalamcheh border, where many tanks were deployed. Nearly four tank brigades were deployed. Tightiz said that they were deployed to invade Iran from Khorramshahr and Ahvaz. Returning to Tehran, we discussed the matter with Dr. Chamran. He also informed Mr. Bazargan and the government board, but they did not believe it at all; until the day Iraq started the attack and we left for Ahvaz with the ammunition we had brought from Kurdistan. There were about thirty-eight of us. From that night on, Shahid Chamran planned. The Iraqis had attacked Ahvaz from three directions and were doing their best to capture Ahvaz; because they knew that it would be easier to capture Khorramshahr, Bostan and Susangard by capturing Ahvaz. Imam Khomeini had commanded Dr. Chamran in a letter: 'Protect Ahvaz.' Later, we found out how much Imam Khomeini had an excellent military insight; Ahvaz was the key to entering Khuzestan.
The Iraq attacked from three direction: Dasht-Abbas, Dob Harran, and Nabard in Ahvaz. A division had also fired the Dezh garrison from Khorramshahr and was moving towards Hamidiyeh garrison. There were very few of us and we stayed at the Jundishapur University. We slept on the grass and were divided into several groups of eleven. A group went ahead and demolished one of the tanks, by hook or by crook, and then returned. Then it was the turn of next group to take action from another direction. This would confuse the Iraqis; because they didn't believe several fighters could do it. We were in a lot of trouble in terms of the number of fighters; until Mr. Khamenei arrived. After a month, a lot of troops was sent from different cities; so that we had to provide a school to train them. At that time, Seyyed Mahmoud Khosravi Wafa was the head of protection team of Mr. Khamenei. They arrived at the evening, when we were going to employed counter-attack the Iraqis the very night. Seyyed Mahmoud and a few others, who were with him, insisted on accompanying us, and I said: 'we would go undercover. You don't know the city. That would be great to reconnoiter the city tomorrow. Because for whatever reason you were separated tonight, you would get lost.' But he would not accept. At the same time, Colonel Salimi called me and said that Mr. Khamenei wanted to see me. When I visited him, he said, 'Why don't you take them?' I explained the reasons. 'You're right,' he continued, 'but these are fearless. I'll tell you to take them.' He kissed my head. And as I smoked, he advised me not to do it and talked to me a few moments. In short, I got into a Chevrolet of the oil company with them. Seyyed Mahmoud was a tall robust young man at the time. I told him not to connect to the car body, because it would be dangerous if something happened to the car. He said they were trained. A short time later, the car was shot by a rocket which was fired from Dob Harran, and we were all thrown into the middle of Fuliabad, but when the car was overturned, Seyyed Mahmoud's leg was trapped under it and was cut off. We were taken to a school in Ahvaz. When I woke up in the morning, first thought my leg had been amputated. I stretched it very slowly and saw nothing happen to it. One of the nurses shouted, 'this man has three legs!' Seyyed Mahmoud's leg had been mistakenly put beside mine! Seyyed Mahmoud was supposed to be transferred to Tehran for transplantation at five o'clock, but it was as if God did not want it happens.
When Shahid Chamran went to Susangerd for the last time, Akbar Chehrghani was with him and he was martyred there. Dr. Chamran's knee was shot too. Sergeant Asgari, who was the doctor's driver, helped him to be survived. About forty years have passed and no one recognizes this person.
I was at service of Dr. Chamran since 1979, and it has been a blessing for me to be at his service after Imam Khomeini; I owed him all the morals I have now. As long as he was alive, I was at his service. Because of twenty-four hours of leave, I missed the blessing and Dr. Chamran commissioned Rostami instead of me. Anyway, after the martyrdom of Dr. Chamran, I continued serving in the IRGC and I was retired in 2001.'
* Tell us a little about Shahid Rostami. Apparently, after his martyrdom, Dr. Chamran was very upset and shortly after him, was martyred.
'When the siege of Paveh ended, we started clearing village to village, until we reached Baneh. Dr. Chamran set up a column there with an excellent military plan. He said the plan was a memento of southern Lebanon. Arriving in Sardasht, the Shiraz Airborne Brigade had come to help us. Every three months, a brigade came to our aid. Captain Rostami was a member of the Shiraz Airborne Brigade. When three months had elapsed and they had to return, Captain Rostami told the brigade commander that he would not return and would stay to fight. With respect, he handed over his military badges to the brigade commander and stayed with us. He was the police chief of Sardasht for a while. He was with Dr. Chamran during the war until he was martyred. The difference between Dr. Chamran and the rest of commanders was that he believed that God always sees us. Islamic morality must be learned from 'Muhammad the Messenger of God', who could defeat the infidels with Islamic morality. I remember that there was a telecommunications group in Malekieh near Susangerd. The group consisted of communists and guerrillas. When I told this to Dr. Chamran, he said, 'Well, so what? it's not an honor to arrest or execute them. Send several of good-natured Islamic guys, so that their actions cause that the group to be changed and improve. Chamran helped people to grow and develop. We were of low social class and among us Dr. Chamran was the only one who was educated; but he attracted and fascinated all of us with his morals.
* Sardar, please tell us about Jalil Naghad in short.
When the forces arrived in the zone, we started to divide them. We divided them into units of Farsieh, Abbasi, Seyyed Jaber, Dehlawieh, and so on. Now it was necessary to send messages from the headquarters to the zones. These messages were confidential and in written form. We couldn't send them by wireless radio. Dr. Chamran decided to send motorcyclists to the units as couriers. The casualties would also reduce in this way. My brother Ismaeil was also a professional motorcyclist before the revolution. Even the Japanese Yamaha company had invited him, but he did not accept. We asked him to send a group of motorcyclists to the zone. Jalil Naghad was a true believer and one of those motorcyclists. He was always the first and ready volunteer. One day, when we had sat in a tent with Jalil and the others; one of the fighters, Ahad, who collected mines and bullets for us after each operation, wanted to go with the IFA truck we had taken from the Iraqis. This IFA truck was the first one we had taken from the Iraqis. We had even brought it to Tehran and maneuvered. On behalf of all the mosques a slogan had been written on its tarp cover. Anyway, I told Ahad, 'if the Iraqis saw the IFA, they would take it and send it to Baghdad. In that case, we lose our face.' But Ahad said, 'they won't.' and he went with IFA truck. Less than ten minutes later, Ahad returned and said that they took the IFA truck. I said, 'either we have to take it back or to destroy it. Who among the motorcyclists comes with me?' Jalil volunteered among the five motorcyclists who were present there. Carrying a RPG, I rode the pillion of his motorcycle. It was autumn and the ground was very muddy, and there were a lot of Iraqi forces. Jalil said, 'Haji, as I'm distracting the Iraqis with the motorcycle from the opposite side, you shoot the IFA.' He went and showed all maneuvering thing he knew and distracted the Iraqis. I also shot the petrol tank of IFA truck, which was full of diesel oil. Jalil drove toward me, I rode and he saved us from death. Jalil was a very brave man without any expectation. We should appreciate these people more. I advise all journalists and photographers to take a picture of his both hands and keep it in their archives! The difference between Jalil's two hands is a sign of zeal.
---
1]. Al-Ahvaz Arab Popular Democratic Front
Number of Visits: 888









A child from Salman generation

A Review of the Book "Footprints of Fog"
I was very persistent in going to Syria and acting in any way ... I had missed the era of sacred defense for years ... many people used to say that the wartime generation would not be repeated, but this was not the truth; there are always persons of Salman Farsi generation to be active in history and win the deal in this business and I was trying in the hope that I would be in this line ...

The 322nd of Night of Memorials-2

Memories of Purification Unit
The 322nd 'Night of Memorials' was held both in person and online on Instagram on February 25, 2021. Hojjatoleslam Seyyed Hossein Naqibpour, Hojjatoleslam Hassani, Hojjatoleslam Taherloui and Ms. Rahmani Nejad shared their memories in meeting. This session which was for jihadist students of seminary, Davoud Salehi had participated as a presenter. The second speaker was Ms. Rahmani Nejad, who first pointed that, "I got Covid-19 in March 2020.

Oral History of the Revolution in Department of Hozeh Honari of Provinces-2

Academic Attention to Oral History
Since its establishment, the Culture and Sustainability Studies in the Department of Arts Center of Provinces has attempted to collect and publish the oral history of the Islamic Revolution and the Sacred Defense in different provinces and cities. To get acquainted with how this center was established and with its activities, especially in the field of the Islamic Revolution, Mohammad Ghasemipour, the head of the Culture and Sustainability Studies center in the ...