Introducing a Book Entitled "Mr. Book"
Elnaz Darvish
Translated by: Fazel Shirzad
2020-06-09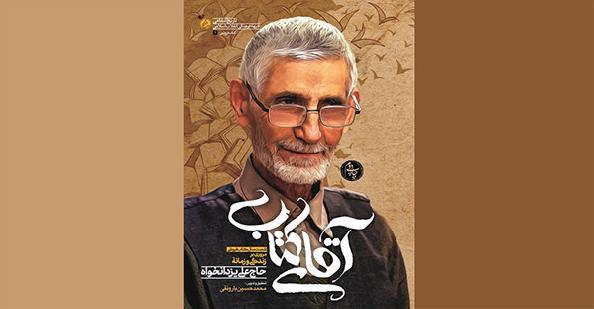 The book "Mr. Book", in the field of oral history's Office for Studies of the Cultural Front of Islamic Revolution, has been prepared and compiled by Mohammad Hossein Baronaghi. This book is a review of life and time of the sixty-year-old experience in bookstore of "Hajj Ali Yazdankhah", father of a martyr, and the revolutionary book seller of Kashan.
The "Mr. Book" includes six chapters on the life of Hajj Ali and the seventh chapter of an article on bookstores during the Revolution, and provides a good account of the silent cultural jihad of a revolutionary. In this book, in addition to talking to Hajj Ali and his family members, some revolutionary activists of Kashan and people are interviewed about the life and memories of Mr.Book during the revolution, such as Nusratullah Shadnoush, the late Hojjatoleslam Mohammad Taghi Madani, Ahmad Farhang, Hojjatoleslam Abbas Rasoulzadeh, Mohammad Ketabchi, Morteza Mahdavian, Mohammad Shaghaghi, Mohsen Khosravi, Hojjatoleslam Sheikh Morteza Ghasemi, Ali Movahedpour and etc. In the introduction of the book and the introduction on Hajj Ali Yazdankhah's bookstore, it is stated: "Adolescents and young people in 1960s and 1970s found all their curiosity in a two-meter bookstore." some who used to go to Yazdankhah's bookstore in Kashan Bazaar in the 1970s, have grandchildren today, and their grandchildren may no longer know Hajj Ali Yazdankhah, but that bookstore had planted something in the souls of their fathers and grandfathers that today's children are growing up with them."
The first chapter, entitled "Naraghi Alley", covers the birth to Hajj Ali's marriage. In this chapter, Mr. Ketab's friendship with Professor Mohsen Qaraiti, the selection of a bookstore job, the change of Hajj Ali's last name from Kordoi to Yazdankhah, and other issues are mentioned."
The second chapter, entitled "Days of Struggle" states that it includes the events of June 6, 1963 and important events related to the demonstrations and events of the revolution, the publication and duplication of speech tapes and etc. it is also mentioned that Hajj Ali has been present in the events of the revolution.
The third chapter, entitled "Harmful Book", is a look at the activities of Yazdankhah's bookstore before the victory of the Islamic Revolution, such as: selling Imam Khomeini's treatises and how to print and access them, selling Dr. Shariati's books, and so on. Hajj Ali was imprisoned and interrogated by SAVAK despite secrecy and making an invisible network for distributing books and treatises; but he provided the necessary books and give them available for revolutionaries despite all these dangers.
The fourth chapter is "The Spring of Revolution", in which the activities of Hajj Ali Yazdankhah after the victory of the Islamic Revolution are mentioned. In a part of this chapter, Haj Ali narrates:" after the victory of revolution, I said to myself that I had fulfilled my responsibility, and I will no longer sell books in a small shop, and I will sell the same stationery, Because Jihad Construction and the Islamic Revolution Guard have bookstore; I didn't bring books for a while until one day a woman came to the store and asked for a book "Easy Arabic". I said I didn't have it and I wouldn't bring it anymore. The she became unhappy and said, "I wanted a book and I came to buy it from you." she went a little far away when I called him and told her to come back in a few days to receive the book. At one point, I said to myself, "Oh my God, I should not close my bookstore, even if I won't be successful in this job." One or two nights after this incident, I had a dream that someone was being knocking at home. When I opened the door, I saw that it was Imam Khomeini. I said, sir, where are you here? He said that you did something and it was my duty to come to your house; He stayed at my home until morning. When I woke up, I said that it was the result of a decision to continue selling books; "God, I won't leave the bookstore hereafter!" This memory is also printed on the back of the book's cover. In this chapter, the role of Hajj Ali in jihadi activities and his cooperation with Jihad Construction during the war is also mentioned.
The title of the fifth chapter is "Mahdi Shahid". In this chapter, some of memories of the son of martyr Haj Ali Yazdankhah are mentioned. Some of these memoirs have been quoted by Ms. Hedayati, Haj Ali's wife, about the morals, behavior, and character of Martyr Mehdi. In a memoir, Ms. Hedayat has pointed out to a part of the martyr's will addressed his brother who has a physical disability: "Hopefully, you will be well and we will pray together in Jerusalem." The story of convincing the father to go war and the behavior and personality of this martyr is noticeable. Martyr Mehdi's body was buried after ten years of disappearance.
The title of the sixth chapter is "Tariqah[1]". In this chapter, Hajj Ali's business and social behavior are expressed by his children and friends, how sensitive he has been to paying khums[2], extortion, favoritism, and so on. Hajj Ali had made contentment and generosity his capital rather than the worldly wealth. He is the inheritor of a generation who are sincere of Islamic Revolution, and are in health of soul and are still a source of encouragement for anyone who go to Hajj Ali's bookstore.
The seventh chapter is "Epilogue" of the book, this chapter is an analytical article entitled "Infrastructural Struggles and the Infrastructure of Revolution; it includes an introduction to the knowledge of Imam Khomeini's book and treatise distribution network during the Islamic Revolution. In this article, the history of book distribution of and religious bookstores, the distribution network of Imam Khomeini's treatise, the revolution of Imam Khomeini's treatise in cities, the only traces of this network can be searched to identify these bookstores and related people in different parts of city, one of these bookstores belongs to Hajj Ali Yazdankhah. In this chapter, we read about how he selected the books, avoiding parallel and unnecessary activities, helping the activities of the mosque, selling exclusive books of religious books, and so on. After the revolution, Hajj Ali became the head of Bookstores' Trade Union and became a prominent member of Kashan Bazaar's Islamic Association. What made him famous was not his experience in the bookstore, it was due to his performance over the years.
At the end of book, some attachments are mentioned that include the identity card of narrators includes memoirs and a list of best-selling books and SAVAK documents, as well as pictures and photographs of Hajj Ali and her family and profile.
The second edition of "Mr. Book, with192 pages and Medium octavo paper size, has been published in the number of one thousand copies and price of 20 thousand Tomans[3] by "Rah-e Yar" Publications" in 2019.
---
[2] It means "One-fifth" that is one of the types of Islamic taxes that Shiites believe in and is designed to solve the financial problems of the Islamic nations and the fair distribution of wealth.
Number of Visits: 374