Memoirs of Iran Torabi
Womens logistics and support during the scared defense
Seyyedeh Pegah Rezazadeh
Translated by M.B. Khoshnevisan
2020-05-19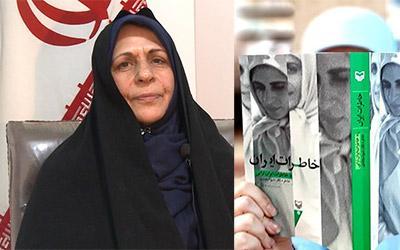 According to website of Iranian Oral History, the owner of the memories of the book "Memoirs of Iran" is Mrs. Iran Torabi who recounted her memoirs of the sacred defense in December 2019 during the 19th commemoration ceremony of the martyrs of Ansar Rasoullollah (SAWA) Battalion. She has been active in the hospital in the war areas and in remote areas of the country for years. She who was present in the bloody Friday demonstrations in 1978 says, "I was a member of the medical staff during the eight-year imposed war and played an active role in the siege of Sussangerd, Kurdistan as well as Mersad Operation, helping the war wounded, and I have seen the bravery these loved ones closely".
Iran Torabi started her memoirs with a few lines of poems, saying, "I Iran Torabi was born in the town Tuyserkan in Hamedan Province. I lived there until the fifth grade of elementary school. Concurrent with the final exams, I became sick and my mother took me to the hospital. In the same fifth grade of elementary school, I saw a rural woman in the hospital standing with her sick child in an awkward position in a corner, begging the hospital nurse and saying, "Let the pediatrician see me!" The nurse answered carelessly and calmly that the doctor was in the operating room and had not come yet! The rural woman insisted again. I found out that her child had a fever and for this reason, the mother was impatience. The hospital nurse pushed the woman. She fell to the ground with the baby in her arms. At the same time, she started weeping. At that moment, I was motivated by seeing that scene. I told myself that I should ask God to finish my studies and become a nurse so that I could serve in the villages. I completed the fifth grade of elementary school. For many unwritten reasons, the fathers at that time usually did not allow their daughters to continue their education ignorantly. Like hundreds and thousands of other fathers in the small town of Tuyserkan, my father opposed to continue my education. Accepting this was a great failure for me. My cousin was a teacher at that time. I had no other way but to shelter him. I asked him to mediate and tell my father so that I could continue my studies and become a nurse. My cousin talked to my father, but he still wasn't convinced. My cousin suggested that he bring me books to read and help me take part in the exam and pass the sixth grade in the form of leap in education. That was why I studied in a leap form and took the exam in October and was accepted with a grade point average of 14. My cousin came to father again and said, "It is cruel that you do not allow such a talented girl who has studied and most importantly, is motivated and enthusiastic to go to school. But my father opposed again. At any rate, he was an elder in our family and had the final say at home. I got angry and went to my uncle's house. I said either you have to let me study or I won't come back home. Family members mediated, and the father eventually agreed. There was a break between classes for a few years and I had to study at a night school. I finished first and second in high school, preparing for the final exams. Tuyserkan had a main square. In the evenings, I along with my classmates would pass by there. There, all kinds of leaflets and announcements had been pasted on a large billboard in the middle of the town. I happened to be looking at the leaflets when I noticed that on a piece of paper had been written that a village midwife would be accepted in the city of Hamadan. I became very happy and walked on air. I thanked God, but the main point was that unfortunately, I had not taken my final exams yet. I discussed this with my mother. In any case, I persuaded my family to go to Hamedan. At the time, my brother was working in dentistry. They agreed that he took me to Hamedan. In Hamedan, I was strolling in Mirzadeh Eshghi Street in the morning and found the midwifery school. I remember very well that Dr. Dardashti, seeing my motivation and determination, accepted me in the school, even though I was from a small town, on the condition that I pass my exams. I promised her that I would both study at the school and take my exam. The doctor said that we only needed one person here and now, you are the last one! They wrote the documents they needed on a piece of paper and handed me, and I went back to Tuyserkan to prepare my photo and documents. It took two days to sort the documents. When I returned to Hamedan, it had been three days since school classes had started, and of course I was behind the schedule. With serious determination, I told the doctor that I would forward myself to class anyway. Quickly and without delay, I took the pamphlets from the classmates and transcribed them overnight. I studied the theoretical and practical lessons intensively for about a year and a half. They announced that we had to wear uniforms and go to clinics and hospitals on our practical lessons. When they talked about wearing uniform, I was shocked. It was just like cold water pouring on me. I was really shocked. I had to put on a hat and a short-sleeved shirt! It was very difficult and against the Sharia for me to accept this issue with that history and the religious family. On the other hand, I was motivated and did not want to lose my job. I thought to make up! I bought a wide cape so that it completely covered my whole body. I put the cape on my head and shoulders, and as I got in and out of the taxi and bus, I rushed to the hospital. I had to take myself to the women's ward soon so that no one would notice my hijab. After graduation, we were divided and they told me to go to a village not far from the city. In fact, it was about fifteen minutes far from the city. I quickly protested, saying that I was not willing to work in this village, because it was close to the city and certainly, the people could go to city for treatment. I insisted them to send me to a remote village due to my interest and of course with confidence. There was a village named "Karkhaneh" between Tuyserkan and Kermanshah whose patients went to Kermanshah or Hamadan for treatment and even for delivery. There was only one small clinic with limited facilities in Karkhaneh. About 25 villages used the clinic, and various patients came to the clinic naturally. When I entered the clinic, not only the villagers but also a small number of the staff there became very happy of my arrival. This could be seen and felt from their eyes, and there was no need to be said! Moreover, they welcomed me very warmly. I entered the clinic, introducing myself to Dr. Hosseini who was originally from Mashhad. From the very beginning, I found out that either the women of the village or their children died for there was no midwife there. They planned for me and delivered a room in the clinic. Most of those who lived in the clinic were members of the Health Corps. There was just one female driver who lived outside the clinic. Thus, it was difficult for me to stay there. But at any rate, I left there a few items that I had brought with me. My cousin was a well-known person after working in the Education Ministry for many years. Upon my request, he contacted Haj Habibollahi who later passed away and he was supposed to take care of me. Haj Habibollahi came to the clinic with his own feet and said, "You are my daughter! You should come to my home and not be bothered here. I as if God had put a heavy responsibility, became relieved and went to the house of this man of God and they gave me their living room. The clinic started work at 8 AM and lasted until 2 PM during which family planning and injections were carried out. Delivery was usually open in the afternoon. We were told that because you don't get paid much, you are free to take the birth rate yourself from the families according to the existing conditions. It offended me from the beginning! I said to myself, from whom should I get money? From those who also need their night's bread! Some evenings I had to visit different areas. I soon realized that the presence of large number of flies bothered the villagers. I mobilized and justified the men that these flies caused many diseases and most of the diseases were due to the excrements of cows and sheep. They took the excrements out of the village in a way that when the Health Corps came, confessed and announced that they did not prevail on the villagers to collect the excrements! With the passage of time, we trained and convinced the people to buy metal nets, installing them in front of the doors so that flies and pestilential creature would not enter their homes. I was very busy in the area of delivery little by little. The people from the surrounding areas and from about 20 villages rushed to our small clinic. As soon as I wanted to take a brief rest, they came to take me by Jeep and even by a tractor. They got permission from Haj Habibollahi and took me with one of the members of the health Corps next to the women whose delivery time had arrived. Some of the deliveries were really risky. I remember that once I went to a house where the situation of the mother and child was worse than you might imagine. The mother's blood pressure was on 4. I used every trick in the book and gave birth to the child. I injected serum for her and gave her a few shots. I sat next to the patient for several house until she improved. Her vital signs returned and I came back to the village. Once a man came to me and called me "Mrs. Doctor" and said, "Listen to my desperate calls! My wife and child are going to die!" I asked him how to move. "We're going by tractor, and we have to ride a donkey for a distance," he said. I took my belongings with Mr. Karimi, one of the guys of the Health Corps. It started to rain heavily in the middle of the road and in the middle of the desert. I was afraid that the wolves would attack and kill us. We went down the mountain with the donkey. I was confronted with this view that his wife had been laid on the floor and some ashes around him. From my point of view, I was confronted with a corpse! Its pulse is much weaker than usual. The baby's heartbeat was the same. In any case, I gave birth to a child with much difficulty. There, I also injected a serum and she recovered. When we finished our job, the man of the family gathered a few villagers and started begging and supplicating in front of them. I said what happened to you. "We don't have! I wanted to give you some money, but we don't have any.", he said. "I don't want money", I said immediately. "Have you bought any food stuff for your wife to strengthen her in these critical conditions?" I asked him. "No", he said frankly. I came back. I told the mother of the women that she had to eat something. She also said that we did have no money! There, I gave 5000 tomans to them, asking them to buy whatever they needed for her. We returned to the village with this situation. This was the situation of the women and mothers at that time, but now we are all aware of today's situation of women and mothers. I think it was planned by an infiltrated element in 1977. In my opinion, this plan is specific to the Zionist regime and the Jews. They advertise and chant, "Fewer children, better lives!" But according to our research, their wives give birth till the age of 50, and by the way, their children are not premature and imperfect or do not have Down Syndrome. They have mistakenly reset in the minds and language of the Iranians that if the mother's age is high, the child will be born with a Down syndrome. At that time, those who did not have more than one or two children were given blankets and samovars. Our work was under the supervision of Shahrokhi Base and Health Center. They dominated us in two ways, and they monitored our work, so to speak. Once they came from Shahrokhi Base and saw that our birth statistics are several times higher than the preventive statistics. They rudely wrote a report and sent it to Shahrokhi's Base. We were interrogated in the base, asking the reason for our action. They asked us to explain about it. I explained that when a woman whose blood pressure is o around 7, how can I gave her pills?! I remember very well that there was a woman named Malekani whose husband worked in the SAVAK (Shah's secret police). She insulted me a lot, saying that it was none of your business! You just do your job and nothing more! Later, she kicked the bucket as a result of cancer. Her words and her later harsher words and remarks came as a first and second warning to me, and I told myself that the third warning was to go to the detention center and prison. I went back to the clinic and explained the story to the clinic's doctor implicitly. The clinic doctor was one of those good people in Mashhad. He said that she had been warned about me once or twice. I asked him to run away under the pretext of taking a leave of absence for a few days, and of course he agreed. I returned, but I did not stay in Tuyserkan. I went to Tehran. At that time, I lost my father and there was nobody to support me financially. I desperately needed a job. In addition, I had to supply my family expenses in the same way. Ironically, one of our acquaintances told me to go to Alborz Hospital, which is located behind the University of Tehran. It so happened that in 1978, I went to Alborz Hospital and started working. It was in the midst of the revolution. There was a physician in Alborz Hospital who was among the political guys. Seeing my condition and mood, he gave me the communiques. We talked together. Abig houses in Enghelab Square were the gathering place and activities of the revolutionary guys, where I also traveled. Gradually, the atmosphere became more serious. Shortly afterwards, political activities became public and people began to demonstrate. I remember that before the Tehran protests became public, martyr Dr. Mofatteh led the first Eid al-Fitr prayers on the hills of Qeytariyeh. I also went there and prayed.
It seemed as if the role of women was more than ever in Jaleh Square on 8th of September 1978. The women were present in the first and second lines. Even pregnant women and the women who were hugging their children were present in the battlefield. I saw with my own eyes that the helicopters targeted the people in Jaleh Square. The people's courage increased highly little by little, turning more into street slogans and demonstrations. Moreover, I went to Farahnaz Pahlavi Hospital at that time. I had to work unknowingly and clandestinely due to the reasons mentioned before. I entered the arena of the revolution publically with some of the strugglers. I along with some others decided to bring the hospital's sign down. We coordinated with the university students for doing this. They were supposed to join us concurrently. It was about 10:30 PM that we along with Dr. Sa'adat, Kianoor, Mrs. Ghaderi, and Baqaee brought the sign down. The University of Tehran was the place of sit-in. Martyr Mofatteh, Martyr Motahari and many others were present. We were in front of the site of the Disciplinary Committee. The Ministry of Defense was very close to us. They reported our performance. Dr. Afshar, who was my teacher, called me at one o'clock in the morning. He told me frankly why I did that. Why have you brought down the sign? He said that a few people have been identified. Wait and see that all of you would be arrested very soon. After the phone call, I contacted with some of the revolutionary guys, asking them what we could do and what was wise and rational. They immediately sent a car and entered us to Tehran University from the behind door of the hospital. We also joined the students. After nationwide demonstrations in different cities of Iran, Imam Khomeini (God bless his soul) arrived in the country eventually. Today, when I look at the events of that time with more time interval, I will understand easily that the root of the revolution should be sought actually in the first day of the mourning month of Muharram and it is clear for me like broad daylight. Different groups from all over the city gathered in Sarcheshmeh neighborhood. Dr. Mohtashami contacted with me and said, "Reach yourself to Third of Sha'ban Hospital where many wounded have been brought." Believe me, there I saw a truck of shoes on the same day. The Shah had killed so many people that I really saw with my own eyes stream of blood on the first day of Muharram in 1978. When I arrived in the hospital, I found there full of wounded. The entire street was in the hands of anti-shah revolutionaries so that nobody entered the street.
The women also played a major role in the days of the revolution. They emptied their homes located around the hospital with a revolutionary move, keeping the injured in their homes after the operation and nursing them. Finally, the revolution was victorious as we could have guessed.
After the revolution, the issue of Kurdistan and the dispute of People of Kurd happened. Kurdistan was completely besieged sooner than we could have imagined. Imam Khomeini ordered that Kurdistan should be liberated within 24 hours. We entered Kermanshah with a group of several people to purge Paveh. We were told from the higher officials that we could not enter the city by land or air. The Chinook helicopter and four Cobra helicopters which the duty of the Cobra pilots was to escort us, made the land favorable for our landing. Immediately after landing, we went to the hospital. Meanwhile, martyr Dr. Mostafa Chamran announced that the hospital is in the hands of counter-revolutionaries. He said that I had sent 24 IRGC forces to protect the hospital, but I had no news of them! I asked what we should do now. Where are the wounded? Then, we went to the gendarmerie and the IRGC base, turning there into a small clinic. We had a small amount of medicines and serums and quickly tied a rope and hung the serums on the ceiling to take care of the wounded. We announced to the wounded through loudspeakers that they should leave their homes. The bodies of many of the wounded were worm-eaten during this time. With pliers, we removed the worms from their bodies and the place of the bullets, which had not yet fully healed. At the same time, the counter-revolutionaries were fully prepared and did not underestimate. The only safe haven in the city was the governorship building and the headquarters of the IRGC and the gendarmerie. A ten-people delegation from the Students Following the Line of Imam was sent there to talk to them, but unfortunately the anti-revolutionaries beheaded them. I saw with my own eyes that the pure heads of these dear students had fallen on one side of the road and their bodies on the other side. They beheaded all 24 IRGC forces. We came back to Tehran a few days later.
The Saddam's attack began very soon. We returned to Ahvaz. Martyr Dr. Mustafa Chamran said that we had to go to Susangerd as soon as possible. Those who had been wounded in five fronts were brought to Susangerd. When we arrived in Susangerd, I witnessed the fall of the towns like Dehlavieh and Bostan, and Hamidieh Barracks. We witnessed a one-on-one war. Susangerd was besieged very soon, and we didn't know what to do without medicine and oxygen capsules. We even saw the enemy tanks marching in front of us. We had no choice. We either had to be captured, or to be martyred or had to flee, and we had to retreat by finding a way out. Several things happened in Susangerd. A family of 16 was hit by a missile. We went to help them but faced with a scene of skin, bone and blood. As soon as we reached the bazar in such a short time, we saw that the bazar was also targeted. During the war, I saw a father and a son holding hands. They ran together. Suddenly, shrapnel hit his father's head and he fell to the ground. A miserable situation prevailed there. After I returned to Ahvaz, Ms. Alam al-Huda took a garden, gathering the women of Ahvaz there. The women sat on the blankets and did whatever they could, from sewing to preparing compotes and snacks. Believe me, I have to say that if those women were not present, all people would have died in Susangerd. At least in the imposed war, women tried to bring warm food to the front line. Believe me, if the women were not present, I would say without compliments that we did not became victorious in the sacred defense. As Imam Khomeini (God bless his soul) and the Supreme Leader of the Revolution, Ayatollah Khamenei, have said, women in the sacred defense saw off their husbands, brothers and sons. It was the women who, in the barracks and districts, took charge of the trenches of war preparations. In the same situation, they had to keep and protect their lives in their homes with every available means. Women played a key role in relief and nursing during the imposed war.
Number of Visits: 685