It was held by East Azerbaijan Hozeh Honari
Narrating Taking Photo of Divers of Operation Karbala-5 in a Memory Night
Maryam Asadi Jafari
Translated by Ruhollah Golmoradi
2020-05-19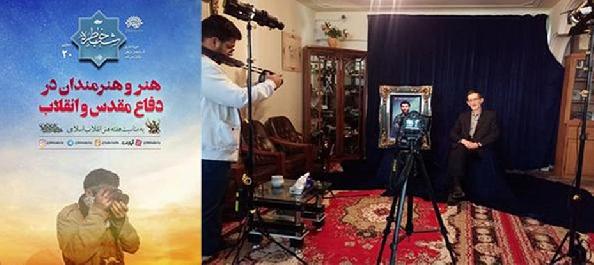 The 20th memory night of the sacred defense of East Azerbaijan's Hozeh Honari was dedicated to telling memories of visual recording of divers of Operation Karbala-5 and one of the warplane pilots.
According to Iranian Oral History Website, the 20th memory night of the sacred defense of East Azerbaijan's Hozeh Honari, with a focus on art and artists in the sacred defense and the Revolution, was held virtually on Aparat Website on Saturday evening, May 2, 2020.
"Behzad Parvin-Quds," a photographer from the time of the sacred defense, as the first narrator, described story of photographing divers of Operation Karbala-5: "Nobody confirms nature of war but in terms of benefits that we have seen in the eight years of the sacred defense, many years is needed to write and picture them. In addition to fight as a Basij force, fortunately, I was also involved in works of art, including painting, writing, and drawing-painting upon stones. During the war, I wrote diary memories and filmed with a super-8 film camera, but they were characterized by photography. In every operation I went to the front, I had a camera. During Operation Valfajr-8, which diving took place in Al-Faw, I was a radio employee but I couldn't go. I was very upset. I swore the great martyr "Ahad Moghimi" that if there was diving this time, call me. He also insisted that you have to come and take a photo of these divers. We also determined a secret that if this time it was diving, he would tell me, for security reasons, to come with the equipment; so I also understand that it was diving. When Ahad called, I didn't have anything, not a film roll, not a good camera, and I didn't have also money. I made my effort and bought a vision camera and two or three film rolls, and went to the area. We headed for the diving position. It was a little hidden. Nobody knew there. Even the division itself did not know where the two battalions were. We went in the position. I started photographing divers practicing before Operation Karbala-5. I took photos of the guy themselves because of limitations of negatives. Martyr Haj Hossein Darian or Ahad Moghimi said: "Do you see these who are diving and receiving training in this way?" These will not alive tomorrow. Take photo of them whatever you can." I would take photos for memento company by company, platoon by platoon, so that at least photo of these guys would remain. Sometimes, I was also looking for a subject. The guys also were sincere in a way that they did not protest but complained. They would say, "Sir, go and take a photo of him ... take a photo of that fellow." That is, they were not satisfied with taking photo. They had made a deal with God and did not want to be in which a kind of ego. However, I took photo in fully stubbornly. In the last days after Karbala-4, it was about 14 days before Karbala-5. Advertising unit was not in a good financial situation. Security forces had also laid into them and insisted that he should give the negative to the division. These are security and confidential. I told Mr. Ahad. He said, "I will answer them." He said, "he had taken these photos for the brigade. It doesn't matter to you." I had dug the negatives under the soil and glued the plastic shell that it became like a can. Then I secretly went to Ahvaz. I took a few blank film rolls, then I came back and said there are just these ones. It was two film rolls for themselves that I photographed them. I also put the negatives in the mud and said, "These has been thrown in the water. Don't pick on me again." Ahad said, "You are very sensitive to these people. Come on. These are empty-handed, they have no record." They want to justify it in that way." The operation was coming. One of the guys was sent to Tabriz by commander of the division. They wanted to take him away from the area. Two of his brothers had been martyred. Martyrs Sarvari. They said that if he also to be martyred, there would be three martyrs, and that is very agonized. They gave him a mission to Tabriz under a phony pretext. I also saw that he was going to Tabriz. I said, "Mr. Sarvari, if you go to Tabriz, come, I have something that I want you to take with yourself. Take it and deliver it to my family. Tell them to open these if I will die a martyr. If I don't become a martyr, I will come back and open it myself." He also thought it was my will, got it and said ok. I know your house too. Because he was from Ansar delegation, he was familiar with our house. We went to the operation. Nothing happened to us. But many guys were martyred. Like Ahad Moghimi, Hamid Hatef and other divers. Everyone was looking for me, and said sir! We want these photos for the ceremony. Fortieth ceremony of these guys is near. I was looking for Mr. Sarvari for a month. He either didn't answer, or answered and reneged. He was a very cool guy. But it was very surprising for me that why he put me on. Finally, I thought and said, "Sir, be a man. Tell me you deliver these films to somewhere. Say I delivered." He said, "I really don't know there are films ... what ... I just thought it was your will." After all, there was for a time run and chase. At the end, once I went to Ansar Mosque in Shariati Street and ambushed. He came. I slapped him two or three times in the shoe-keeping place and treated him so badly. Haj Mehdi Khadem-Azari [may God protect him] said: "Haj Behzad! What are you doing?" I said, "Sir!" he has taken my films for a month. He has put me on for a month. All families of the martyrs are looking for me." [crying] he said, "No, It's something else." I said, "What is it! Well, tell me." He said something. I said, "Don't imagine." He said, " God knows, this is the case I swear to souls of my two brothers." When I took it from you that I didn't know it was a film. I came to Tehran. I called my aunt that we are in Tehran and then we will go to Tabriz. He said I'm sick. I got out of Toyota and went to see my aunt. The division's Toyota came to Tabriz and returned to the front line and the enemy shot this Toyota. In this one month, I went to the area three times. I went and saw Toyotas that were damaged in Operation Karbala-5 due to bombardment and mortars. But I came back empty-handed. Now I had to tell you how these films were missed. Finally, they called with portable transceiver today. They said a Toyota had been found that had been crushed and burned by the bombing. If there was something in Toyota, there is nothing remained. Now you insist, you want to come to the area and see if it is or not." He also had gone in the operational area of ​​Shalamcheh, Operation Karbala-5. They hardly brought the crumpled Toyota to the army transportation in Ahvaz. On the phone, I was also shouting in front of the mosque, "go and get a welding gun ... or find something else. There is nothing wrong with even finding just one film roll. They cut the car with a welding gun to reach the dashboard. They opened the dashboard and saw that our package was safe. Neither burned nor bent nor. Because I had glued so much paper glue that it was like a bone. But in the fire that burned Toyota, the dashboard remained intact. He called me, "Sir, the pocket is safe. But I don't know if heat has affected it or not. Do I post these? What should I do?" I said, "Who's around there?" he said, "Ali Hajibabaei." He was a very serious man. I begged Ali, "in God's name. Tie it to your belly with a Keffiyeh. Come to Tabriz directly. " He said, "What is this?" I said, "Come to Tabriz directly. These are the same negatives. Don't give them to anyone." He brought the negatives. We made an appointment in Taleghani Street. I went and got the negatives. I ran to the lab and set out quickly them to develop to see what had happened. Fortunately, we developed them, and all the negatives were safe, and the photos you now see of sea-hearted divers of ocean of knowledge are the same photo."
Then, "Masoumeh Jafarzadeh", author of the book "Saray-e Enghelab (house of the revolution)", recounted some of memories mentioned in this book and said: "This memory is part of memories of miss. Marzieh Zenoozi, sister of martyr Mohammad Tatela, one of martyrs of Tabriz Protest on February, 17. This book deals with role of bazaar and Tabriz businessmen in the victory of the Islamic Revolution. The first part is geographical location of Tabriz bazaar and the second part is oral history and dialogue with fighters and eyewitnesses of the bazaar events. The third section deals with martyrs of Mihrab, Ghazi Tabatabaei and Madani, and their biographies. The fourth section is dedicated to martyrs of February 17 and the fifth section is dedicated to documents. The book "Saray-e Enghelab" has been compiled through library research, interview, oral history, and document, including newspapers and photographs, and existing SAVAK documents. In 2015, it was proposed and was published in 2020."
Pilot Brigadier General Yousef Samandarian, the narrator of the book "Six and Thirty Minutes of the Evening", was the third narrator, who narrated memories of the holy defense era in Azeri.
Number of Visits: 616