SABAH (10)
Memoirs of Sabah Vatankhah
Interviewed and Compiled by Fatemeh Doustkami
Translated by Natalie Haghverdian
2020-05-19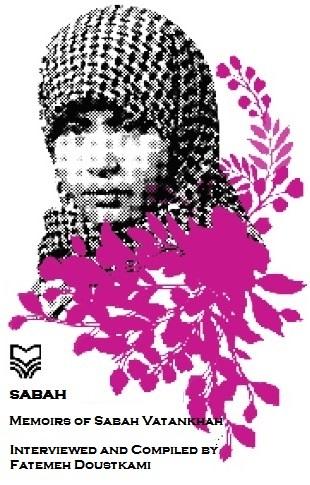 SABAH (10)
Memoirs of Sabah Vatankhah
Interviewed and Compiled by Fatemeh Doustkami
Translated by Natalie Haghverdian
Published by Soore Mehr Publishing Co.
Persian Version 2019
---
We departed and rushed towards Bayandor high school either individually or in a pair. Bayandor high school was located was at the entrance of Taleghani district or Shah Abad. Mitra and I were together and after a few moments, Saeedeh joined us. When we reached there, we came to know that the boys at Bayandor high school had also started a marching and got into a fight with security forces.
All of a sudden, one of the navy soldiers noticed us. He started running towards us. We escaped. This was our first time in Taleghani district, and we did not know the streets and alleys. In one of the streets, we noticed that one of the doors of a house is open. We jumped in and closed the door.
My heart was pounding very rapidly. Our throats were dry and were breathing heavily. The landlady, who had heard the door close, saw us with pale faces and got the point. All of a sudden she started shouting:
- Get out of my house, they will come and arrest us all!
She was really terrified. We begged her to give us a few moments to hide but she did not listen to us and kept repeating the same words. I was terrified in getting in conflict with SAVAK. God knows what would have happen to me if I got caught. Even if they would let me go, my father would never allow me to leave the house.
I did my best to calm the landlady until the soldier who was following us is gone but to no avail. She was saying: "if you do not get out of my house, I will run to street and shout that you are here." After a few moments, Mitra whispered Besmellah (in the name of God), opened the door and looked outside. The street seemed calm and the soldier had lost our track. We apologized to the landlady and left.
We ran out of street, separated and went street by street carefully to exit Taleghani District. God had mercy on us and we could get out of that situation. At home, I did not talk about the incident fearing that they might not let me go out of the house.
The next day, the strike was still going on. Some were in the yard. Again we sneaked into the school with some teachers. Knowing about the recent events, the principle and her deputy were very controlling of the situation. All of a sudden we heard our names being read through microphone and we got separated from the teachers. At the beginning we wanted to hide, but when we saw them coming towards us, we knew that we had no chance. They threw us out of school.
We were standing outside our high desperately. All of a sudden, one of the boys whose name was Moghbeli, went on a platform and said: "Is only death good for neighbors? What is our role in this? All of Iran is filled with unrest and marching but we keep sitting here silently."
A reverberation started among the crowd. I could not distinguish if he was a teacher or a student like us. Whoever he was, he was shouting our internal wish. I felt like a fresh person after hearing these few sentences.
As soon as his speech was over, teachers reacted and started marching and walked out of school, leaving the principle unable to take any action. We joined them with joy. This was the first united marching of the teachers; a march which initiated from Iran-Dokht High School and was moving towards Jame Mosque of Khorramshahr.
These marches continued for a few days. The marches started from Iran-Dokht High School and ended in Jame Mosque. During the next days, housewives who were wearing colorful chadors and some of government employees joined the crowd.
Students from other schools also attended the marching. These marches had started as an objection by teachers and their requests but in fact it was the basis of anti-regime protests.
One day, during the marching, I shouted involuntarily: "Death to Shah! Death to Shah!" all of a sudden one of our male teachers who was walking in front of me, returned towards me angrily and said: "Are you crazy?! Do you want all of us to be killed?! Keep silent and say no more!"
One of the revolutionary members who was walking besides me and Shahnaz and was chanting Allah Akbar, returned to me and said: "Sabah, what is this slogan?! This is not the proper time for this slogan!" I said: "when is the right time! We have come to chant slogans against Shah otherwise what is the purpose of us here."
The route of marching changed as some of the clergies joined the public. It was decided to start from Jame Mosque and pass through Pahlavi and Ferdowsi streets and return to Jame Mosque.
When the clergies joined the public, we expected Sheikh Shabir Al Khaghani to join us. He was the Imam of the congregation of Imam Sadegh mosque and was the representative of Ayatollah Shariat-Madari in Khorramshahr. He acted based on the recommendations of Ayatollah Shariat-Madari who did not believe in protests and revolution. Even when the main leaders of the marches invited him to join them as a known and reliant clergy, he refused.
Sheikh Shabir's residence was near the mosque; a two-story and lux house with white marbles which was not similar to the house of a clergy. One day, during the marching, the public stopped in front of his house and started changing "white palace is for Yazid".
Sheikh's spouse came to the balcony and started cursing; we were ashamed of hearing those curses. Nobody expected to hear such cursing from the spouse of town's renowned Sheikh.
Eid Qurban (Festival of the Sacrifice) was on the 20th of Aban 1357 (Nov. 11th 1978). Shahnaz and Ali went to Imam Sadeq Mosque for Eid Qurban prayer. Almost one, two hours had passed since they had left the house, but there was no news from them. We started to get worried. My mom was sick worried and kept saying that she is worried and she is confident that something has happened to them. I wanted to go to mosque to get some news but my mom did not allow. She was worried that I will not return and she will be obliged to keep looking for us. We had no update until noon. We were all at the door. When it was time for noon prayer, we saw Shahnaz coming towards the house. She was pale. You could tell from her appearance that something had happened. When she reached the house, she asked: "Mom, has Ali returned?"
My mom replied anxiously: "No, he has not. What has happened dear?!" Shahnaz comforted us by saying that nothing has happened but my mother kept saying that something has happened but Shahnaz is not telling her the truth. Abdol-Bari who was our neighbor's son explained that there has been shooting and some people have been killed and wounded. My mom kept saying: "tell me what has happened to my boy?"
During those days in Khuzestan, mothers were called with their oldest sons' names such as mother of Ali. Shahnaz explained that there has been shooting but not as severe as told."
My father changed his clothes and set out of the house. He sent us in. Shahnaz told my dad: "if anything happens to Ali, what should we do?" my dad responded: "nothing dear, everything is a sacrifice for Ali Akbar Imam Hussein.'
When I heard his response, I was shocked. I could not believe that he could act so cool while speaking about Ali. After my father left, Shahnaz and my mother could not stay at home and followed him to get an update on Ali. After an hour, Ali returned home pale and with dry lips. I gave him a glass of water and after a while, my father, mother and Shahnaz returned.
Shahnaz and Ali caught their breaths and started telling what had happened. Shahnaz said: "after prayer, the public moved towards Bayandor High School and I lost Ali in the crowd. I looked for him but could not find him. When the public reached 6th Bahman Square, the slogans changed to death to Shah. The navy started shooting. People were falling on the ground like leaves of a flower."
I heard that Moghbel had been martyred. He was an active revolutionary force and his loss was very hard. Besides him we lost many other citizens in the clashes in Chehel-Metri Street, Ferdowsi Street and 6th Bahman Square.
To be continued…
Number of Visits: 798









A guerrilla who was in much love with Islam and Imam Khomeini
The Role of Oral History in Making a Documentary on the Life of Martyr Mahmoud Kaveh, Commander of the Special Brigade of Martyrs.
Martyr Mahmoud Kaveh, the commander of the Special Brigade of Martyrs, is one of the commanders about whom many articles have been written so far; but in the world of the movie, not much attention has been paid to the narration of his life from birth to martyrdom. Mr. Ali Hamid paid attention to him in making one of the episodes of the documentary series "Commanders" and narrated his condition in the form of 25 minutes.

A Piece of "Lasting Memories"

History of Establishment of Islamic Republic Party
I have been thinking about creating an Islamic political party and society for many years ago. Especially after the 1953 and coup detat of August 19, 1953, and given the experience I gained from the National Movement of Iran in 1950-1953, I hardly believed that our forces should become an active Islamic political organization. Hearing news of Islamic political organizations from other societies was interesting for me.
Interview with Zahra Tabatabai, an active student during the Sacred Defense era

The Efforts of Female Students in the War Support Headquarters
From the first days of the Baathists invasion, mosques, husseiniyahs, and even houses became important centers for the service of the fighters. These days, women and girls volunteered in the War Support Headquarters to collect public donations, sew clothes for fighters, making jam, do cultural works, and so on. Zahra Sadat Tabatabai is one of the women who actively participated in the War Support Headquarters of Tehran 14th district with the beginning ...