SABAH (9)
Memoirs of Sabah Vatankhah
Interviewed and Compiled by Fatemeh Doustkami
Translated by Natalie Haghverdian
2020-05-12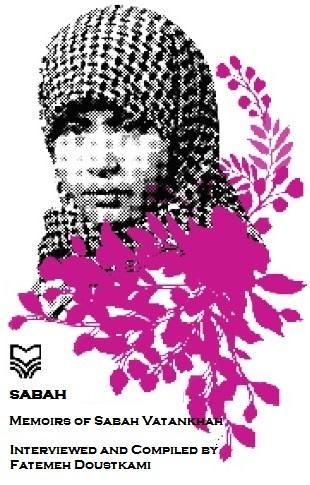 SABAH (9)
Memoirs of Sabah Vatankhah
Interviewed and Compiled by Fatemeh Doustkami
Translated by Natalie Haghverdian
Published by Soore Mehr Publishing Co.
Persian Version 2019
---
On 29th of Mordad of 1357 (19 August 1978), we heard the news of the Cinema Rex in Abadan which was set ablaze. Nearly four hundred men and women and children had died. People had gone to watch the movie called Reindeers but the movie hall had caught fire. People had rushed to the exit doors but the doors were locked. Fire department arrived late and the operation to extinguish the fire was done with delay and people burned alive in fire.
After the burial ceremony in Abadan cemetery, my mom and I went to their graves on the seventh day. This was the first time I was visiting Abadan cemetery. It was a horrible scene. People were mourning, mothers were crying over their children's graves.
People who had witnessed the fire, used to say that Savakis had closed the doors of the movie hall and set the cinema on fire. Most of the burnt bodies could not be identified. Nobody had survived the fire. The weather was hot and the atmosphere of the cemetery and the special odor of the burnt bodies made me feel bad. My blood pressure dropped, and my head was spinning. We went home crying.
The Cinema Rex tragedy did not end with the burial of those killed. Savakis started spreading rumors that the defenders of Ayatollah Khomeini set the cinema on fire because they were against cinema and happy hours. They had created a bad atmosphere. We could hear the rumors almost everywhere. Some people could also start believing these lies.
We were busy talking and enlightening. We used to say: "The Deer was not a vulgar movie so that the defenders of Ayatollah Khomeini try to burn the cinema and people; secondly our religion does not let us harm anybody, let along kill somebody. We all know that killing is forbidden in our religion. So how can we accept that they burned people to punish them?!"
A few days before seventeenth of Shahrivar (8 September 1978), my father set out to Tehran carrying side by side refrigerator. After a week, he returned and was acting weird. He stared at a point and his eyes filled with tear and cursed Shah. He used to say that on seventeenth of Shahrivar (8 September 1978) Shah had killed so many people in one of the squares of Tehran that the street was covered in the blood of the martyrs. He said: "this Israeli Yazid has no mercy, no mercy for old and young and children." He called Shah "Israeli Yazid!" even Mona who was the last child in our home, born in 1352 (1973), and was very sweet, could not make him feel better.
My father never returned without souvenir. He brought us souvenirs even a small one. He had good taste. Once I was in second grade of high school, he brought us textile for dress. Each textile had a different color, yellow, blue, pink and red. He gave each four of us our textiles. He gave me the red one saying: "I brought you this one, flower. This piece of cloth has the color of flower. I will never forget his words. But this was the first time that my father had not brought any souvenirs. He had been upset seeing those events in Tehran and had not bought anything.
There was the news of Oil Company employees going on strike in Khorramshahr. We heard the details from a few relatives who were working in Abadan Oil Company who were on strike too. They used to say that they went on strike because they thought that the employer is acting unfair towards employees.
That summer went by. Shahnaz finished her studies and was ready to teach in Ministry of Education. She and one of her close friends, Khadijeh Bazoun, who was one of the religious girls who wore hijab in college, had submitted a request to teach in a junior high school or high school for girls. The authorities at schools harassed us a lot since they wore hijab and sent them to a school for boys in a remote area in Khorramshahr; the school was in a rural area suffering cultural and financial poverty. There were many crimes happening there and the students came from the same area. But they had no choice but to accept it.
We were getting ready for the new school year. On first of Mehr (23 September 1978), we went to school with great motivation. I was very happy to see my friends. As a usual practice, principle and teachers and most of the students were busy getting ready for Shah's birthday. After two weeks, Shahnaz came home and informed us that all the teachers in Khorramshahr have decided to go on strike as of tomorrow due to low wages.
The next day all teachers from all schools in Khorramshahr gathered in our high school and went on strike. Our high school was the biggest in Khorramshahr and was geographically in the center of the city. The principle had ordered the door keeper of school to prevent students coming in. she was worried that the situation might get out of control in case the population increases; she told us that the high school is closed until further notice.
I could not enter school on that day. I saw Mitra and one of other friends called Sakineh Hoursi in front of high school. We decided to enter school the next day in every possible method. We wanted to know what was going on in school and meanwhile we wanted to extend this strike out of school and have a riot against the government! We were still angry with the killings in Qom, Tabriz and other cities and we were upset that people in Khorramshahr are not taking any action!
The next morning, Shahnaz and I went to school. We separated at the gate. We decided to enter separately to avoid creating suspicion. I waited for a few teachers to arrive and then accompanied them inside. I hid in a corner in the yard and waited for Shahnaz. After a few moments, Shahnaz came to the door by the school guard stopped her saying: "you are a student and cannot go in! School is closed for now!"
Shahnaz showed him her teaching document and entered the school. Amireh and Saeedeh had managed to walk in too. Mitra also joined us half an hour later and the rest of students were standing outside. Little by little teachers started coming in. Most women did not wear hijab. In the crowd, I came face to face with one of my aunts, aunt Nejat, who was a teacher at primary school. She walked towards me but I hid myself in the crowd fearing that they might find out that I am a student.
The teachers read the statement of protest and went to their homes. They were on strike and were supposed to gather in the yard until a decision is made. We went out of school with them and decided to return tomorrow.
For the next two, three days, we did the same. There was no use waiting for the strike to turn into riot. At the beginning we were thinking that their strike will expand, and we will join them but nothing special happened. Therefore we decided to take action ourselves.
Among all students in our big high school, only twenty students share our thoughts. We decided to stay in school after the teachers left and chant Allah Akbar and walk to street. We decided to pass the streets near high school and after walking through Milanian street, get to Ferdowsi Street. We had no plan for the rest.
The next day, we were all anxious. We were agitated for the action we wanted to take but on the other hand we were worried for the consequences. By that time, we were quite familiar with SAVAK and its tortures.
The next day, around 12, the teachers left the school tranquilly. The school guard noticed us after the teachers left; he hurried to inform the principal and her deputy, but we started walking out of school chanting Allah Akbar (God is great). We were only a few meters from school, a group of religious and revolutionary boys of Khorramshahr joined our circle and started chanting slogans. I guess they had found out about our decision since my friends visited Esfahani's mosque. The others were our younger brothers.
It was not long after we walked towards Ferdowsi Street that the navy officers sieged us and started hitting the boys. Then they arrested some of them and took them away. They also fired aerial beam constantly. A few girls took refuge inside the shops in the pavement. But some girls like me Mitra, Sakineh, Saeedeh, Maryam Alavi and some others I did not know, stood there. We were wearing black chador. Commander of the forces, who were sieging us, took the microphone and announced: "citizens, these girls who are in the streets right now and are chanting slogans are your honor. Keep your honors safe. Don't let them walk in the streets and alleys. Don't let SAVAK interfere. If SAVAK comes in, nothing good is waiting for your honors!"
He wanted to trigger men. He was provoking public against us. Some shop owners took a few of the girls inside their shops. At the same time, one of the boys passed us and said quietly: "depart quickly …, go towards Bayandor high school…"
To be continued…
Number of Visits: 106