The 311th Night of Memory-2
We had joke with Hajj Qassem even under the fire of enemy
Seyyedeh Pegah Rezazadeh
Translated by: Fazel Shirzad
2020-03-17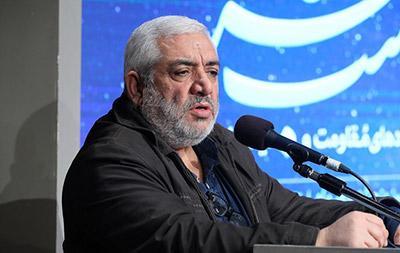 According to Iranian Oral History Website, the 311th session of memory night was held in commemoration of women of the imposed war on February 20, 2020. In this session, Iran Torabi, Seyyedeh Fawzia Madih and Hajj Mehdi Zemorodian narrated their memories.
The third narrator, Hajj Mehdi Zumurrudian is one of the sacred defense veterans. She was friends with the martyr Vesali and participated in the Kurdish event. He retires after the war, but unlike many, he, eagerly, has not left his boots as yet. Even after the war, he knows his duty, that is, to join the defenders of the shrine[1] for Iran's security. Hajj Mehdi, like an emerald, has lived with some of the martyrs such as martyr Abu al-Mahdi and martyr Hajj Qassem Soleimani for many years.
Introduced himself, Mehdi Zumurrudian begins his speech: "I joined the Iranian Revolutionary Guards on July 23, 1980. I am one of the first generation of the Guards. On the second day of the war, I began a cooperation with the martyr Vesali or Asghar Partisan in Paveh. I had been in Kurdistan for almost two years, until the year 1981, and I was injured three times. Then I went south. At Khatam Al-Anbia garrison, I worked with my best comrades, such as Dr.Chamran, Mr. Rezai and Martyr Hajj Qassem Soleimani. I retired twelve years ago. I told myself I'm tired officially! I've been in the desserts all my life. Now it's time to spend time with my grandson. Some friends said you have good experience, and why you did like work. I said I want to go to pilgrimage and spend time with my grandson and enjoy of time. But in that condition, a war was begun with ISIS[2]. There were attacks in Syria. During the time of martyrdom of Zaynab (SA), we went to Syria and made food for seven nights and gave it to pilgrims. I was responsible for the kitchen of the shrine of Ruqayyah. We distributed four thousand to seven thousand meals a night among pilgrims who came to the shrine. When Syrian security was disrupted, I was repeatedly insisted on returning to the group the same year to cooperate with my comrades again. But, honestly, I wasnot in good mood and I was tired. But, again, I went to Syria for the day of the martyrdom of Ruqayyah. About 200 of our comrades and colleagues came with us to hold the ceremony of Ruqayyah (AS). I thought to myself that this time I wouldn't go there just to cook, because there was no security. When I was returning to Iran, I wanted to get on a plane and, of course, I handed over my loads. I felt that my comrades wanted to stay in Syria and work with them. Hajj Qassem Soleimani and other children from the group also came to Syria at that time and settled there. I sat on the seat of the plane they want to visit me. I said I had loaded my baggage to transport unit of airport and I wanted to go back to Iran. They said you stay a little longer and then return to Iran on Monday with Haj Qassem Soleimani. The glass building was near Damascus airport. They took me by car. My old comrades were also in the car. They said that they wanted you stayed here! I said I wouldn't stay. I went to the glass building to visit Haj Qassem Soleimani. I had special respect for Haj Qassem Soleimani; if someone else asked for me for staying there, I would probably say no. I lost my control when I saw him. I said Haj Quasim what he wanted me to do. He said me that I went to meeting with the comrades and look at the situation and then come back to me. I was wearing a suit on this trip. It is raining in the airport and around Damascus. That area called Reef Damascus. Reef has two areas, namely Eastern Ghuteh, and Western Ghuteh. They took me to eastern plaza to show me the line. When I entered the line, I saw everyone who had been my own forces before. Each had linear responsibility. Their faces looked strange and oppressed. Everybody was happy when they saw me.
I have to mention my work history to continue. We have a demolition called front demolition that neutralizes all types of mines. And another demolition called urban demolition. During my 30 years of service, my specialty was the destruction of explosive and missile traps. When I took the first steps to enter the area, I looked the side of road and saw ISIS's forces had planted mines like cabbage, in fact they had set up traps that each had the power to destroy large buildings. I told one of the comrades do you have any. Although I was wearing suit, I was able to naturalize the bombs. There were about 60 traps. They were surprised how I was able to naturalize the bombs! We have no one who knows how to neutralize. That moment I became serious to think about naturalizing. I have a thought that I've lived in the desserts for 30 years and, why should I spend my time with my grandsons. I said myself: "if I don't naturalize the traps, comrades will be martyred. Out Of the 100 martyrs in Syria and Iraq, 95 ones have been martyred by the blast of mines. I knew these numbers and I couldn't endure to see them. When the bombs were naturalized and I got to the comrades, I said them that this was cowardice because most of the same friends I saw that day have become martyrs today. Many of those, who were with us, were martyred and I don't know the exact number of them. At that moment I became deeply depressed. I told myself you came here to naturalize! When I came back to Hajj Qassem, and he said: What is up? What are you doing? I said if you allow me to do my own business in Tehran, and come back to the area the first day of spring.
The first few days I returned to Syria, I naturalized the bombs one by one. I want to say a memory that is still one of my best memories. The shrine of Zaynab (SA) was adjacent to a main street. We also opened a street called Ali Shariati.
Anyone who wanted to enter the shrine for pilgrimage would go to zigzag to reach the shrine of Zaynab (AS). ISIS was close to the shrine. We were seven. The ISIS's gunman fired at the children from above. Our first major operation was called Muharram. We said ISIS's forces were approaching the shrine so we had to get them out of there. We did the operation in Western Ghats. We started at the beginning of Muharram and were able to drive them about 10 kilometers from the shrine. The range of their mortar and rifle and gunman did not reach the shrine. This part of the memory becomes more beautiful and glamorous. At noon, we went to the shrine with Lebanese and Iraqi children, who were called Haidarion, and Afghans were called Fatemiyoun. A handsome cultural person did an interesting job. I didn't understand where he got the sound system. As soon as we arrived, we heard the eulogy of Mahmoud Karimi. I cried so much that I don't forget that day. One of the Lebanese comrades held the flag of Imam Hussein (AS) to carry it over the dome and mount it on the dome. As he raised his flag and waved his hand, the ISIS's gunman targeted him and he fell from above and became martyred.
I have seen many issues from Kurdistan and the Iran-Iraq war and the defenders of shrine in Syria up to now. I imagined for a moment that when Zaynab (SA) and his family were taken captive with 81 people and brought from Karbala to Damascus, they were 33 when they returned! Why should they be killed? Read the history book and you'll find that 40,000 people used of swords to captive woman and children. When I went to war with ISIS's forces in Syria, I saw by my eyes how weird and oppressed our comrade were killed. They burned their bodies and separated their heads from their bodies and played football with their blood-soaked heads. I was sad for these martyrs that even their feet had not yet reached the shrine, they were martyred for pilgrimage. When I came to their body, I said that these dear ones have come for Zainab (SA) and pilgrimage, but they didn't visit the shrine. Of course, we also suffered many casualties from the enemy. We also had good ambushes. We ambushed Damascus airport for a few steps. Once, we killed 60 ISIS's forces and, in another step we killed 80 ones. The last stage, which was broadcasted on television, was a blast that killed 175 ISIS's forces and weakened their morale. ISIS's forces was like a mountain in the area, and our comrades scrambled the greatness of that mountain.
I want to share my memories about Haj Qassem Soleimani. One of my memories is of the Samarra Road in Baghdad. This road was in the hands of the enemy. About 10 kilometers from Baghdad, it is said, is impassable. Haj Qassem told me we should go to Iraq because seventy percent of Iraq is in the hands of ISIS's forces. They wanted to capture Baghdad as well. Haj Qassem and I went by plane. He said that I had to organize the situation of Iraq. Our specialty was to give the line stability with explosive traps. He ordered that the area should be released when our forces were surrounded in the shrine of Imam Hassan Asgari. All of northern Iraq were captured by ISIS's forces. We were only in control of inside the shrine of Samarra city, and also part of the city. Haj Qassem sometimes said, for example, that the road should be released. We used to say that this road is full of ISIS's forces and we needs sufficient force. We cannot move forward with such a large number of forces and we must organize the forces. While we were speaking, he got on car and went. The enemy was firing and we said to the comrades that the hajj Qassem left here to fight against ISIS and If he was martyred by the ISIS's forces, they would think that they have done a greet job. When we reached him, we released ten kilometers of road. I said: "Hajj! Please, come back and don't fight, we stay here and fight!" I was worried for Hajj Qassem to be martyred. My comrades and I tried to prevent him. He could cause us to be martyred because he don't fear of the fire of enemy. Anyway, we released the road for 4 days. We deployed our forces in a stony bulwark. They were under the attacks of enemy. When we arrived Balad and then Samerra, we saved the forces along with Hajj Qassem and other defenders of shrine. We also released the surroundings of Balad city. There was an area called "Azizi Balad" in which ISIS's forces killed 700 Muslims; let me to tell one of these events. It is a custom in Iraq when someone hold a wedding, people follow the bride and groom. In Taremieh, ISIS's force captured all the relatives and took them to Tigris River and tightened them to stones and fell in water. I want to say that those who go to Karbala nowadays, it is possible for the courage of shrine's defender, and Quassem Soleimani. We started another operation with Haj Qassem Soleimani. There we were about to become martyrs. We told Pourjafari, who was the secretary of Haj Qassem, to control Hajj Qassem. Of course, let me also say that no one dared speak to him. Sometimes I would tell the driver of Haj Qassem not to do so! That is, most of the time I had jokes to change the morality of Haj Qassem. He was so brave that ISIS wasn't important for him. We were going ahead around the shrine with Hajj Qassem. I was in Haj Hamed's car and Haj Qassem was behind us with a motorcycle. I told Haj Hamed where we were going, and he replied thta our comrades were in the front. I said they were not our comrades. There are ISIS's forces who wearing military uniforms. He said that they were not ISIS's forces. We told the Arab driver to come back. At that moment, he points to Hajj Qassim and said: "he commands me to go." Hajj said him to go but I said him to come back. As soon as he got back, the ISIS's forces started shooting at us. Thank God, Haj Qassim was behind. In fact, we were able to rescue Haj Qassim in the car we were in, and the car was bulletproof. When we arrived at Ulman's garrison in Mosul, he said we should first blockade Mosul. There were lots of ISIS's forces in Mosul. It took a year for Mosul to be released. Haj Qassim had a wide perspective that he had new solutions that looked really exceptional. When we wanted to release Mosul he said go first and release the border. We asked why we should release the border! Mosul which is more essential! He said no, we must find a way to connect with Syria. When we started operations, we reached the border Abu Kamal. Martyr Mansouri was also martyred on the same border Abu Kamal.
Sometimes, there were rumors that working in Syria is over because general Suleimani was martyred. I must say that this is absolutely false; the principle has just begun. The blood of the martyr Soleimani made many of the seditions neutralized. Some people in the parliament say that why we need to protect Syria?! But we have actually gone to Syria to defend you (Iranian people). Supreme leader said that if you do not go and defend, the ISIS's forces will come to Kermanshah. The government says it has paid for the war with ISIS, but It has not spent any money since seven years ago. We must provide at least the money for the foreigners who are present in Syria. Soleimani's successor, Mr. Qaani, is no different with Mr. Soleimani and they are in same belief and idea. It is true that Haj Qassim was the mastermind of operations, but Commander Qaani is no less. Haj Qassim still has forces who are both literate and young, and skillful and brave. When we wanted to fly the drone, we needed a high range. It was five kilometers deep, but it is now the honor of the Islamic Republic of Iran to fly over 600 kilometers deep when used of its new drone.
Some people think that we are all crying out in these operations. But that's not true. We talked and laughed so much together that it has no limits. I was around Mosul and I was trapping. The ISIS's forces has taken us under mortar fire. On the wireless, we told the artillery station to shot these few places, they are bothering us. Haj Qassim took the wireless and said:" Hajj Mehdi, why are you yelling? I replied hime: " Hajj Quassem, were are under fire of enemy, they are shooting us?" he said: "you attacked them; they attacked us. There is no problem." I said Haj Qassim that he was right. I told me: "you, ISIS's forces, can shot us as much as possible for you. The comrades said: "what happened? I said" nothing!" Haj Qassim Soleimani gave permission them to shot us, we had nothing to do! We passed those day with laughter as much as we could ... even in the midst of war and under enemy fire.
The 311st session of night of memory was held in Sooreh Hall of Hozeh Honari (Art Center) by the Center for Resistance Culture and Literature Studies and Research and the Office of Resistance Literature and Art, on Thursday, February 20, 2020. The forthcoming session will be held on April 23, 2020.
---
[1] It is the shrine of Sayyidah Zaynab located in the city of Sayyidah Zaynab, in the southern suburbs of Damascus, Syria. According to Twelver Shia Muslim tradition, the daughter of 'Alī and Fātimah and granddaughter of Muhammad.
[2] The Islamic State of Iraq and the Levant, also known as the Islamic State of Iraq and Syria, officially known as the Islamic State and also known by its Arabic-language acronym Daesh, is a terrorist group.
Number of Visits: 92