Part-4: "The 12th Conference of Iranian Oral History"
Ali Tatari: The Need for Scientific Attention to the Role of Women in the War; Without Heroism
Maryam Asadi Jafari
Translated by Ruhollah Golmoradi
2020-2-12
In a review of the article "Role of Isfahan's Women Islamic Development and Training Center in Helping Fronts During Sacred Defense" Dr. Ali Tatari said: "One point still remains incomplete in the field of the war and that is addressing role of women in the war. In Gilan-e Gharb, Kermanshah and Khuzestan, we have war figures and heroines and we only talk about back of the front. Although there has been some documentation, I have not seen the way that highlights role of person like Ms. Abtahi based on oral documents and history. You don't see any propaganda or heroism in this article."
According to Iranian Oral History Website, "The 12th Conference of Iranian Oral History", aimed at "Explaining Relation and Necessity, Recognizing the Role and Recovery of Oral History Priorities in the Field of Jahad-e Sazandegi, Industry, Engineering, and Logistic in Sacred Defense", was held by Oral History Association of Iran, University of Isfahan, Administration of Veteran Affairs of Ministry of Agricultural Jahad and Isfahan Steel Company in Saeb Hall of Faculty of Literature and Humanities, University of Isfahan on December 18, 2019.
In the final part of the paper, "Alireza Kamri", "Dr. Ali Tatari", and "Dr. Ali Akbar Jafari" participated as board of the conference. The first article on "The Role of Isfahan's Women Islamic Development and Training in Helping Fronts During Sacred Defense" presented by Somayeh Sadat Sajjadi: "The Women's Development and Training Center was established in Isfahan in 1974. The center, composed of a group of Isfahan religious women and believers, was formed in an endowment owned by Mrs. Batool Khodaverdian. Ms. Fakhrolsadat Abtahi also involved in political, educational and advertising activities since 1970. Of course, she had family background of the clergy, so she was very interested in the matter and became widely involved after death of her spouse. In 1978, she joined political activities against Pahlavi regime, and afterwards, engaged in educational-advertising activities. By the start of the Iraqi imposed war on Iran, she began helping fronts of the war in which active women of the center assisted her and some of them participated with their spouse and daughters. As a committed and patriotic lady, Ms. Abtahi started a wide range of activities with organizations and agencies involved in the war, both in Isfahan and in the cities involved in the war in south and southwest of Iran. She, along with some members of the center, such as Ms. Hosseini, participated in Kurdistan and in some operations and made speech to the warriors. This information is available in the 50 interviews of oral history we have conducted that indicate her presence in the conflict zones. She even repeatedly participated in the southern fronts and visited the warriors to find out what they needed. Her assistance was provided in three forms during the holy defense: The first was to help the war-torn and Ajam of Iraq. They entered Iran since 1981 after widespread disputes between Iran and Iraq. Some of Ajam of Iraq based in Isfahan and city of Abrisham and were supported by various groups, some of which was conducted by Islamic Development and Instructions Center. The aid was for locating Ajam of Iraq near ​​Feiz Street, Vahid Street, Atashgah Street, Takhati Crossroad and Khomeini Shahr. Some of the houses were provided by benefactors of Isfahan or members of the center themselves. Another part of the aid was dedicated to the war fronts, which was very extensive. Because of activity of the center since 1980, the center members had gained influence and confidence of people, as the center twice purchased ambulance with full equipment and sent it to the battlefield. There was also a lot of gold donated by the women to the center, and according to one of the available documents, as much as177 Mithqal of gold were given to the battlefields to spend on war expenses. In addition, Ms. Abtahi entered the war zone during bombarding Abadan Refinery and conquering Al-Faw, and she was very effective in attracting more aid. Because these visits made her possible to get to know many people like commanders. She meets Mis. Pazuki, a female commander in the war, so cause to send their aids to the war front as quickly as possible. They also used girls and youths of centers to pass military training. For example, Ms. Manouchehri, Ms. Haratian, and Ms. Hosseini went to the garrison and learned how to use colt to use it when needed. Of course, women did never participate on the battlefield, and they were trained only when it was necessary.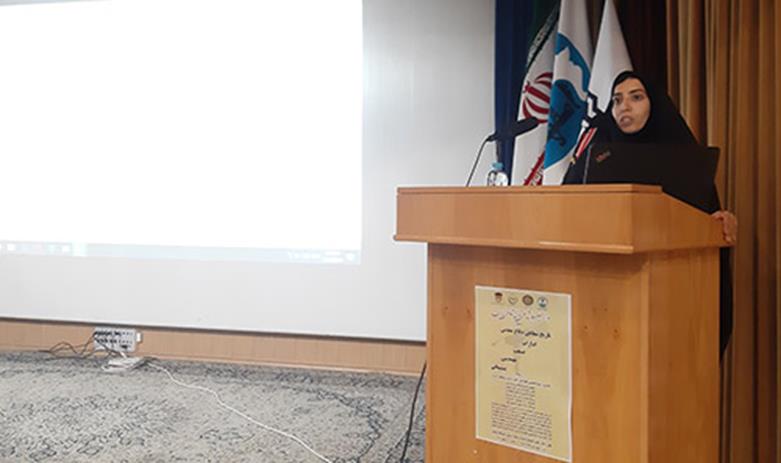 Helping the war injured is another step Ms. Abtahi tried to help the war fronts. They were many and some were transferred to Isfahan and some needed nursing and caring in the same war zones. So some of them were supported through help of the center's ladies. They provided health and remedial materials and delivered them to different hospitals in Isfahan like Amin, and in different ways, they sent their goods to the injured. In the center itself, there were 15 sewing machines that provided the needed clothing for warriors and wounded and they sent them to hospitals. In addition, some women in the center, such as Ms. Motamedi and Ms. Borandegi, participated in field hospitals continuously for six months, and unfortunately they were exposed to severe contamination. As they washed clothes for the injured, they were infected to various respiratory diseases. Some women in the center also worked in hospitals for nursing. Therefore, it can be said that the center played a very important role in gathering aids of Isfahan people and transferring them to the West and Southwest battlefields and playing an important role and showed that our today women also played an important role in all stages of Iran development."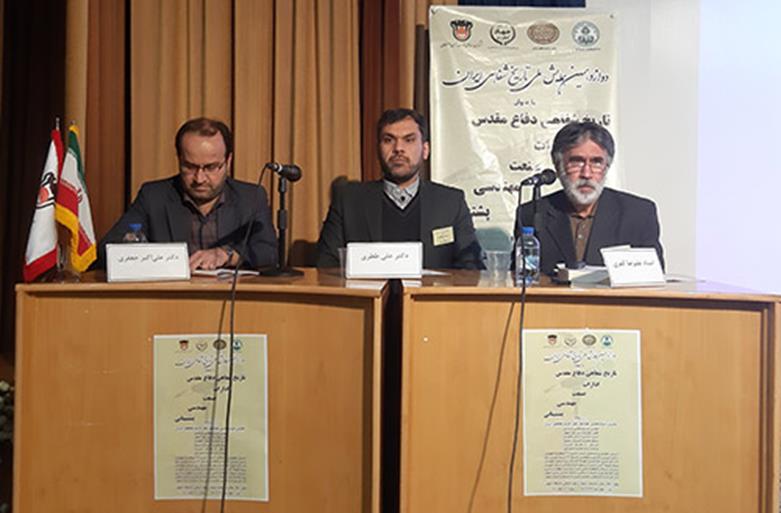 Dr. Ali Tatari at the end of the presentation said: "At first I should say after reading eight articles, I became disappointed gradually." Because in some other articles, oral history was not discussed at all. But Ms. Sajjadi's article was one of those that made me hopeful. About Somayeh Sadat Sajjadi's article, there are a few points to note: First, it was a well-chosen subject. Second, good documents were used. It is true that oral history is a method of producing a document, but its complementary were a photograph, a document and a reference that were well used in this article. Oral history sources are cited at various textual intervals. In some other articles, a topic is chosen which is also a good topic. But the point is not oral history. That is, it is a research on the war. It is an article about an event, bridging or engineering. But advantage of this essay is that wherever there is a discussion, it is clear that the author has obtained this through an oral interview. That is, sources of narration are not from elsewhere or other books. The basis and theme of her work is oral history, and another important point that still remains imperfect in the field of war is to address role of women in war. We have war figures and heroines in Gilan-e Gharb, Kermanshah and Khuzestan, and we only talk about back of the front. Although there has been some documentation, I have not seen, for example, the way that highlight a particular role like Ms. Abtahi based on documents and oral history. In this text, you will not see a propaganda or heroism in the text. Each point is stated based on documents and illustrates role of women participation and management in different angles of the war. Overall, the article looks a good one and even has the potential to become a scientific documentary. Recently, IRIB's Deputy Director of Documentary supports scientific documentaries and can even be presented as a documented script."
In addition, Mehdi Osareh presented an article titled "Introducing Designer of Barrel Bridge- a Review of Book of Zolfaghariyeh Front": "This article has three steps and one outcome. Before starting presenting this article, I should note that many dear scholars who came before me spoke in different ways about the barrel bridge, and this article helps to identify the main character of designer of the barrel bridge. We know that in order to improve activities of preserving the sacred defense works, we need to pay attention to some points, and the three main axes are the basis for doing this: problem-research, methodology, and subject-finding. If we pay attention to these points and then start a science project, we will face fewer problems and certainly it has better usage. Basis of my defense is that we must pay attention to methodology of interview. When interviews are nonstandard or not sufficient to be used for recording historical documents, we may encounter problems. With this assumption, I have mentioned book of Abolfazl Hasan Abadi titled "Standardization of Interview in Oral History," that a standard interview has 5 features of which 3 are criteria of my work: "Conducting interview with research and obtaining information, accurate and complete recording of information and proper leadership by professional interviewing." If an interview is conducted standardly, we will no longer have the problem that kids of Najafabad claim in a leaflet that they invented and built the barrel bridge. On the other hand, another case for the researcher is that after end of the war we see a poster linking the barrel bridge to the year 1982, or we see mismatch of historical photos of liberation of Susangerd with building the barrel bridge. The liberation of Susangerd is before December 1980, and the barrel bridge was built in December 1980, and in Abadan! Not the way Susangerd kids pass. To avoid making this mistake myself, I used books by professors of history of the sacred defense such as Mr. Kamari. Our approach to accessing topic is comparative study of oral memories. In comparative method, memories are put together and alongside them written historical documents are also used. The same thing Mr. Tatari pointed out. Mr. Kamari pointed out in Reflection on Fictional Biography of Sacred Defense: "Every writer and researcher needs three characteristics to create the most fundamental and original focal point of producing a literary or historical work: first, proper and accurate gathering of information in different ways, having acumen of knowing references and considering anthropological perspectives. That is, author and researcher must go and live in space and environment of his/her research." The second step is recognizing the barrel bridge. The barrel bridge is one of pontoon bridges. A floating bridge, according to military dictionary, has three characteristics: Bases of the bridge is in form of a pan. It has cycle and connection controllers. As I enter research on the barrel bridge, I see in the book the Firsts of the Sacred Defense, by Mohammed Khameyar, that the statement is noted: "they are metal boxes that closed empty 220 liter barrels are put in them." This is definition of pan. So where are the controllers? Where are the keepers?
This also happens in Zolfaqaria Front. I want to tell you how an eye witness, due to lack of consideration, transforms himself into an indirect and witness with some intervals: "... Then, with 20-liter barrels, we made pipes that we had tied around with corner, and we put hooks on both sides in order to ties them together and rings to attach to tows." This is Dr. Imanian's speech in Isfahan. Everyone applauded him, but they didn't care how tow could be connected and barges to be passed through it! It's like giving you a rosary string and fasten it from two sides and tell you to pass its beads. Is it possible? Unless you aren't there or are not familiar with the barrel bridge."
Presenting way of constructing barrel bridge and evidence of the sacred defense, Osareh then proved that Kazem-Bashian was designer of barrel bridge, and he added: "This noble man has been silent for 39 years. He was born in 1943 and swore by 1980 that I want to serve Islam for six months. He retired in 1995. Luckily he is alive. After 39 years, I was proud to say that this person built the barrel bridge with these features. First, those who are in charge in each department should know when you train interviewers, enact regulations for them that if they make a mistake you could prosecute them legally. Second, I have never seen any book about the barrel bridge in history of the sacred defense, and third, guys of Jahad-e Sazandegi please praise this person before his death.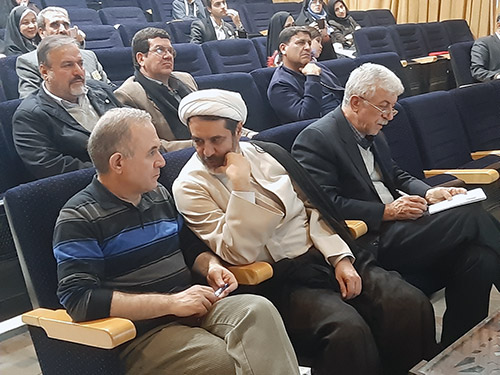 "The 12th Conference of Iranian Oral History", aimed at "Explaining Relation and Necessity, Recognizing the Role and Recovery of Oral History Priorities in the Field of Jahad-e Sazandegi, Industry, Engineering, and Logistic in Sacred Defense", was held by Oral History Association of Iran, University of Isfahan, Administration of Veteran Affairs of Ministry of Agricultural Jahad and Isfahan Steel Company in Saeb Hall of Faculty of Literature and Humanities, University of Isfahan on December 18, 2019.
To be continued…
3rd part of "The 12th Conference on Iranian Oral History"
Number of Visits: 3123