The 308th Night of Memory
Navy Name Is Interwoven with Name of Martyr Hemmati
Maryam Rajabi
Translated by Ruhollah Golmoradi
2019-12-24
As reported by Iranian Oral History Website, the 308th session of memory night of Sacred Defense was held in Sooreh Hall of Hozeh Honari on Thursday evening, November 26, 2019. In this session, Abdollah Ma'anavi, Asghar Rezaee and Mir-Mansour Seyyed Qoreishi expressed their memories of the courage of Islamic Republic of Iran's Navy (NEDAJA) during the Iraq imposed war on Iran.
Davood Salehi, host of the 308th session of memory night, said at the beginning: "Today, November 26, 2019, is coincident with the 39th anniversary of proud Operation of Morvarid; an operation which took place 67 days after outbreak of the war, and for the first time the warriors experienced a sweet taste of success and victory. The operation is so large that Imam Khomeini (PBUH) declared this day, November 26, as Navy Day. In describing this day, it is enough to say that after 39 years, strengths of this operation are still taught in military academies. Saddam was struck in the operation as much as that he no longer invaded Persian Gulf. After some time, US entered its cruisers into Persian Gulf to help Saddam and equip the defeated Iraqi Navy. France and the United States helped Saddam to attack more at Iran's water and soil by giving them different cruisers. They felt comfortable in relation to that Iran Navy was going to collapse but unaware that when the war started, we might have had only 10 ships in Persian Gulf, but when the war ended we had more than 30 cruisers there, and this angered America. April 18, 1989, when Sabalan Destroyer was on a mission in Persian Gulf, the United States attacked it in the most cowardly manner in a terrorist attack without any prior notice. Unfortunately, the destroyer suffered a great deal of damage due to bullets or laser missiles that hit it, but it remained with courage and bravery of captain, captain, sea captain and staffs of the destroyer, and after that it was being equipped today it is one of the most equipped destroyers of NEDAJA. The first narrator of the memory night is a dear one who was on the scene 48 hours before Operation Morvarid."
Oil tankers war
The second commodore, Abdollah Ma'anavi, was the first narrator of the memory night. He said, "Since the war was imposed on us, I was commander of one of the units in the Second Marine District of Bushehr, and Mohammad Ibrahim Hemmati, commander of hero Peykan Destroyer, was also my friend and comrade. People have very little information about sea, seamanship, and the navy. Things changed a lot when the revolution happened. When the war was occurred and Saddam started general offensive, our guys wakened. We had about 30 to 35 people on the cruiser. That they wakened does not mean that the commander ordered them but they went it alone. Our task is to read, analyze, and interpret history of the war. The Iraqi Ba'athist regime was not any country enemy, and it had modern cruisers which were no less than ours. They had been told that Iranian Navy is not a force that can resist. We stated the same word in memory night of last year before Supreme Leader that they told us our force wasn't a powerful one and they had written it in their books. Why? Because our spare parts were depended on them. We had counselor, and they even did our repairs. Everybody ran away and went and all the stuff remained for these guys and they came to work. How did they started to work?" in a way that 67 days after the war, Iraqi Ba'ath navy was completely undermined."
Abdollah Ma'anavi continued, "I want to narrate a memory of days before November 26. A series of operations took place until it reached November 26. If you divide number of aircrafts that came over Kharg by war days, Khark's quota was one aircraft in a day. The Ba'athists determined to destroy Kharg. It was supposed that we go with three frigates and bombard facilities that Iraqis had put on the two great platforms of Al-Bakr and Al-Amaya. The night we wanted to move, the moon was so bright that they could see us and hit us at a far distance. We got close, but we waited a little so that move in the early morning. As we got closer, the moon was still shining. On the other hand, we couldn't go in full daylight. Between night and day, a piece of cloud appeared and covered the moon, and we headed for the oil terminals. That day we started bombing. Mohammad Ibrahim Hemmati, commander of Peykan frigate was in charge of air defense. Meanwhile, suddenly an Iraqi aircraft came to us. The aircraft was on a snip when I said to Mohammad Ibrahim: "Don't you see the aircraft?! He was still shooting at the aircraft. The aircraft was so close that I could feel its heat. That aircraft went to Iraq. We do not know whether it was shot or it reached Iraq. I consider martyr Hemmati as a myth. In those 67 days, Martyr Hemmati led the war. He moved and we were behind him. The kids loved him so much that it didn't matter to them day and night, whenever he commanded, they would move toward sea. The watercraft that was supposed to carry marine rifleman guys with their ammunition went out of work and remained in Kharg. Hemmati accepted its responsibility and took the guys with himself to Al-Bakr and Al-Amaya platforms, and the guy went on the platforms and the fighting began. Our rangers were about 27 people who either killed or captured Iraqis. On the other hand, naval warfare began too. In naval warfare, usually we and Air Force are united. That day there was such a naval battle from morning to 2 a.m. to 3 p.m. that their watercraft were either sunk or completely damaged. Their aircrafts crashed and were finished. Saddam had nothing more to deploy. We were waiting for our kids at the wharf. Then we heard one of the watercrafts of Ba'athist regime had hided under the platforms due to fear. That watercraft had four missiles that targeted at our guys. In this incident, our hero Peykan Cruiser was damaged with sea-hearted guys who were within it; the guys were either martyred or injured and fell into the water. I want to state that Hemmati became a model brave for all of us. The Iraqi Navy was destroyed. Of course, all of East and West that fought with each other until then, all together gave modern and new aircrafts to Baathist regime to operate against us. Supreme Leader says that the day the country needed oil export, that day Navy took over security in Persian Gulf and established it and that was when it showed its essence. Navy did in this way for eight years.
In ancient times we used to import everything. All of our imports went to Bandar-e Emam Khomeini. Bandar-e Emam was also close to Ba'athist border. Saddam also struck us with everything. Navy appeared here with wisdom, and got help from Ground Force and Air Force. We escorted 10,000 ships which is called caravan escort. We took all the public needs of people to Bandar-e Emam. We only lost twenty to twenty-five watercrafts; this is not comparable to any war in the world. If you see sea wars in the world, you don't see such statistics at all. The love that Hemmati created lasted until end of the war. At the end of the war I became commander and came to Bandar Abbas. Americans did not dare to say that we want to fight you. They came with a huge naval fleet to Persian Gulf and Oman Sea. They used all their equipment and facilities to hit us. We didn't also know; if we knew we wouldn't let them. It was April 18 (1 Ramadan). These lover kids stood up and confronted. In naval warfare, when bullets, rifles, and missiles are shot toward you, sharks will hit you if you jump into the water. If you are lover, you will not allow the enemy and defend. These guys resisted. They came with all facilities and eventually hit us. In such situation, even those who were injured were unwilling to leave the watercraft.
Now Sabalan Frigate carries flag of Islamic Republic of Iran to the world. I talked with their commander. He said while we were in Bab el-Mandeb, a foreign cruiser approached us. We have orbits through which we communicate with other vessels. They thought Sabalan Frigate was in a situation that moved itself hardly. That foreign cruiser moved fast. We have turbines in our cruisers that handle our high speeds. I told the kids here is an opportunity to take them down to a peg. We should use turbines. That cruiser was a little ahead. It smoked a lot and it was clear that it was using all its power. We went slowly and got pass it. The foreign cruiser could not reach us at all. In international arena we raise flag for saying good and admiring. This foreign cruiser also raised its flag for us. Mohammad Ibrahim Hemmati is founder of Navy Day. It is Imam (RA) statement that: Navy is as radiant as a gemstone in waters of Persian Gulf."
Epic poet of Peykan Fritage
the host said, "The second narrator of the memory night is related to book "Manjil Adamkhar Misazad (Manjil Makes Cannibal)", in fact, the book is biography a beloved one who was in the war for 2880 days. After the war was over, he did not tell himself that my duty to the war was over. Soon after the 2880 days, he started to narrate the war and front. He spent 11 years of his life in Khorramshahr to recount his years of service. Incidentally, he was hospitalized during such narrating for five to six months in a horrific accident. During this time, by studying and researching and memorizing the memories and recording them, he also does a work to make his memory backpack more complete and richer. He has also narrated the war for more than 4,000 days."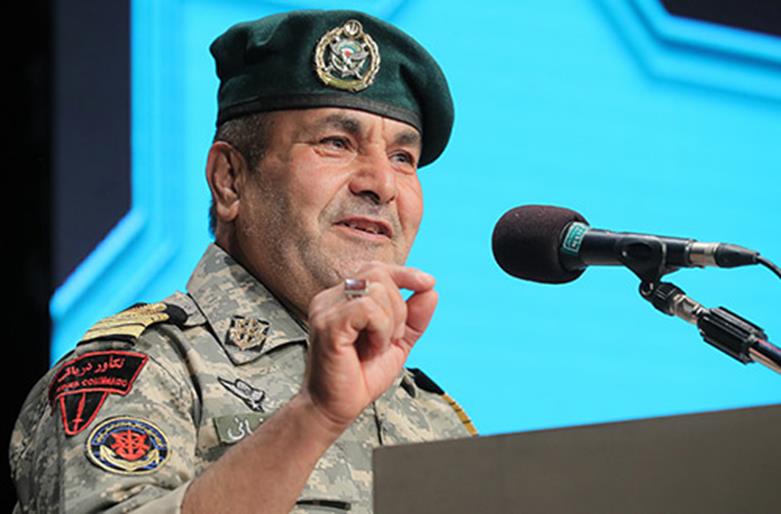 Second sea captain Asghar Rezaee said: "Concerning title of "Manjil Makes Cannibal", let me narrate it shortly that I was ready to be hired in 1978, it was written in a big headline in a newspaper that "Manjil Makes Cannibal". My uncle had bought the newspaper and gave it to me. I read it and saw it was taught at Manjil commando.
But about the war: Iraq was trying to capture Khuzestan in 48 hours and reach Tehran after 72 hours, but these rangers and martyrs kept them behind Ahwaz-Khorramshahr highway patrol for only six days. We kept them for a few days behind foothills of Shalamcheh. My comrades and I really had no any rest and convenience in night and day; Not even a war ration to eat. People gave us a watermelon in the morning and we ate it. When we returned at noon, we had nothing. I had to take from the same pot that we poured the watermelon trash the watermelon rind again and eat it so that I could resist against Ba'athists. On the twenty-eighth day of the war, a quiver hit my left thigh and I was injured. We were taken to one of the newly built houses next to Khorramshahr 100 apartment complex. They were dressing my leg when suddenly a Ba'athist force, who was Sudanese, arrived. He was tall. He entered commando-like. Only I realized. I was by the right window. Hall door was in the middle. There was another window on my left side. When he entered, he fell and was thrown. In the same situation that I had pain, if I did the most trivial move, he would overcome me. I ordered him to stopped. He wanted to run away. He took a knife and threw it at me and injured another part of my body. This was a knife special for throwing. I fired his stomach with 32 bullets. The beams ricocheted in the yard. I cause such tall body to kill and fall. I was 17 and scared of corpse too. Her face was black and he had curly hair. His boot was No. 11 and my boot was No. 6. Since I had passed commando course, I laid and kicked him to see if there were any explosive material with him; in found nothing. I took his ID card and saw there was written: Omar Khaled Jasem Fazel Rashedi! I told myself how many names had the bastard!
Khorramshahr naval base is located in the eastern part of the city. We had recaptured the western part with tooth and nail After thirty-four days, but the Ba'athists overcame us. Monafeqin (hypocrites) fought in the city against us. The hypocrites are worse than infidels. We had dealt with them physically. They had had a grudge against us and their teeth worked on our liver. Until we lost Khorramshahr and came back. We cried for Abadan because they had captured Abadan from us; on the one hand, Monafeqin and on the other hand the hypocritical officials like Bani-Sadr who were worse than infidels. Then we came to the eastern part of Khorramshahr, where we really resisted. One night, while watching and guarding, I saw a boat was approaching. I saw it was full of explosives and some divers were also sitting there. I quickly went to trench of IRGC brothers and took their night vision device. I looked by the camera and made sure. I told do not take any action. I've seen it and I have to take command from the command. I had a Abadanian commander who we had a good relationship with each other. I woke him up and he stayed awake until two a.m. When he woke up, he was so sleepy that he threw a flare into the water instead of grenade. I went behind the machine gun and fired so much that the G3 machine gun pipe was fried like a night light. The bullets hit their explosives and set a big fire in Karun River. We did not allow those divers to do raid.
Islamic Republic of Iran's Navy conducted a series of operations against the Ba'athist terminals that were economically, politically, and militarily in favor of the enemy. The first operation was called Ashkan, to create terror. The second operation was Operation Javad Safari. Javad Safari was a ranger and survived in the war for only four days. The third one was Operation Morvarid. Peykan Frigate had participated in all three operations. God wanted to name naval day in the name of Muhammad Ibrahim Hemmati, the day of epic poet of Peykan Frigate."
I lived in the war
Salehi said, "The third narrator of the session, having specialized in Hovercraft Piloting, served for 31 years in Navy on deck and headquarters of Navy from 1974 to 2005."
Mir-Mansour Seyyed Qoreishi, the third narrator of the session, said: "And We placed a barrier in front of them, and a barrier behind them, and We have enshrouded them" [Ya-seen: 9]; I thank God that during eight years of the sacred defense, I was guardian of Navy Hovercraft squadron personnel in operations. Our family was in Kharg Island. I joined Navy in 1974 and was deployed to USA's Naval Academy in 1975 to pass command course. On August 23, 1980, a month before the war, I returned to Iran. 15 days before outbreak of the war, we were transferred to Hovercraft Naval Squadron of Kharg Island with two of my dear comrades, Amir Majid Abedi and former Navy Commander Amir Sajad Kouchki. September 22, When the war started, I had gone to Tehran to bring my wife's dowry who had just married from Tehran to Bushehr and from there to Kharg Island. September 22 I arrived in Bushehr. On September 23, when the first air attack was done at Kharg, I was taking home utensil to the island by a tug. It was the first day of the attack, and everyone was emptying the island, everyone was looking for a watercraft, and I was taking home utensil to the island. My wife and my six-month-old daughter and I not only participated in the operations, but lived the war from the first to the last day of the war on Khark Island; that is, eight years of living on Kharg Island. During eight years of the sacred defense, Kharg Island was hit by air and missile attacks 2800 times. There were days when there were 12 to 15 air strikes on Kharg Island. Our house's doors and windows were broken 4 times. We made irony the whole house and there was no natural light. We went from Kharg to Hovercrafts for doing operations. Operations had begun since the beginning of the war. We had to come from Bandar-e Emam to Khur-e Musa and Bahmanshir by hovercraft and supported Abadan. The ways that were open were taking equipment by hovercraft from Bahmanshir and an airway by helicopters. In the winter 1983, we were assigned to Karbala headquarter with IRGC's forces; Noah Headquarter of Khatam Headquarter, in Operation Khyber, which was the first amphibious warfare of the troops. These operations were in Hoor al-Azim region and swampy and canebrake Islands. We did operations with hovercrafts from sunset to sunrise. After Operation Khyber, in the winter of 1984, in Operation Badr, which was in the area of ​​Hoor al-Azim and Majnoon Islands and eastern Tigris, we had to commuted there, which was also swampy and canebrake and it had to be done overnight. The area was very sensitive. The following year, we were in Operation Valfajr-8 to capture Al-Faw port in Arvand Rud and Nahr-e Qasemiyeh with the same hovercrafts. Hovercraft is a device that sits on a cushion of air and hovers, that is it has no contact with the surface. It does not fly, but it is a hover, meaning it rises from the ground. It stands at one to one-and-a-half meters high, and then it moves. It can travel both in land and offshore. Most of the missions we did by hover, because of this capability, were in places related to the coast and sea. I was in the war zone for 2611 days directly. I flew with them for 1500 hours. I did 700 combat missions. I flew in the swampy areas for 1,000 hours overnight. During major operations, in hovercraft squadron, from the beginning of the war until end of the war, we were present in escort operation of caravan of commercial ships from Bushehr to Bandar-e Emam. Hovercraft was used for road maintenance, SIGINT stations, transportation, rescue search, etc.
At the beginning of my speech, I recited verse "And We placed... [Ya-seen: 9]," because in these eight sacred defense years, the only thing that existed for myself and Navy Hovercraft Squadron personnel was a heart belief in this verse. This verse helped us in all of our missions; it was started with Operation Khyber when we passed in front of Iraqis at 200 meters above embankment and we hovered; Hovercraft hover could not lift itself up so that we could take off. Both its back and its front had been emptied and we had been left on the embankment. It happened at night. Iraqis were in front of us in 200 meter distance. We saw them. Both our forces and their forces were shooting, but this hovercraft was not seen and I say its cause. At night the hovercraft stayed at the same state and we unloaded our cargo. We evacuated ammunition and forces. Rest of the forces came to fill back of the hovercraft and embankment with dirt so the hovercraft could press and hover. In a full 48 hours, during day, in front of Iraqis eyes, when aircrafts came, we saw each other, they shot and we also shot, and this hovercraft that is 23 meters long, 12 meters wide and 10 meters high, which was so big I think wasn't seen from 200-meter distance. Finally, we did our task and came back. When we returned to our embankment, technical personnel engaged in hovercraft service as usual. We moved in meadows, reeds were broken, and mud and soil like cob stuck to the hovercraft hull. When they cleaned hull of the hovercraft to open filter passages, we saw there had been written under covers of these cobs: "And We have placed before them a barrier and behind them a barrier, so We have covered them, so that they see not" [Ya-seen: 9]. We didn't know at the time who and when wrote this. I think it was because of this verse that the hovercraft was not seen in front of the Iraqis while we saw their forces, and finally we could return. After this we wrote this verse on all the hovercrafts. This verse helped us in Operation Valfajr-8, in operations of escorting caravan or in search of rescues we made. For example, during one of the rescue searches, Greek Success watercraft was one of the ships entered to Bandar-e Emam which had been shot by a missile in front of Khur-e Musa, and we went to berth next to it. The sea was very stormy and the ship was shaking. I came to berth to this ship with the hovercraft, and the men anyway had stood until we go there and rescue them. As soon as I berthed, I saw that hovercraft's wing was clashing the ship. I came out of the ship so that the hovercraft not to be harmed, after retreating 10 meters, a rocket passed in front of my eyes and hit the same ship again. The rocket's blast threw the people who had stood above into the water and threw the hovercraft back. If I didn't leave the ship, this rocket would strike at ourselves."
The host said, "It should be noted that you were in the war for 2800 days." The narrator replied, "I was not in the war, I lived in the war. I mean I was in the war with my family." The host continued, "We may not have time to hear all your memories today, but there is a book in Sooreh Mehr titled "Fire and Turtle" which is a collection of your memories."
In Operation Valfajr-8, at the first night of the operation, we had to make the first sortie. From 15 days ago we were ready with Hovercraft in Nahr-e Qasemiyeh. We still didn't know the exact time of the night attack. Forces of Khatam Base came and told us to load the cargo, we told you what to do at night. There were some missiles and some forces that we loaded them. Headquarter head pointed out us that you take this to the other side, and we would ask which side are you mean? We said where is the other side? But he told continuously you take it to that side. We knew that Iraq had installed barriers of anti-hovercraft from Ras al-Bisheh to the west of Al-Faw. Whatever we tried that he tells us exactly where we should go, he didn't say. Captain Miri and I were got on to a jeep as if we disobeyed, and headed us to Khatam Headquarters inside palm-groves. The person who took us, introduced us and said that Navy guys are disobedient and do not work. Mr. Rafsanjani and Martyr Babaei and a number of others were there. My colleague, the late Lieutenant (in navy) Miri got very upset and told some words. We were in flight suit. Martyr Babaei noticed and came. He asked what happened. We explained that they tell us you should do it and do not tell us where we should go. Martyr Babaei made aware them that you had to give them a light so they know where they go. The person who was with us agreed and said we do it. We moved at night. He said you go we had put a light there. We passed Arvand tunnel when we went the first sortie. Whatever we went, we didn't saw any light. We only saw spotlights. Cannonballs hit us our two sides. When we wanted to stop slowly, the hovercraft lost its hover and we felt it was landing. When we landed, we found out that we landed right in an area with anti-hovercraft barriers that were long sticks, as if to fork an apple. Our fuel tanks were completely punctured and our fuel was wasted. Our hydraulic pipes that were for control became empty. Rubber skirt of hovercraft that pumps and makes hover was torn seven meters. While if this rupture is one meter, we should not hover. All we could do was that we opened the door and emptied ammunition. We said we should do something, for example, leave the hovercraft and jump into the water. I don't know as if someone told me to start. The tanks had become empty, and hands indicated that I had no fuel. The control system, oil, we had nothing. The hover had been torn as well. The first start I did Hovercraft was started. It always had a problem and we had to start two or three times to switch it on but that night it was switched on with the first start. The kids who were out jumped into the hovercraft quickly, closed the door, and the hovercraft hovered, but I shouldn't no hover never because it had been torn six meters at our left side. We shouldn't have any control but I turned the hovercraft and headed towards Nahr-e Qasemiyeh and other side of Arvand Rud. As soon as we got there, the hovercraft went off. All of this is from the same verse of "We have placed…" that we believed it heartily."
The 308th session of Sacred Defense's memory night was held by the Center for Study and Research of Resistance Culture and Literature and the Office of Literature and Art of Resistance in Sooreh Hall of Hozeh Honari on the evening of Thursday, November 28, 2019. The upcoming session will be held on December 26.
Number of Visits: 656