The 12th Conference on Iranian Oral History to be held on December 18
Translated by M. B. Khoshnevisan
2019-12-17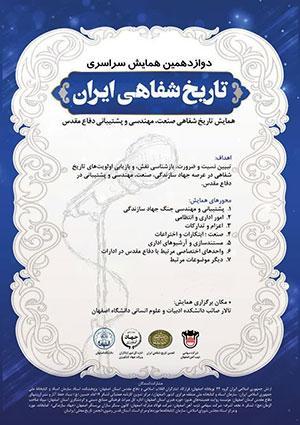 The messenger of the Association of Iranian Oral History has released statement no. 8 on "The 12th National Conference on Iranian Oral History: Oral History of Sacred Defense Industry, Engineering and Logistics" about the timing and venue of the conference.
According to the website of Iranian Oral History, the statement reads, "The Policy-Making Council of the 12th National Conference on Iranian Oral History" apologizes all professors, experts, students and the interested people who had enrolled and planned for participating in the conference (November 19, 2019), but faced with sudden and unwanted cancellation of the conference and inform:
The compensatory and new time of the conference will be on Wednesday, December 18, 2019 from 8 AM to 6 PM
The quality and circumstances of the conference is according with the announced schedule in previous statements (four sessions consisting of 5 lectures and 12 article selected by referees)
Venue: Saeb Hall, College of Literature and Humanities, Isfahan University
The interested people are requested to register and correspond through

‌

Iranian.oha@gmail.com
A certificate of attendance will be issued for the participants.
At the end of the statement, the objectives and topics of The Policy-Making Council of the 12th National Conference on Iranian Oral History" have been reminded, "Objectives: Explaining the relevance and necessity, recognizing the role, and restoring priorities of oral history in the field of jihad of Sazandegi (construction), industry, engineering, and logistics in sacred defense. Conference topics: 1. Engineering and logistics of the Jihad of Sazandegi 2. Administrative and Law Enforcement Affairs 3. Dispatching & Logistics 4. Industry, innovations and inventions 5. Documentation and administrative archives 6. Special units dedicated to sacred defense in offices 7. Other related topics."
Number of Visits: 789