Holy Defense Memories of Authors
Mohammadali Fatemi
Translated by Natalie Haghverdian
2019-12-10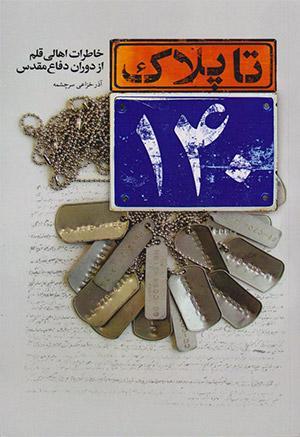 "Ta Pelak 140[1]: Holy Defense Memories of Authors" is the name of a 543-page book. The book's back cover states: "This book is the result of three years of collecting effort (Azar Khaza'i Sarcheshmeh) to gather the memory of 140 artists and writers who have lived through the war with the aim of illustrating the course of Iranian people's lives during the Holy Defense from their non-fictional narratives, and diaries and notes. The narrators of this series each narrate from their perspective the events in which they were present and touched closely. "
The book "Ta Pelak 140" has been published by the General Directorate of Conservation and Publication of the Sacred Defense Values of Tehran Province and Sarir Publication according to its ID. This book was released in mid-autumn 2019 and unveiled in the Ghasr-e Shirin Hall of the Islamic Revolution and the Holy Defense Museum (Tehran's Holy Defense Museum) on November 30.
The preface to the book, "Memory, the closest literary genre to war and the fronts," is taken from the book "Pouyeh Paydari[2]" by Alireza Kamri, author and researcher of history and literature. Azar Khaza'i Sarcheshmeh also wrote in the preface how "Ta Pelak 140" came to life. "Some of the memoirs in the series were arranged in the form of conversation and interview, which were changed to the written language with the co-ordination of the narrators," she recalled. "Some of the memories are in the form of notes that are not separated in this book."
A review of the memoirs shows that the narrator is briefly introduced before each memory is narrated. Sometimes this introduction is written by the narrator; from their point of view or indirectly, but clearly their prose is involved. Some narrators have dedicated more than one memory. The arrangement of memories in the book is also shaped in alphabetical order based on the surnames of the narrators. The book ends with some handwritten illustrations by some narrators, written for "Ta Pelak 140 ".
Reviewing the names of the narrators of the book is another way to introduce this set of memories. The names are for enthusiasts who are curious to know what their favorite characters have to share from the days of Saddam's military imposed war on the Islamic Republic of Iran: Jafar Ebrahimi (Shahed), Habib Ahmadzadeh, Hassan Ahmadi, Mohammad Kazem Akhavan, Asghar Ostan Hassan Memar, Hossein Esrafili , Reza Esmaeili, Alireza Ashtari, Iraj Afshari Asl, Javad Afhami, Ahmad Akbarpour, Ezzatollah Alvandi, Gholamreza Emami, Seyed Mohsen Emamian, Davood Amirian, Ismail Amini, Amir Hossein Anbardaran, Tahereh Ebod, Amir Ismail Azar, Ali Aghaghaffar, Mohammadali Aghamirzaie, Khossro Babakhani, Golali Babaie, Amirkavus Balazadeh, Abbas Ali Baratipour, Maryam Basiri, Hedayatollah Behboodi Kalhori, Mohammad Ali Bahmani, Saeed Biabanaki, Musa Bidej, Parviz Beigi Habibabadi, Kourosh Parsanejad, Kamran Parsinejad, Tayebeh Partoui Rad, Majid Pouruli Kalashtari, Razieh Tojjar, Zahra Ta'ajob, Jafar Touzandehjani, Yaghoub Tavakkoli, Mohammad Javad Jozeini, Golestan Jafarian, Leila Joleini, Jamshid Khanian, Mostafa Jamshidi, Mahmoud Javanbakht, Mehdi Chamran, Reza Hajiabadi, Seyed Habib Habibpour, Hamid Hassam, Ebrahim Hassanbeigi, Seyed Hassan Hosseini Arsanjani, Mohammad Hanif, Giti Khameneh, Mohammad Khamehyar, Azar Khazai Sarcheshmeh, Jahangir Khosrowshahi, Shamsi Khosravi, Hadi Khorshahian, Hamidreza Dadashi, Ali Davoodi, Vartan Davoodian, Mohammad Dehdashti, Ahmad Dehghan, Majid Rasti, Mojtaba Rahmandoust, Mostafa Rahmandoust, Hassan Rahimpour, Mostafa Rahimi, Ali Rostami, Mohammad Mehdi Rasooli, Meysam Rashidi Mehrabadi, Rahim Zarian, Hossein Nasrollah Zanjani, Zahra Zavvarian, Vajiheh Samani, Morteza Sarhanghi, Abdolrahim Saeedi Rad, Mohammad Reza Songori, Seyed Abdollah Haji Sayed Hassan, Sedigheh Shahsavan, Kamran Sharafshahi, Shahram Shafiei, Abdolrahman Shalilian, Mohammad Reza Shams, Mahboob Shahbazi, Saeed Sadeghi, Akbar Sahraie, Ehssan Abbassloo, Ahmad Arabloo, Afshin Ala, Saeed Alamian, Yousef Alikhani, Ghasem Gholami, Mahnaz Fatahi, Saeed Fakhrzadeh, Hossein Fadaei Hossein, Fatemeh Foroughi, Mohammad Ghasem Foroughi Jahromi, Mirshamseddin Fallah Hashemi, Nasser Feiz, Mohammad Ghasemipour, Ali Ghane, Yadollah Ghaempanah, Mohammad Ghobadi, Mohammad Hossein Ghadami, Alireza Ghazveh, Farzaneh Ghalevand, Yousef Ghujogh, Majid Gheisari, Seyyedali Kazemdavar, Abdoljabar Kakaie, Javad Kamor Bakhshayesh, Einullah Kavandi, Elaheh Kasmaie, Javad Kalateh Arabi, Seyyed Majid Golmohammad, Afsaneh Goodarzi, Mohammad Ali Goodini, Mustafa Mohadasi Khorasani, Nosratollah Mahmoudzadeh, Mahmmad Mahmoudi Noorabadi, Rahim Mahmoudi Shorbiani, Marali Moradi Salimi, Mohssen Motlagh, Buyuk Maleki, Mohsen Momeni Sharif, Ali Mehr, Ezzatollah Mehravaran, Seyyed Akbar Mir Jafari, Seyyed Mohammad Mir-Kazemi, Seyyed Ahmad Nademi, Sasan Nategh, Abdul Majid Najafi, Mohammad Sa'id Naghashiyan, Ali Akbar Valayi, Simindokht Vahidi, Seyyed Vali Hashemi, Seyyed Yasser Hashtroudi, Sirus Hemmati.
Number of Visits: 739