The 307th Night of Memory-2
The Pilot Became RPG Shooter and the Aircraft Became RPG
Maryam Rajabi
Translated by Ruhollah Golmoradi
2019-12-03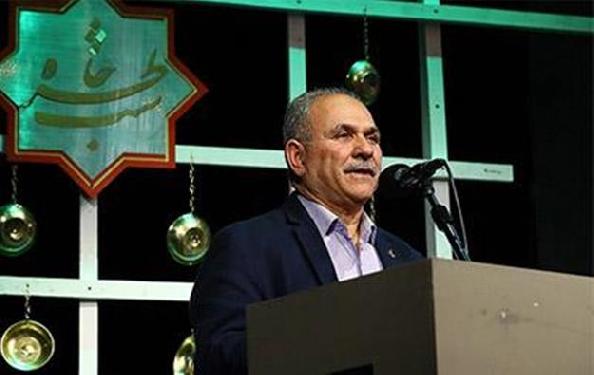 According to Iranian Oral History Website, the 307th session of Sacred Defense's night of memory was held in Sooreh Hall of Hozeh Honari on the evening of Thursday, October 24, 2019. In the session, pilots Amir Habibi, Mohammad Gholamhosseini, and Attaullah Mohebbi spoke of their memories of the Iraq imposed war on Iran.
Davood Salehi, host of the 307th session of Sacred Defense's night of memory said before the second narrator talks, "The second narrator was born in 1952 in Boroujerd, city of swift and fast Eagles. He's the one who entered Air Force somewhat accidentally, as one day he met someone in a taxi and asked him about pilotage, that person also guided him and so he entered Air Force. He's someone who was "Guest of the Rock" for a while and here we want to hear a series of his memories."
Then pilot Brigadier General Mohammad Gholamhosseini, said: "Air Force was arrow of this eight-year sacred defense. The day Iraq invaded Iran, the situation in Iran, and especially in the air force, was very much in disarray. The situation was such that most of pilots in commands were young pilots with captain and major ranks and some colonels. With them we came to stand against the imposed war. The ground force conditions were completely disrupted by Nojeh coup plot (NEQAB) and especially 92nd Armored Division of Khuzestan. When Iraqi army entered Iranian territory, we had no surface force to stop them. It had been also ordered to evacuate Dezful base or the same fourth and Vahdati Air Force Base. Many aircrafts had been taken to the rear. A few number of aircrafts had been stayed with young pilots, pilots with first lieutenant and second lieutenant ranks, and a few number captains who used their flight experience.
To resist the Iraqi army crossing of Karkheh River, self-sacrifice by Air Force was unique. Unfortunately, both in the media and in our own organization, they were not able to convey to the people the air force efforts at the beginning of the war; that what events had happened. The Iraqi army planted floating bridge to cross Karkheh in order to be able bring supplies and equipment to other side of the water. An aircraft flew from Dezful; it didn't take about five minutes from the time it took off until when it bombarded. The aircraft operated at low speed and at a low altitude to destroy the bridges so that they could not come. Because if they came and separated Andimeshk, Khuzestan would had been captured in fact. Eighty percent of our pilots who were martyred, died a martyr in the first year of the war, and eighty percent of the eighty percent were martyred in the first two months of the war so that we could prevent Iraqis and prepare our surface forces to marshal and they can do something. Pilot became RPG shooter and aircraft became RPG! Air Force's mission is clear; destructing critical points of invader country as a rapid reaction force, but scope of these missions increased so much that in addition to that destructing critical spots of the invader was ordered, we also were responsible for supporting the ground forces, covered ship traffic and carried the wounded and ammunition. In this force, whether a soldier standing in front of the doorway or a pilot as an operating man, everyone has worked hard. We have anonymous forces that work in hangars and are our technical guys. Our staff were continuously busy and did not have day and night in other parts.
In the first year of the war, the Saddam Army Air Force was destroyed. It didn't have anything else. But Western countries helped it a lot. They gave it modern aircraft and very sophisticated missiles. When I went to England for treatment, BBC in London itself broadcast a program about replacing chemicals that they brought and made of them bomb; about that how they had set up such works and plans, that they entered Iraq from Netherlands and from which paths, and that Germany, Britain, Netherlands, etc. involved it. When I was in England, they had brought a lot of chemical wounded, but unfortunately none of them came back. We really have to appreciate the efforts; that what was done to get the enemy out of this land.
When I wanted to write "Guest of the Rock", I hesitated; that whether to write this book or not? One friend said it was good for future generations to know what happened in Iran during the war. My conditions at the time of captivity were not conditions to memorize names and information. Because in was in very difficult condition. When I tried to write the book with Ms. Sabouri, I had forgotten many names of people and places. I should say that my captivity was not in Iraq land but was in Iran! I was captured by Kurdistan Democratic Party and they kept for about four to five months. After we wrote the book, it had many faults. We were almost at the end of the book. I had a friend who established a grocery store after retirement. In the shop, he had put his own photo in aircraft behind himself. Someone had gone to his shop to buy pistachio. He had saw the photo and asked whether you are pilot? He had said, "Yes, I was a pilot." He had stated: "I'm looking for a pilot named Gholamhosseini. Do you know him? He said yes, he is my friend. He said, "I'm the same Kurd who went during his captivity to bring a doctor. I would love to see him. That friend called me at night and said, "There is one who wants to see you. He asked your phone number and I didn't give it to him, but I got his number." I called him and I found that he was the same Hamzeh Aria; the person who went to bring the doctor at the next day when they captured me. I considered it as a good omen and told myself that we could get him information we need for the book. I called Ms. Sabouri and we went to see him. I saw his hair had become white like me and he had a leg amputated. He had received a safe conduct and had resided in Tehran. We got a lot of information from him; he had forgotten names of people and neighborhoods and some things. We invited him to book launch and he came. His photo is also in the book.
This was passed until two years ago. One night I was watching TV. At 11 p.m. my phone rang. I answered the phone and someone in a sweet Azeri accent asked: Mr. Gholamhosseini? I said yes. He said: I call from Tabriz Telecommunication Bureau. My brother had read your book and looks for your contact number. I have found your number and if you let me I give him your number to call you. About fifteen minutes later his brother called and said, "Mr. Pilot! I was a gendarmerie in that area when you were captive, and I know all the people you mentioned in the book. Some of them are alive and some have died. I'd like to take you to that area. I also wanted to go there and see what the area where I landed was; specially to see one or two of the family who obliged me; a family named Kak Kheder whose story is in the book that how they endangered themselves and saved me from the danger that later caused them much trouble. Until I was able to go to Heris a month ago, take him and go to Mahabad and from there go to Pasveh. Pasveh was an area where I was released. We found a Kurdish person who replaced me by horse. Until he saw me, he was surprised and said "Pilot! We bothered you a lot. I said, "because you bothered me, now let's go and see the area where I landed with parachute." He said, "it isn't possible with this car. We have to find an Affroad or a jeep." Anyway we got a jeep and went. When I got there, I just realized where I had been fallen! It was a very impassable area. Unfortunately, I didn't have a camera to shoot, but we took photos. We have to make another appointment and take a camera and shoot."
Pilot Brigadier General Mohammad Gholamhosseini said of his last mission, before his captivity as well as during his captivity, as the continuance of the 307th session of night of memory. You will read this narrative in the next part of the report on the 307th session of night of memory.
To be continued...
the 307th Night of Memory -1: Marine Patrol
Number of Visits: 944