Thirsty Sands (Part 2)
2019-07-16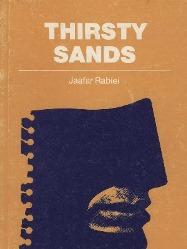 Thirsty Sands (Part 2)
Jafar Rabiei
Design: Ali Vaziri
First published in 1991
Publishing House, Islamic Propagation Organization
Printed at the Aryan
---
As Muhammad Rahat was in a critical condition, the relief worker first attended to hold him, but quickly after a few seconds came to me. I asked him if he had dressed Rahat's wounds, to which he replied: "He has been martyred." After dressing the wounds of my hand and feet, he attended the one who had helped to place the white marker pole along the line of mines. His legs had been hit and cut by a splinter of shrapnel. Even after the relief man finished his work, I found no one had moved and when I asked for the reason, I was told that the only compass which was with martyr Rahal had been lost and no one could find a way in the a dark without it. Twenty minutes of diligent searching finally led to the finding of the compass and the company was one once more ready to move.
Throughout all this time I had been knocked unconscious due to the severe pain and agony of my wounds. Anyone passing by over my head and those of other friends encouraged us. All of t hem promised better conditions in the morning and said that as soon a morning comes, we would be transferred behind the front. However, I was unable to fathom how I would bar a single other hour of pain from my wounds even as I would inevitably have to endure them till morning came. Even to hear of this waiting was hard for me. Finally, our friends brought the injured including me all together numbering 5 or 6, beginning our movement from that point again with the promise of better conditions in the morning and of being transferred behind the lines. Time passed slowly and at each moment I felt more pain. Now I was Jess aware of happenings around me.; only the rapid to-and-fro movement of soldiers caught m y attention.
The slow passage of time kept me from being fully aware of the events occurring around me. Little by little the stubbornly unyielding dark ness of the night gave.: way at last to the brightness of the morning. The signs of dawn breaking into morning appeared slowly. Just then I noticed that a group was returning from the very direction and on the same course our forces had headed on towards the enemy. With their approach it became clear that they were our friends from the Ashura Army and they were apparently in retreat. There was no hope of our being transferred behind the lines along with them, because the situation of the region, the excessive fatigue of the operating forces, as well as their morale left little possibility or hope of help from them. From the manner of their retreat it was clear that the commander had full control of his forces. As time passed and the morning became brighter I observed a greater number of men returning. Now, light completely enfolded the morning, taking over from grim night. Gradually I began to observe the brothers from Muhammad Rasollolah (S) army.; they were also in retreat. At this time the cries of the injured men in unbearable pain became louder and attracted the attention of others around. But it was all to no avail. I was worn-out and exhausted lying in a corner all by myself I noticed that there three friends of mine were moving towards me. Almost semi-consciously I cried: "Muhsen"!
The three appeared over me and immediately took action to transfer me behind the lines. I told them: "My legs are injured and I cannot move." They said: "We will carry you on our shoulders. And without wasting time, they commenced on the job. As soon as I was placed on Muhsen's shoulder, I realized that my right leg had been broken just below the knee. Severe pain enfolded my entire body. The two others took hold of my legs to keep them from the shock of jolts and proceeded to move me along. Impeded by the soft sandy soil of the terrain and tired through intense physical fatigue, Muhsen fell stumbling on to the ground several times over, and by sheer force of necessity had to give me over to Seyyed Hussien who fell in the same manner several times as the two took turns to carry me.
The enemy had got to know of the depletion of numbers of men in our u nits, of our lack of proper command, of the extreme exhaustion of the forces and did not give us any respite at all, not even for a moment, and using different weapons, including DShK, held us everywhere under fire. This being so, our casualties increased continually. But it was now different to get out of range of fire. Hence, I told my friends to put me down and get away from the area. They refused. I was sure that to get safely across such a fire would be impossible while carrying an injured man and in the situation prevailing at the time. As such I vehemently and persistently asked them to lay me down beside a bush. They surrendered to my insistence.
My pain continued to course through my entire body. I asked the m to leave me, but they refused and sat down beside me. They were anxious. Once again I asked them to take out all the documents from my pocket and carry them along with them. Seyyed Hussein, who was in charge of coordinating the battalions did so and took out all the documents from my pocket.
At the last moments of farewell their eyes were filled with tears and thus could not speak. After a moment's hesitation, I kissed each of them and bid them farewell. They got up and hesitantly moved towards their previous positions. They looked back once in a while and continued on their course sadly until they finally disappeared from my view.
Now all had retreated, and only I remained with about thirty martyrs and cries of pain and grief arising from a number of the injured. There was no news of any known forces. Only after a few hours, which seemed like an eternity, l observed one or two persons who had dragged behind moving. No longer was there any sign of heavy fire, or successive waves of explosions.
To be continued...
Number of Visits: 349