The Days without Mirror (Part 30)
2019-07-02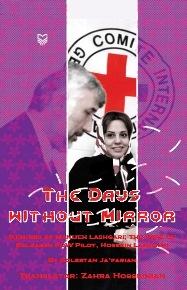 The Days without Mirror (Part 30)
Memoirs of Manijeh Lashgari; The wife of released pilot, Hossein Lashgari
Edited by: Golestan Jafarian
Translator: Zahra Hosseinian
Tehran, Sooreh Mehr Publications Company
‎2016 (Persian Version)
---
Until the fortieth day of Hossein's death the condition of Mohammad Reza was the same. He cried every day, looked for Hossein, phoned him and said, 'Why Babahossein's cellphone is off? Someone goes to God and asks him, is it possible Babahossein talks to us?'
I was becoming worry about him little by little. He had a sense of hostility towards God. We could not name God at all before him. I myself constantly visited a neurologist. I took four or five sedatives every day. I do not know if there weren't these medications, what happened to me. The doctor said, 'Lady, you should cry. You should cry for three years. Don't repress yourself. In privacy, in public, anywhere you feel the need to cry you should cry. You shouldn't keep in.'
I felt much pity for Mohammad Reza. He had been sensitive and picky. I could not be like Hossein in satisfying all his demands unquestioning. He cried and said, 'When Babahossein comes to life, I tell him Mamana didn't do this for me… and has bothered me.'
When we placed a gravestone on Hossein's grave and installed his picture above it, Mohammad Reza became better. We went to the cemetery the night before New Year. Mohammad Reza hated Behesht-e-Zahra. He didn't want to come. He bought a lot of flowers on the way. The trunk was filled with flowers. 'Mohammad, sweetheart, that's enough! How many flowers do you want to buy?' I asked.
'I want to make Babahossein's house beautiful.' He replied. He spoke with Hossein over the grave, 'Yeah, Babahossein, that boy, Zälabadi, is still bullying me... he doesn't allow me to sit on the first bench.' Zälabadi was one of the Mohammad Reza's classmates; they had not reached to a compromise from the first grade.
Mohammad Reza obsessively put the flowers on the grave, collected them, plucked their petals, again collected them and then scattered. Ali was being nervous. I said, 'Ali, be quite and say nothing. Let him to do whatever he wants. He's just making connection to this situation. He's coping with his stress.'
Until the first anniversary of Hossein's death, Mohammad Reza came to Behesht-e-Zahra only twice. He didn't like there. When he began third grade, one Thursday afternoon I wanted to take him to Behesht-e-Zahra. 'I don't come, Mamana.' he said.
You should come! Babahossein likes to see you.
Babahossein doesn't see us.
He does. We don't see him, but he sees us everywhere... he'll be pleased if you go to his home.
Mamana, what does he eat there? Is there any Sheith Pizza there?
The Sheith pizza was a pizza shop where we usually went there together and ate pizza.
'No, there isn't.' I said, 'Their food's different from ours.' he asked odd questions that I didn't know how to answer them. It was too soon for this kid to understand death and to deal with it.
Their teacher had asked them to write a composition, as homework, with this topic, 'If you were just two feet, where would you like to go?'
When Mohammad Reza raised the composition subject, I said to him, 'Well, what you want to write?'
The next day, his teacher phoned me; she knew about Mohammad Reza's condition. She was crying and I asked, 'what's the matter?'
Mohammad Reza had written in his composition: I like to be two feet to go to the heaven and see my Babahossein, to look if he's happy and comfortable there… if anybody hurt him... if he hasn't missed me and...
Mohammad Reza still loved Hossein very much, but had learned he could not see him anymore. I did not know how he dealt with this endless sense of love and attachment.
I no longer felt pity for myself. The first death I had experienced was in forty-five years old; my father's death, how hard I passed that time and suffered severe depression. At that time, Hossein was with me, with his so much love and affection to me. But Mohammad Reza had to experience and deal with the death of his dearest one in little age.
Less than forty days after Hossein's death, my brother died due to cardiac arrest in fifty-one years old. I had a strange feeling; no longer afraid of death. I felt that how good that is there was death. Death is the beginning of peace and release for every human being from all saddens of this world.
Now that Hossein had gone, I felt I was emptied internally. My hand was always on my heart. 'Manijeh, do you feel inside pain in your heart?' my sister asked.
I said, 'No, but I feel my chest is empty. I don't feel the beating of my heart.' When Hossein died, I just found with whom I was living. How much he supported me. At that time, I realized it less; perhaps I was selfish. I thought about eighteen years of loneliness, my youth days had gone vainly. But when he died, I learned nobody fills his place in my heart.
As years passed, I knew more about who Hossein was for me. Hossein was like a mirror for me, Ali, and Mohammad Reza. He sacrificed his life and properties for our happiness and comfort.
He had repeated this a few times, 'Manijeh, I wish you'll be my spouse in the other world. You think God will do this favor for me?'
I said, 'oh, no Hossein! I can't tolerate a war happen there too; as you're very brave, you go to fight and again I'll be alone!'
He laughed and said, 'No, there's no war in the other world. We live together happily.'
Hossein liked fish. Since his death, Ali did not eat fish at all. At nights, he sat down in front of Hossein's picture and looked at his picture. Ali did not smoke at all. But after Hossein's death, he began smoking. I went to him and said, 'Ali, are you thinking about your dad?' he was so reserved he quickly stood up and said, 'No, I'm not, mom!'
The night when Hossein was in hospital and CPR performed for him, Ali was beside him. After Hossein passed away, he was allowed to be with him in privacy a few minutes. The pictures of that night, when Hossein was dying, existed in Ali's cell phone. 'Ali, sweetheart,' I said, 'please delete them. You'll get worse!' He said nothing. Ali carried this burden lonely since he had not talked to anyone about this issue.
There was a documentary about a soldier. That soldier had lost his feet in the Vietnam War. Ali liked this movie. Once he was watching it, Hossein and I joined him. The Vietnamese soldier had grown old and lived with his wife in a small house. The government sent a physician with all the equipment to his house every week and these old man and woman were examined and their blood and urine were tested. Twice a month, they were taken to the lush and pleasant climate areas by a special car. This old man was safe and sound in spite of lack of movement. Every week a specialist doctor examined him - without going to the hospital. And this old man used necessary medications and diet.
When we three watched this documentary, I said, 'Hossein, I wish you were a POW of this country, at least your health condition would be examined, even if you didn't want.'
'Manijeh,' he said, 'I didn't bear eighteen years of captivity for these things. I really was developed in captivity. I don't expect anyone.' Then he paused a long time then and continued, 'Of course, you've suffered so much hardship. Such life wasn't entitled to you. When the Red Cross representative, Mr. Mark, saw your photo and Ali's, said, 'This's your son.' I said, 'Yes, he's studying in the third grade of Experimental Sciences program.' He said, 'He's an elegant young man! He's tall as you.' Mark pointed to you and said, 'And this's your wife.' I said, 'Yes.' he asked, 'she's still waiting for you.' I replied proudly, 'she is.' He was very surprised, 'how a young and beautiful woman like her could have been waiting for eighteen years in complete unawareness! It's unbelievable! Iranian men and women are exemplary.'
The End
Number of Visits: 945