The Days without Mirror (Part 28)
2019-06-18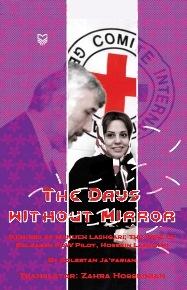 The Days without Mirror (Part 28)
Memoirs of Manijeh Lashgari; The wife of released pilot, Hossein Lashgari
Edited by: Golestan Jafarian
Translator: Zahra Hosseinian
Tehran, Sooreh Mehr Publications Company
‎2016 (Persian Version)
---
On Saturday, 8th August, after finishing work in the office of complex building, Hossein had gone to computer shopping center, opposite to Milade Noor about 10:00 pm and had bought a computer for Mohammad Reza. A young man was also with him when he came back home in order to set up the computer. It was eleven o'clock at night. 'Hossein, you're so tired,' I said, 'your eyes turned red.'
'I've promised Mohammad Reza for a long time; it must be done tonight.' He said. The young man set up the computer system till 1:30 a.m. He also installed several games. Mohammad Reza happily kissed Hossein's face and gave him sweet talks.
The next morning, he went to the office of the complex building as usual. I called him and asked, 'Hossein, you'll back home for lunch?' He first said, 'I won't.' But later changed his mind and said he would come. I cooked Sabzi-polo and fish. He liked fish. He came home at noon. I had fed Mohammed Reza and he was asleep in his room. We both sat behind dinning-table. I removed the pin bones of the fish and after cutting its flesh, I put them into his plate; because he was not in mood to do it himself and preferred to eat Sabzi-polo without fish. In the middle of eating, he rose up and went into bathroom. 'What's wrong Hossein?' I asked, 'again your tooth broke?' He replied, 'yeah.'
When Hossein returned from captivity, he did not have even ten sound teeth in his mouth. Only their roots had remained. During these eight years, Ali cemented his teeth and restored the roots. Hossein kept saying, 'Don't bother yourself, my son, these teeth aren't restored!'
Ali said, 'they will be, daddy. If I can keep one root of your teeth, it's worth to try.'
I crushed food material; I mixed lettuce and cucumber and tomatoes and he ate it with spoon like eating jam. I hoped that his weak body was well supplied with vitamins in this way.
That day he rested and then dressed and went out before Mohammad Reza awakened. 'Where're you going?' I asked, 'Muhammad will look for you as soon as he wakes up.'
- A representative from district municipality is going to visit me. I have meeting. Bring Mohammad Reza to my office early evening. Then if you wanted, go for walking.'
His work lasted until 21:30. When he came home, after eating dinner, Mohammad Reza said, 'Babahossein, I didn't go out today; take me out!'
He was clearly very tired. 'Hossein, don't take him out tonight. You have no energy.' I said.
He said, 'No, the kid has a heavy heart. It's cool; if you like you can come with us.' We went to walk in the courtyard. After two or three rounds of walking around the complex, I returned home. But they came back at 12 midnight. Mohammad Reza lay down in front of TV. Hossein sat down next to the door of balcony and began smoking. I brought him a cup of tea. He drank. I went to kitchen to do some works. It was about midnight. Mohammad Reza had slept in front of TV and Hossein next to the door of balcony. Hossein suddenly got up hastily. 'Hossein, why did you wake up?' I said.
- It's hot.
He went upstairs.
- Where're you going?
- To take a shower.
- Now, at midnight?
He said, 'Yeah.' It did not take more than five minutes. It was as if he had taken a cold shower and come out. He came into kitchen and drank two glasses of cold water from refrigerator water dispenser.
I asked, 'Take Mohammad Reza into his room.'
He said, 'No, he wakes up. Throw a sheet over him, let's him to sleep here.' He also lay down by the door of balcony, beside the fireplace, threw a sheet over himself and slept. He did not used to sleep the night long. He woke up several times during the night, walked, and smoked. I approached him and asked, 'don't you want anything? I'm going to go upstairs and sleep in my room.'
He said, 'I don't. Go.'
Unlike Hossein, I should sleep only in my room; I could not sleep elsewhere of our house. I brushed my teeth, did the works before going to bed and went to my room. I heard Hossein was coughing. First I said to me, 'Well, he'll be fine.' But his coughing continued; he coughed as if something had been stuck in his throat and he was choking.
Ali was in the clinic that night. Two or three times I called, 'Hossein ... Hossein.' He did not answer. I climbed downstairs very hurriedly. I saw he had lay on the ground on his back. I sat next to him; saw he grabbed his throat and shook his hand. I put his head on my lap and said, 'Hossein, honey. … Rise up please... What's happened?' I tried to lift him; but I couldn't at all. I sat down again and took his head in my lap. His face was turning to bruise from redness. His eyes were slowly closed within two minutes as he was looking at me. I just cried. I was shocked. I did not know at all what to do. Suddenly his hand, which was in my hand, became numb and fell on the ground and his face turned to one side. I called him helplessly, 'Hossein, honey, get up. For God's sake! What's wrong with you... ?' It was in vain. I got up and ran toward the next door neighbor's house. They were still awake. My friend came by the door and said, 'What's the matter, Manijeh? Why're you so agitated?'
- Pari. Help me! Hossein...
- What's happened for Hossein?
- He's fallen unconscious on the ground.
Pari and her husband, Mr. Ghaderi, quickly came with me. Mr. Ghaderi was also a liberated POW. He quickly phoned emergency service; it did not take more than five or six minutes. Mohammad Reza was still asleep. They gave him artificial respiration, and massaged his chest and heart. Adrenaline was regularly injected. Several devices were attached to his face and head. I had cringed in a corner and looked at them. His feet turned to white. I touched his left foot; it was cold. 'Doctor, his foot's cold.' I said
- Do you have any relation with him?
- I'm his wife.
- Don't worry; he became unconscious.
- What do you mean?
- He's lost his conscious; he fainted because of low blood pressure.
I was convinced. They were busy treating him for ten minutes. 'Nothing can be done here.' They recommended, 'We have to take him to the hospital.' I wanted to accompany him, when Mr. Ghaderi said, 'you don't, Mrs. Lashgari. I'll accompany him. We'll take him to the hospital, and he'll be fine with two shocks. It's better for you to stay here with Mohammad Reza.' As he pointed to Mohammad Reza, I saw he has awakened. Pari ran toward Mohammad Reza. She hugged him and they went upstairs. He looked down over her shoulder and the rail of staircase and said, 'oh, Babahossein! ... What's happened for Babahossein, aunt Pari?'
'Nothing Mohammad Reza,' Pari said, 'Babahossein is a little sick, he'll be fine.'
Hossein was put on a stretcher and taken away. I quickly called my sister's husband who was my cousin too. My sister's house was in Saadatabad. He arrived very soon and went with Hossein. I waited for half an hour, but no news came from them. I phoned my sister's husband. He did not answer. I phoned Mr. Ghaderi; his cellphone was off... I phoned Ali, his cellphone was off too. I had sat stunned, wandering, and pained. An hour passed until my sister called. She cried. 'What's the matter?' I asked.
- Manijeh, it's over... Hossein passed away.
The handset fell from my hand. I do not know how much it lasted until my sister's husband, Mr. Ghaderi, and Ali came back to our house. Ali cried.
'Ali, why're you crying?' I asked.
- Mom, you've not been told daddy passed away!
- What're you saying?
- Daddy had died here at home. In the hospital, nothing could be done for him.'
I went into kitchen and began washing fruits. Pari and Mr. Ghaderi followed behind me. Pari took my hand and sat me on a chair and said, 'what're you doing, Manijeh?'
- Well… I want to bring at least some fruits to entertain you, and brew up some tea!'
- Come on dear, you're not good; you don't understand what you're doing.
Mahmood, my sister's husband, told Ali, 'collect all your documents, money, and gold and give them to me. Here will be very crowded within two or three hours.'
To be continued…
Number of Visits: 364