The Days without Mirror (Part 27)
2019-06-07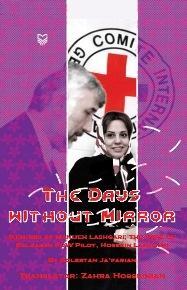 The Days without Mirror (Part 27)
Memoirs of Manijeh Lashgari; The wife of released pilot, Hossein Lashgari
Edited by: Golestan Jafarian
Translator: Zahra Hosseinian
Tehran, Sooreh Mehr Publications Company
‎2016 (Persian Version)
---
Chapter 11
Shortly after I fell sick, my father sickened. He was hospitalized for several months until doctors lost all hope. Hossein stayed beside my father many nights. He said: 'Whenever I say to your father to close his eyes and sleep; he says, 'I don't, Hossein, I want to watch you till my last breath; these eyes were waiting long time to see you again!''
I was deeply depressed with my father's death. I cried nights and days up to seven months. Hossein did not leave me alone for a moment. He advised me, 'Let's take you to your sister's home; let's go to Behesht-e-zahra cemetery, perhaps you will calm down there.' He knew prayers for increasing patience. He recited them and blew at me in order to make me calm down. This was the first death that I experience among my family. My father helped me so much in the absence of Hossein. Remembering what he did for me, made me so sorrowful.
After my father's death, if Hossein was not with me, I would go mad because of the severity of depression. I was really survived by Hossein's presence and his much extent of caring. He knew I like tableau rug. Although there were ten of them in our house, he provided money again and took me to the shop center and said, 'Choose one.' If he felt that I would be happy by purchasing a new set of dishes, he would do. It was no matter there was no space in cabinets due to the large number of dishes; if I only said, 'Oh, what a nice dish!' he bought it.
I said, 'Hossein, don't go to extreme in buying.' He said, 'If it makes you happy a little bit, I'm satisfied. I'll be fine if you're happy.' Maybe because I kept to my bed for six months, and then my father died, he smoked more. If he was in mood, stood next to the balcony and opened the door. I asked, 'Hossein, smoking isn't good for you! What's this that you gave it up in Iraq, and now that you came here you do it?' He replied, 'I don't know Manijeh, it gives me a false calm.'
After I recovered, he showed so much affection to me that I was attached to him ten times as much. As soon as he said, 'Ouch, my head!' my heart sank. One day, when he was not at home, I called Ali, 'finish your work sooner and come home. I want to talk to you.'
Ali came. He sat in front of me and said, 'Well, Mommy. What's up? What should we talk about?'
- Ali, I'm worried about Hossein. I feel he's not in good condition at all. His nightmares have increased. He jumped out of the bed with cramps in muscles; like a corpse, his body got cold and motionless for a few minutes. Before that, if this happened once a month, now it's two or three times a week. I noticed, but he's so stubborn and proud that I had to say nothing.'
I started to cry. Ali sat down next to me. He kissed my hand and said, 'Don't cry. I'll do whatever you want. I've noticed too, he has poor appetite... has become taciturn.'
While crying, I continued, 'Ali, you should convince him to take medicine. He should be treated by a psychiatrist.'
In desperation, Ali said, 'Don't ask me an impossible duty. You know how he hates taking sedatives. It seems he considers it as insult to him and his will. I don't know why this man has no rationality.'
'You don't have right to speak about your father like this,' as I was offended, I said. He stood up. Like a bird which is restless in a cage, he walked around the hall and said, 'I'm a physician. I understand how much pressure he endured during these eighteen years. Daddy won't be treated by several sedatives. He should be treated by a psychotherapy team. I swear to God if he accepts...' Ali fell silent all at once and sat down on the nearest chair.
I added to his words, 'Yeah... if he accepts... I will, swear to God, sell this house, give all my life to spend for his treatment. I'll take him everywhere in the world, if it's needed. I'm afraid that if this condition continues, he faints because of fear when he's sleep.'
It was a few days that Hossein was telling his arm is painful. I and Ali insisted him to visit a doctor, but he didn't accept. He was lazy for being examined by a doctor. I took blood pressure device and examined his blood pressure. He said, 'don't do it; why do you examine my blood pressure continuously? What do you mean? By doing this it is suggested to me that I have blood pressure. '
I said, 'So what should I do? I'm worried about you.'
'Don't worry, it's because of tiredness; my work in the office of complex building is a lot' he said.
That night, at two or three o'clock, he jumped out of bed frantically and sweaty. His body trembled and his face was red. He sat on the edge of the bed. I sat next to him and asked, 'What's wrong Hossein? Why're you in such state?'
- I had a bad dream!
- Again, being captured.
He said, 'Yeah. This time Iraqi soldiers had come after me here, in our home... whatever I said, 'I've been released for a long time', they said, 'You're wrong, you must come back with us to cell No. 65.'
I turned on the lamp. Our house was duplex. Our room was upstairs. I came downstairs and made a glass of fresh orange juice. I went upstairs; saw he was smoking. I took his cigar and handed him the glass. He kissed my hand and drank the orange juice.
I said, 'it's many years you have returned! These nightmares don't leave you? I wish you do stop obstinacy! You have to take sedative, Hossein.' It was as if he was in another world; he did not listen to me. I lay down on bed.
- Manijeh.
- Yeah.
- You must forgive me.
- What's the matter dear Hossein? Why I must forgive you?
- Because you waited for me for eighteen years, raised my son very well.'
I did not know why he talked about such things; I was scared.
- 'Hossein, sleep for God's sake! Don't think so much. I've done everything with love and interest in you and my life. You shouldn't blame yourself.
- No, you must say that you forgive me.
'Ok, darling,' I finally said, 'I forgive you. Are you fine now? I have no complaints about you. You're a very kind and loyal man.'
To be continued…
Number of Visits: 294