The Days without Mirror (Part 26)
2019-05-28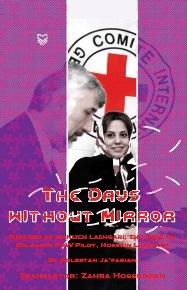 The Days without Mirror (Part 26)
Memoirs of Manijeh Lashgari; The wife of released pilot, Hossein Lashgari
Edited by: Golestan Jafarian
Translator: Zahra Hosseinian
Tehran, Sooreh Mehr Publications Company
‎2016 (Persian Version)‎
---
One day, Mohammad Reza told Hossein that Nima Ahmadi beat him up in the kindergarten. This story was repeated two or three times. 'Manijeh, tell the story to the principal when you went to the kindergarten.' Hossein said. I told him, 'Hossein, this's not something I should tell the principal. These things happen among kids. Be sure Mohammad Reza isn't a kid to let others beat him up. If that boy's beaten him, surely Mohammad Reza's beaten him too.' He said, 'it's impossible, Mohammad Reza doesn't beat anyone.'
I did not call the kindergarten principal. Hossein himself had gone there and asked the principal to call Nima Ahmadi if it's possible. The poor principal had called Nima. They did not know what Hossein wanted to do. When Nima had come, Hossein had told him, 'Are you Nima Ahmadi?' He had replied, 'I am.' Hossein had warned him, 'if you beat Mohammad Reza again, I ask him to beat you up. Did you understand little boy?' Nima had scared of Hossein. I could imagine how hard and serious he had spoken with that poor boy. Nima Ahmadi was a cardiac surgeon's son. The kindergarten principal had frozen and then phoned me and complained, 'Mrs. Lashgari, I respect General; he's very honest man and we're indebted to him. But he should have informed us, in order we ourselves resolve the boys' problem rather than to scare that boy directly.' I was embarrassed and apologized. 'Of course,' the principal continued, 'we talked to Nima and assured him that Mohammad Reza's grandfather has had a joke with him, but Nima was really scared.' That night when Hossein came back home, I complained, 'Why did you do that? You know well the Mohammad Reza is a spoiled and selfish boy. If there are six toys here, all of them must be only for him! Kindergarten is different than here.'
He said, 'I did right thing! I know my son very well. Mohammad Reza may be a little selfish, but doesn't beat anyone. This boy has no right to beat Mohammad Reza. If necessary, I'll talk to his parents too.'
I said, 'You've thought his parents just stand in a corner and look! And say you did well to scare their little boy! It causes chaos!'
I wanted to bring up Mohammad Reza polite and docile. Hossein, on the contrary, wanted him to be rebel and bold. For this reason, Mohammad Reza had suffered of contradiction. He did not listen to me and kept saying, 'when Babahossein come back, I'll tell him that you hurt me.'
Mohammad Reza caused me and Hossein did not reach an agreement. I asked Ali, 'speak with your father.' He said, 'daddy loves Mohamed Reza so much that I can't find it in my heart myself to say anything and to do against his will.'
When it came about time Mohammad Reza went to school, I talked to Hossein very seriously. He agreed to change his behavior with Mohammad Reza, but I knew it was useless. Twenty days after the beginning of school year, we enrolled Mohammad Reza in a nonprofit school. Hossein had chosen this school. By chance, the school principal was one of the Hossein's friends and townsperson. Again, this was a privilege for Mohammad Reza's indiscipline to be ignored.
We encountered lots of problems and troubles until Mohammad Reza completed his first grade. He did not like studying, and we had to push him by force. Coming back from school, he threw his bag in a corner. If we did not force him, it was impossible he came to his bag till the next morning. He liked everything but studying, because he had been brought up playful.
He only liked to be entertained with CDs, Xbox, PSP, and so on. Hossein had familiarized him with these hobbies too early and Mohammad Reza no longer accepted to choose anything else. Those years the computers had just found their way to the houses. Mohammad Reza insisted, 'Babahossein, buy a computer for me!' I was worried, because I was sure Hossein provided it for him and thus Mohamad Reza did not study any more.
In 2008, shortly after Mohammad Reza's going to school, I was affected by a severe back pain. After examining my MRI result, a specialist neurosurgeon told my disk in lower back has been torn and I must to rest for six months to heal. The absence of Hossein during those eighteen years, plus moving house single-handed and working hard, were the causes of my condition.
As I was sick in bed, Hossein fell sick too. When I was sick, he lost his nerve. He could tolerate everything but my sickness and discomfort. 'Manijeh,' he said, 'I've asked God to die before you, because I'm not able to live even for one day after you.' I felt completely that I was the only support in his life. His endless love was appeared when I fell sick or had a problem. His love was not an ordinary love; it was a special kind that only I and he understood.
I had to rest in bed all the time for one month. I just realized that what Hossein had tolerated in solitary confinement for eighteen years, while I was with my family those years. Telephone, TV, and all facilities were in my access; a house-maid put things in order; my mother and siblings came to visit me every day. Nevertheless, I felt so much boredom and depression.
Hossein never related memories of his captivity, but during my illness, when I became restless and impatient, he began telling his stories. He said he had yearned weeks and months for drinking one glass of cold water, or taking a warm shower, or enjoying sunlight for a moment. He related them in order that I could bear my condition more easily. He admitted to place bedpan in order I did not get up, hopping I recovered sooner.
When Hossein was not at home, I stood up by grabbing anything which was in my way; wall, table, sofa, and so on and walked some paces. But if he was at home, he did not let me to stand up. My left leg had been quite paralyzed and I could not move it. In winter's long nights, my sibling usually came to our house to entertain me, since I had been confined to bed for a few months. Hossein helped me a lot on those days. 'Mammana, permit me to do that?' he asked me before my siblings, '…Mammana, can I bring tea for you now?'
My sister said surprisingly, 'Hossein, you're spoiling her... why don't you call her name?'
Hossein replied, 'she's my wife, my friend, my mom. Mammana is a gorgeous name which Mohammad Reza has chosen for Manijeh; I like to call her 'Mammana'. If she falls sick, I'll die.'
At nights, if I wanted water, Hossein got up and brought for me. He himself put the pill in my mouth. He constantly consoled me, 'Be patient! I'm sure you'll be fine.'
When I compared his pure love to disloyalty of men, which had been grown in those years and were recognized in the social environment and among our friends and acquaintances, I really fell in love with Hossein. Hossein's affection and prayers helped me to recover before six months, but I had to care of myself, because, as my doctor said, I would be no longer sound like before.
Most nights, due to suffer of severe pain, I could not sleep and was awake. I found out that Hossein slept only two hours during the night. Sometimes, moaning and frightened, he cringed at the end side of the bed and like a terrified helpless child, he moaned. I woke him up while he was all in sweat and did not speak at all. 'Hossein,' I asked, 'again nightmare of being captured?' He did not answer. He lit a cigarette and smoked one after another. I understood that he did not want to tell me. Early on, he was in a better state; he spoke; he told me that he has dreamed to be harassed and tortured by Iraqis. But when these nightmares went on, he became silent little by little and did not talk about them anymore. It seemed that he felt he should overcome them during this time and he did not; that is he could not.
He was a strange, proud, and stubborn man. He did not want to speak about his sufferings even with me who was the closest one to him.
To be continued…
Number of Visits: 338