Rainy Travel Log. (II)
Mohammad Hussein Ghadami
Translated by: Fazel Shirzad
2019-05-21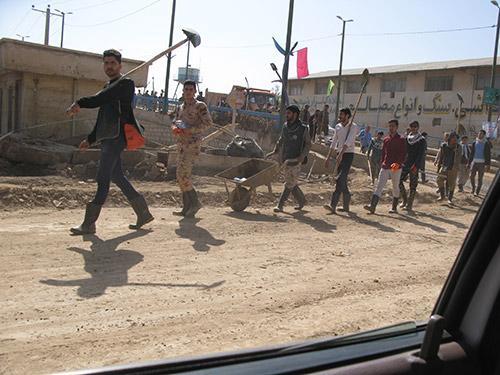 Battalion carrying shovels on their shoulders

-Our conversation have ended here:
-It was said that say the dam is intentionally opened!
-Of course, rumor is widespread today. Some want to promote pessimism; people should be alert! Of course, after 5-6 days, the situation was changed. We people realize the compassionate effort of Islamic Revolutionary Guards, army and Basij, their view is now changed, and say thanks.
- Which officials did come there?
-Governor, Khademi, came there with a helicopter. The minister of country got off helicopter, visited and flew and went. Sardar Bagheri and Sardar Jafari came and walked in the city. Naghdi also came and was able to help.
-Who were there except officials?
- Specialist women are also working in their field and preparing parties and hobbies for comrades. Seven group also are going to come and play for kids in Mid-Sha'ban[1]: Fitileh[2], Uncle Poorang, and... Mobile stage named "The Ambassador of the Sun ... Ali Nazari, commander of the jihadi forces, came and took the comrades to village named "Chammehr"; they are working with shovel.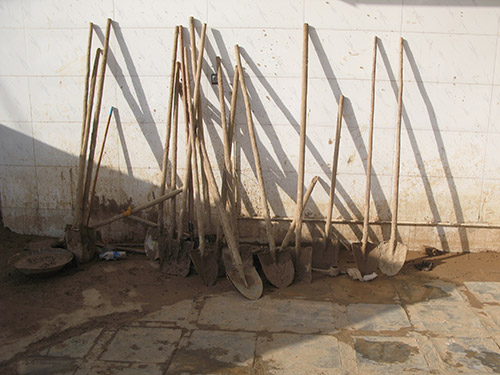 The rest of shovels which came back from water and mud
In the midnight, the comrade are speaking together still. I'm going to go yard to refresh myself with air. I get to the main courtyard through the muddy and dark pathways of mosque's harem. The comrades were sitting in circles, talking and drinking at night. Two people are doing ablution, and an old man was constantly praying with a keffiyeh[3] around his neck and eating chocolate.
In the mosque, there are also some comrades gathered and are speaking. Several people are whispered the surah of Vaqeeh[4] before bedtime, and others who did not have any strength because of hardly work in day, laid down and take rest.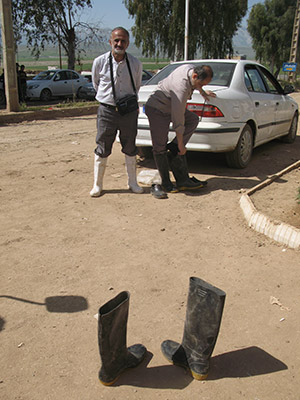 The boot is rare; we find hardly three pairs of second-hand boots
Also, I go to visit the area of gate. The comrades was walking in there. How similar here is to warfront; talking together; the comrades hung washed clothes on rope and wall; some who are washing their hands and face for prayer…; and a young mullah, with a kettle in hand, invites comrades to drink a tea.
-oh, housewives and baby keepers bring your cups... to drink soothing tea, otherwise you regret. Hurry up!
Monday, April 6th in 2019
Government offices are busy today. Breakfast is tea, bread, cheese, fried egg. Unconsciously, I remember our friend, that is, Seyed Morteza Avini. When came to our office in a morning, I told him: "Sir Morteza! You are handsome today, you look bright ... What did you have in the morning?" He replied, "Yeah, I've eaten two fluorescent lamps! Do you like to eat? "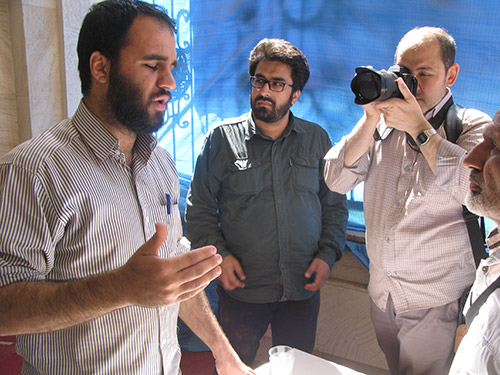 Mehrdad Lak was one of so hard-working jihadists that her words were enjoyable and listenable; he was passionate, energetic and emotional
We are ready to leave here after breakfast. Until friend to be ready, I'm circling around courtyard and alley. Before leaving, I see muddy shovels leant on wall and have not woken up yet! The first handsel of photography is a photo of tired shovels. Then, we get on the white car pass the alleyways of city and arrive at the first square...
- It was Martyrs square, the next one is town hall!
Zarabi was restless:
-Lets go to area that is destroyed at the maximum, then go to see how much is bridge broken.
We get to organizational flats; a tattered man appeared in fort of us.
- My house is afloat; for a few days, I have not eaten food...
- Did not you eat anything?
-Yes. I ate canned beans and fish for 12 days.
-Were you given something for your house?
-Yes. But...
"Do not take it too much seriously, because when they meet a stranger, show such behavior." says Zarabi. The man continues to grumble about his life:
-I have 8 chirdren…
I asked him for his home address, he said that his house is afloat!
Neither door nor windows was obstacle to prevent mud and flood
We passed through several on foot. The jihadists started to work on water and mud. Without boots, it is not possible to cross the alleyways; goods that are rare, we should go to find friends and familiar people. We go Amin Hall, which is the popular headquarters of Imam Reza, to get the boot. Saman, is looking for his best friend named Mehrdad Lak, to take both boots and interviews from him. Before we start asking question, he asks:
- Night before last
- Where are Karamat's comrades?
- Now, They left here; some come here from Karaj. Remember you should talk with Ali Nazari, too.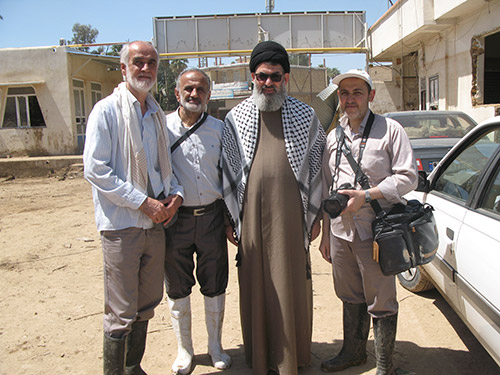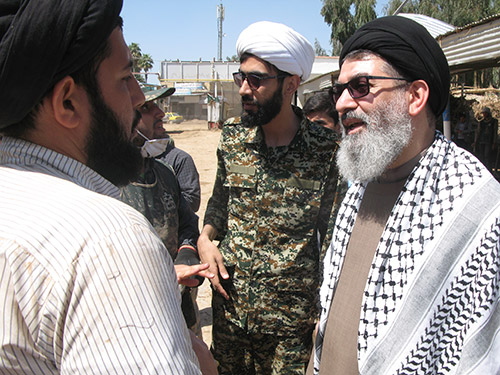 As Keyvan suggested, we take a photo with Seyed
The slogans that are written on the table draw my attention: "Make sure God looks at you", "Work is not boring for God," "Work is for God, why we should say it?", "Get fatigue tired"…
Mehrdad is still engaged in conversation, he likes not to come back with an empty hand. He is talking compassionately:
- remember you should see Seyed too! He has so much untold words. So ... the Fāṭamiyūn and Iraq forces are here too... wait to call them! ... Hello Seyed! The comrades of the art center will come yoy to get help! Where are Iraqis forces now? ...they want to do interview... well, well ... are they in nursing room? ... Ok, thank you.
Time is short. We're going to go, but he doesn't stop it:
- Write down the number of Hajj Dawood ... he is along with Seyed Hashem ... 912 ... wait to get a call ... hello, the comrades of Art Center want to see Seyed; where can they see him? ... Yeah, sir Saman will coordinate with you. Thanks!
When Keyvan goes to kitchen to cal, Zarabi buttonholes him behind:
-where did you go? Let's go, it's late! To protect the Popular Mobilization Forces[5] is more important!
We deliver boots and ready to go. Now, we the memory around boots and … come in mind on car.
-in war, a journalist asked warrior what his opinion was about war. He replied: "a pair of boots"
- a warriors was asked why he had come to the warfront, he replied:" nothing! We are said to come war; we came."
-I also said a memory there that is not writable!
-Oh, what are they telling?
We arrive at the collage of Nursing. It is written on wall: "more power to you."
We get inside the collage. It was in clamor. The mud, sand and chair are brought to the yard from classrooms by wheelbarrows and carried out by trucks. The presence of the volunteers is highlighted here. How much passion and enthusiasm they have to compete with each other.
It is a large area, so there is mud and garbage as far as the eye can see. We went in mud with the same borrowed boots. We passed through the dark and narrow rooms, chambers and corridors. They are all twisted like a terminal nest. It was strange roadblock. The route is full of water and mud. The eyes can not see. We step on floor hard.
If you neglect, your will fall and sink in mud. The urban electricity is not yet connected, flashlight and a gleam of phones, is being used here. It is very difficult to take photo of this situation. There is nothing to be seen and heard, just the shovel's voice, and the breaths of sincere workers. The purest action and the highest purity and self-jihad can be seen here, there is neither camera, nor light to see them...They chose darkness to reach brightness. They do not escape from light; they actually escape not to be seen, they hope that only God will see them, not the servants of God, but the camera has a duty; it does its own work. Not surprisingly, both my camera unloads battery and Saturn's!
There is no longer a place to stay, we retreat, with traces of mud quivers on face and body. By the slogan of Iraqi comrades, we guess a person has come to the here. We are walking toward the gate; that's right! He is "Seyed Hashem Heidar" who is one of the officials and commanders of "The Popular Mobilization Forces," in Iraq; it is the same as our Volunteer force (Basij). He was calm and sedentary with a smile on face; The Forces take a life and gathered around him, their slogans was so loud.
They have a competition in taking memorable photo with each other. Seyed raises his pants and the corners of cloak, and goes to room massed by mud. Someone shout from the distant: "sir, stop! I give you a boot ..." But it is too late; according a poet: "What thing, of course, don't gain any result is shout."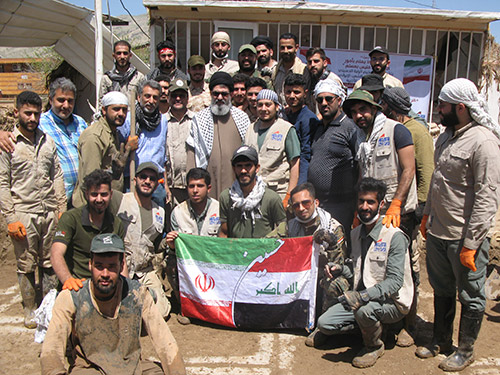 A collective photo of Iraqi jihadists with "Seyed Hashem Heidar", one of the officials of "the Popular Mobilization Forces "
He raises his hand as a sign of thank and enters; Seyed comes back and walks around the yard of collage. How much it is like the mood of war! Mud and water, the sound of excavator and tractor, the creaking sound of wheelbarrows, sincere efforts and competition in work, the noise of comrades.
It is a sunny day. I remember, in the warfront; every morning when we woke up and saw the clear and sunny sky above us, we used to say that the weather is "phantom"! It means Saddam's war phantoms will come soon, a great firework is on the way! I come back from the thinking of sky by the sound of Keyvan:
-Mr. Ghadami! Come on! Seyed came back; let's get an interview with him until he is here.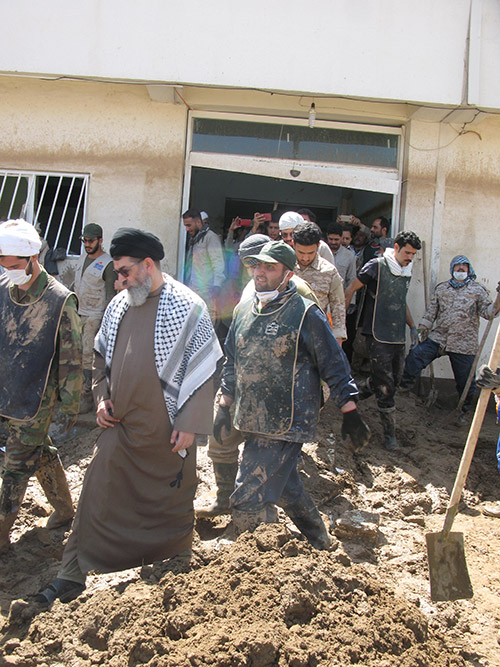 Revolutionary Seyed does not even wait to give him boots...
Again, the invasion of comrade and slogans and memorable photos; it's hard to get Seyed from the hand of comrades; by using a microphone on collar, we starter to talk. The first question is the stereotype question: what is your motive to attend here? Seyed begins to speak in God's name:
- Today, our Basij revolutionary youth on the front of resistance is here as a symbol. Thanks God, you Iranians are active. Here it is also the front of resistance. Once, ISIL[6] was deployed here, and now it is in flood. In each incident and problem, these two country( Iran-Iraq) must be together; today, enemy leaded by America wants to separate us, we must be aware, everyone should move under one flag of resistance under the command of Imam Khamenei, we are in the time of victory. Thanks God, the problems are resolved. Yesterday we were in Khuzestan and Hamidieh, there is a group of our troops there, another group is on the way and coming soon ... We do not forget the presence of Iranian forces in Iraq. I come here to say thanks to "the men of Velayat-e faqih[7] ". The comrades are all young and the follower of Imam Hussein, it is also kind of cultural movement. Being a cultural group for Imam Hussein are blessed.
- What are your last words and messages?
-My message is that everyone should be under the flag of Islamic Government. The enemy want Islamic leader to be separated and alone. Ali ibn Abi Talib (PBHM) said someday: "who is Ammar[8]?" But today, the enemy knows that there are many Ammar, and ready to make a sacrifices everywhere!
To be continued…
Number of Visits: 374