Interview with the Lecturer of "Afghanistan Oral History" Training Workshop
Historical capacity, an incentive to enter oral history
Maryam Assadi Jafari
Translated by Natalie Haghverdian
2019-05-14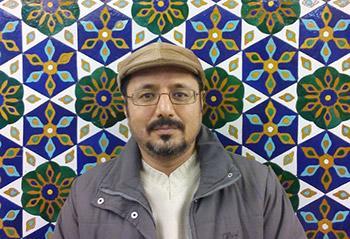 Mohammad Khossravirad, the lecturer of "Afghanistan Oral History" training workshop in his interview with the Iran Oral History Website stated: "Khorassan Razavi Art Department sponsored the workshop which was held in the last months of 2019; where a group of interested Afghan nationals participated and it was focused on oral history and arranged in the Department of Farsi Speakers."
He added: "Considering the limited number of sessions provisioned, a general overview of various oral history concepts were introduced and an induction was made to the ambiance and operational framework of oral history – including interview, research and production for the audience. There were over 30 participants in the workshop and they were tasked to present sample oral history works after the intensive course and based on their work 8 individuals will be selected to attend a one-year training course. Each selected participant shall produce an oral history book on various concepts in Afghanistan during this one-year under the supervision of the lecturer of the course. They have already presented their work to the Art Department and assessment is in process."
Khossravirad stated the collaboration of the Art Department with the Afghan authors and poets and stressed: "The collaboration has been ongoing for years. Since 1988, Afghan writers and poets such as Mohammad Kazem Kazemi have been involved with the Art Department. The collaboration was gradually systematized in the form of the Department of Farsi Speakers."
The author of "Bi-gharar"[1] reviewed the progress of memoir and oral history in Iran and stated that: "In 2009-10, the perception was to produce a series of works to be a source of art relics such as movies, novels and drama. After the 2000s, memoirs and oral history books attracted public audience and some were re-printed several times. This very fact elevated the stature of memoirs and oral history books."
The memoir and story writer from Khorassan added: "It seems that some countries like Afghanistan that have experienced challenging periods during their war against the Russians, the Taliban and the USA, have high potential for oral history works and this workshop is a suitable idea for the production of eligible oral history books on Afghanistan. The second workshop will be held after the Holy month of Ramadan.
Mohammad Khossravirad is born in 1970 in Mashhad. He has been in charge of the Story Workgroup in the Art Department since 1993 in the county. Management of cultural affairs of the Hadith Faculty, management of content production and vice-president of the Eidgah Publication and editorial of the Iran Newspaper in Khorassan Razavi province are other activities of this author.
He has produced 28 memoirs and oral history books, novels and stories and twice awarded the bestselling author at national and provincial level. "Naghl Giti"[2] and "Sharh-e Aseman[3]: the life and memoir of Martyr Pilot Ibrahim Fakhrai" are his last two books which were presented in the 32nd International Book Fair in Tehran. "Faryad dar Takestan"[4], "Bi-gharar", "Ravayat Delbari"[5] and "Hekayat Salhay-e Barani"[6] are some of his other oral history productions.
Number of Visits: 535