Rainy Travel log. (I)
Mohammad Hussein Ghadami
Translated by: Fazel Shirzad
2019-05-14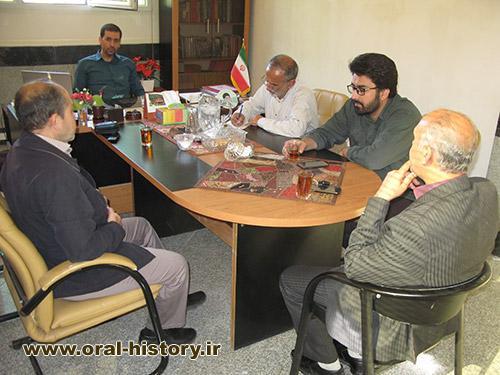 The first coordination meeting at the office of the director of province Art Center

Note: Passed few days after the sudden flood of "Pol-e Dokhtar", I got restless; I would like to be present at any incident. Waiting for friends and being companionship was useless; you should take a risk like 33-day war ... when I was left behind the comrades of "The Narration of Victory[1]" and couldn't find ticket for flight, I started my trip alone. I went to southern terminal of city to get target by bus. The first target was Syria. But there wasn't ticket and there was no place to sit... I solicited and found a place on fridge which was put at the end of a car to get me Syria and ..., and finally, how difficultly I get Lebanon!
This day, I was going to take a trip that, suddenly, Mrs. Zarrabi came and have good news of flight and travel. Mrs. Zarrabi is a person who always has a travel bag and is ready to go.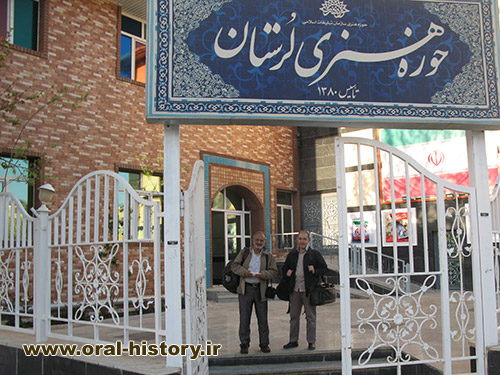 Lorestan's Art Center
Maybe you do not believe that God gave another comrade to us: Keyvannia who was cameraman of documentary named "The Narration of Victory". How Wonderful God is, what timely and surely God helped us, it is enough for the servant to do good work and he will take his hand. Do you remember prayer the month of Rajab "God is one who wants goodness for himself also wants the same for others…" You can understand completely, what I mean, from the concept of this prayer.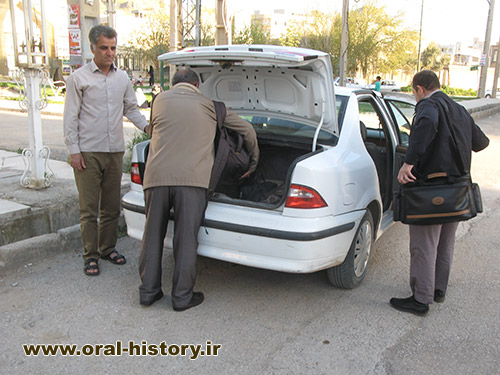 The start of traveling ... oh God! I hope you to help us!
Sunday 2019/4/14
The next meeting was at the Mehrabad airport in flight at 3:30 p.m. on Sunday 14 April, and the destination was Khorramabad in Lorestan province. "Zarabi" came earlier, and "Keyvania-Nia" arrived at the last moment breathless... Then our constant trouble was to transmit cameras and filming systems through gate, and we used warrant card and the authenticity of "The Narration of Victory"; we boarded and sat down and then flew over the rainy clouds.
Moments later, we arrived over the heights of mountain named Sefidkooh and the rocks where Ibrahim Asgharzadeh's plane had fallen in; I remembered him and give peace to Mohammed prophet and his households.
At around 5 o'clock, we arrived at our destination. Thank God, we took off and landed well. Our driver brought us to Art Center of Lorestan province, we go straight to meeting room where gentlemen were attended in there, such as, Amiri, director of Art Center, Sepahvand; Cultural Deputy and Zaidinhad, a member of the Association of Plays and the expert of cultural center of provincial children and teenagers. The subject of the meeting, the floods and floodgates, and the immediate and urgent needs of the affected people and familiarity with the capabilities of Art center and etc. The subject of meeting was floods and afloat people, and the immediate and urgent needs of the injured and familiarity with the capabilities of Art Center.
Then, we moved to "Pol-e Dokhtar" with a white car named "Samand" derived by "Saman Sepahvand". He was a young, friendly and well-spoken man and was a skilful driver with untold word came from sorrow and compassion.
The dissection was changed by a question
-What is going on Pol-e Dokhtar?
-Everyone is helping the heartily, militants are very different and merciful.
-How?
- They differ in behavior and plan, they do attractive and interesting military readiness in morning; every day in the morning, they used of shovel and sweeper instead of guns, and they stand very seriously; the commander speaks to them after the hymn and programs. Then each group goes in a line to specified place and alley. Volunteer soldiers are also passionate. They get on pickup truck and van and sing, chant; they go and clean the houses.
- What was the story of breaking dam?
- There was no dam at all, it was a rumor. Some made rumors that dam had been broken that flood would cover the area! While there is no damn here at all. It was previously supposed to build a dam called "Ivash" that was not built.
- How was people's charity?
- There was a lot of help from people. Early, it was nor shared to people well, of course it is fine now.
-How was situation early?
- We were commanded by Crisis management to go rooftop; fortunately, there was a low casualty. It's about slipping and breaking the hands and feet of guys and old men, no more. In Susangerd[2], they said they went by boat to rescue people who have gone rooftop; the people responded that if you took our buffalos down, we wouldn't go anywhere without buffalos.
We will got to "Pol-e Dokhtar", and went around the city. Sepahvand continues to explain the places while he was driving happyly and cheerfully.
We visited the bridge named "the Martyrs of Government", "Department of Culture and Guidance" and other places. The first days, the level of confidence were low and people were angry. General Khakpour, commander of Islamic Revolutionary Guards said that he had just come to here, and the people should let him spend two days later than he would help them. First days, people were in wonder. The people so worried that don't confide to someone. But there are satisfied now, and give their blessing.
Slightly ahead, some people were walking and working
Sepahvand said:" These are Khorramabad's comrades, they cook 1000 food for people everyday"
-Where is the bridge, as some mentioned it is broken?
- Let's see tomorrow, thank the army forces. They made it during 48 hours ... here was all covered by mud, they cleaned it, the days crisis passed; you came late.
He pointed to a wall on which level and height of water is marked
- look at the wall! It in two color you can find out where the water has come up.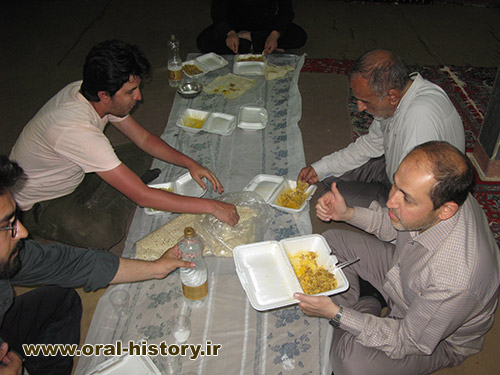 Why does it need to be expressed?
The Night is coming. We drank and ate something in one of the free service stations on road and we came back to the place of residence; Azam Mosque is the base of jihadi comrades. As soon as we entered there, acquaintance and conversation was taken place; we talked with Mr. Alvand, who was in charge of group, and listened his heartily words. He was injured, handsome, and well-spoken young who was full of untold words.
-We were an operational cultural brunch of Foundation.
-Which Foundation?
- Khatam al-Osia Foundation... we work as a headquarters, such as identifying artist, facilitating communication with government, propaganda, boarding, cybernetics, education and family, public culture and cultural management. We should support infrastructure, train and teach to develop and empower them and etc.
Destroying the bridge "Pol-e Dokhtar" wasted a long time. After the construction and people and jihadi groups left, we must stay and work on the mental alacrity and treatment of frightened and injured people, and take a decision. Even mighty women should be connected with the families.
- Although we do not have a logistics capability, but we have the ability to communicate with government and authorities to demand road, house and so on.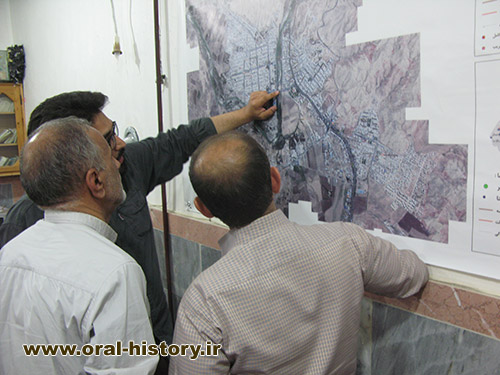 Looking for afloat areas
"Milad Ensani", who is a photographer and graphic artist of the group, stated some words.
- Our work is very immediate; when flood was taken place in the twelfth, we were deployed here in the thirteenth. Mr. Alvand introduces him.
Mr. "Milad" came from the "Martyr Avin's Foundation" and is now he is charge of organizing and coordinating the provinces.
-When the foundation has been established?
-Established in 2010, this is like warfront, it has its own commanders.
-9 years?
-Yes, it has been working for 9 years old spontaneously...
-Where was the foundation's first place and how did it start?
- Initially it was located in Shariati streets were in Tehran for 2-3 years, then Mashhad, Lorestan and ... Now it covers all the provinces of country.
- What do you do now?
- Establishing a station and to contact and communicate with the charities, collecting instructions, organizing the field, etc. in short, we have access to fire in all areas. Provincial army forces arrived and worked gradually, they are finishing their works now and leaving here, but we cannot leave the injured alone.
- How many families are settled now?
- About 9000 people. 600 of them are settled in hall and other places. The coordination of food and car etc. have been done.
Phone and wireless were constantly ringing and Mr. Alvand was uncertain if he answered stubborn guests or calls; He gave the phone Milad and continued to talk.
-Where were we in talk?
-We were in hall!
-Oh...Now let's go out of the hall! The next issue is that we have to constantly visit families and know their condition. Have relation to be aware of their food, solving problems, housing, preparing car, observing and identifying each house in the city and neighborhoods socially, constructively and culturally were the duties of group. We were not in the city for the first two days. We were just in meeting, we were studying on complex situation.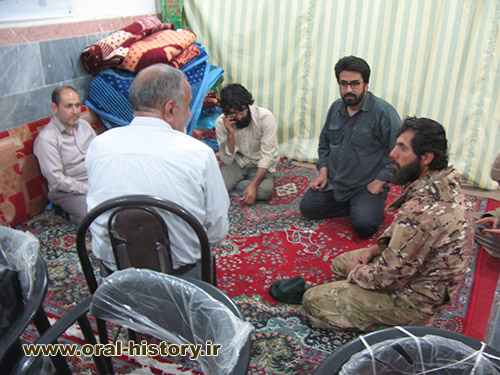 The second meeting with Imam Reza's jihadi groups in the mosque
-Governor who said that I was dismissed...
-Yeah. When the first person of city tells me that I can not doing anything, city and province are as good as dead.
What about Revolutionary Guards and Red Crescent?
The Revolutionary Guards was very impassive here, but it needed a central general management to organize works. The Red Crescent started distribution animatedly, it was transferring needed material and goods by helicopter. Everyone, who was able, went and came back as soon as possible, using motor and car. The Guards liked to do distribution, but every group worked in his own way. Generally, commandership didn't have a unit to do distribution, if commander" Kashkoli" himself attended in there, it would be better.
Didn't he attend in three?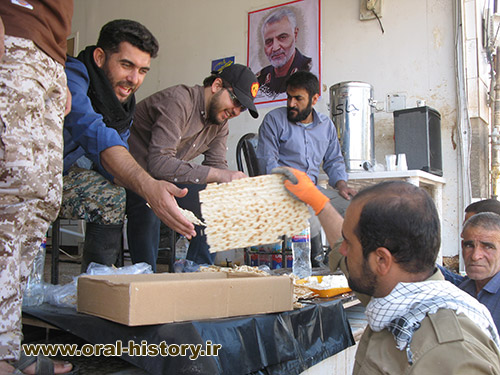 Free service stations relieved the tiredness of city
- Yes. But, in the second day, Mr. "Aziz" [Major General Mohammad Ali Jafari] told him to come back; of course, it may be an important thing. Of course, Basij[3] and people, especially soldiers and army, were working well, they repaired western bridge, which was sunken, during 72 hours.
To be continued…
---
[1] It is known as Ravayat-e Fath
[2] It also known as Dasht-e Āzādegān, Dashte' Mishan, Dasht-i-Mishān, is a city in the Central District of Dasht-e Azadegan County, Khuzestan Province, Iran. At the 2006 census,
Number of Visits: 280