The Days without Mirror (Part 24)
2019-05-14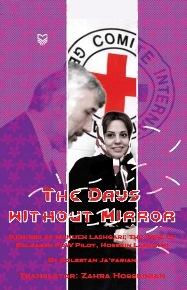 The Days without Mirror (Part 24)
Memoirs of Manijeh Lashgari; The wife of released pilot, Hossein Lashgari
Edited by: Golestan Jafarian
Translator: Zahra Hosseinian
Tehran, Sooreh Mehr Publications Company
‎2016 (Persian Version)‎
---
Chapter 10
Two years after Hossein's returning, Ali got married in 2000. Perhaps because of social conditions of that time and women's hijab and behavior caused Hossein's wonder and suffering, as well as emotional conditions of him that caused his willing for Ali's getting married sooner.
I opposed Ali's marriage at the age of twenty two. It was too soon for him. He still did not have a picture of life partner. Always everything was provided for him; even if he wanted a glass of water, I gave him. But Hossein wanted something else.
One night we were invited by one of our friends. 'General,' the host told Hossein, 'you don't want to do something for your son's marriage.' Ali was husky and this matter was added to the reasons for his marriage. 'Incidentally, I do. Do you know a good girl from a noble family to introduce?' Hossein said. Introductions were made and we visited Maryam and her family. She was just getting her diploma. She was a beautiful girl. My son liked her. Thanks to all propagandas about Hossein's releasing from captivity, we were a famous family. We both families spent time in some sessions. Apparently everything was fine. 'Hossein,' I said, 'Ali is a physician; it's better his wife to be a physician too.'
He said, 'honey, this isn't a good criterion. I myself help him financially.' The Bride's family took a luxury engagement ceremony and my son and Maryam were engaged. Ten days after engagement ceremony, the marriage contract was made. Ali was senior and his internship was started and his lessons were heavy. After finishing his exams, we took a luxury wedding ceremony; two thousand guests in a big banquet hall in the north of the city.
Both Hossein and I wanted them to be independent and did not live with us. We rented an apartment near ours. They almost came to our house every night. When Ali returned from the university, came to our place with Maryam. They ate dinner with us and performed their prayer. We spoke with each other and then, they came back their home at late hours.
I and Hossein were very attached to Ali. If we did not see him one day, both became restless and distressed. Hossein liked Maryam very much. I never heard he called her 'daughter-in-law'; he always called her 'my dear daughter'.
A year after their marriage, Mohammad Reza was born, who made Hossein very happy. Hossein came to see the baby at visiting time. The nurse told me, 'The baby was born three hours ago. We usually don't allow visitors to go even behind the baby room.' But she recognized Mr. Lashgari very soon and asked, 'you're that captive who's released four years ago?' Then she went and brought the baby in a blanket and gave him to Hossein.
Mohammad Reza was very similar to Hossein. His behavior was also strange. Babies started to move their feet and hands in three or four month years old, but he did not do it for anyone except when Hossein stood in front of him. Then he moved his feet and hands fast and cried until Hossein nursed him.
One year after Mohammad Reza was born, Maryam went to Europe to continue her education. Given the attachment between Hossein and Mohammad Reza, Maryam easily entrusted him to us in order to study well. Experiences of me and Hossein in babysitting at least dated back to twenty three or twenty four years ago. Now we had to learn everything again. We diapered Mohammad Reza with each other, gave him formula, took him to the bathroom... we totally got involved with taking care of the baby. Hossain's interest in babies had not changed at all; he was kind and very patient. But I did not bear it. Sometimes, Mohammad Reza, whom I could not leave alone for a moment, drove me mad, and I became tired. But Hossein said, 'I wished four kids jumped about in this house!' Everything related to this two-years-old boy was interesting to Hossein and he enjoyed. Mohammad Reza had a special taste in eating; he did not eat any kind of food. He was interested in the fireplace; we put colored stones next to the fireplace to amuse him and while he threw them in the middle of fire, we fed him; or we took him to the park, sat him down on a swing, and while we continuously said 'oh, look at that doggy coming', amused him.
It was really hard for us when we stopped diapering him in three years old. Sometimes I came to the end of my endurance, but babysitting was attractive to Hossein. Since he had not seen Ali's growing up, he was interested in this baby and was really helpful. Mohammad Reza went to the toilet with 'BabaHossein' (Dady Hossein), went to bathroom with 'BabaHossein'... Hossein's much kindness had caused Mohammad Reza to be depended on and attached to him. When Hossein wanted to go out, Mohammad Reza picked Hossein's cellphone and briefcase up and hid them under table or bed or elsewhere. We had to distract him somehow so that Hossein could go out. He took my hand and dragged me toward the phone to call Hossein and he spoke with him. I had to call Hossein ten times a day. He asked: 'BabaHossein, have you eaten food? BabaHossein, have you drunk tea? BabaHossein, have you smoked?' He did not know that smoking is not good. Then, when his all questions have been answered and I said, 'enough Mohammad Reza, BabaHossein should do his works, say goodbye.' he asked, 'Then, when you come back BabaHossein?' Hossein replied, 'one hour later.' he asked, 'what do you mean?' Hossein replied, 'ask Mamana. She tells you.' Now I had to answer him. I took him in front of wall clock and pointed, 'Look Mohammad Reza, when that hand arrives here, one hour's passed.' He sat down in front of the wall clock, and when that hand reached to the number I had said, then it was such a trouble. He asked, 'Why BabaHossein didn't come?' He stood behind the window and as soon as noticed the sound of Hossein's car, was so excited that want to jump out of the window. He kissed Hossein's head and ear and face by the door. After lots of kissing, Hossein just took out his shoes and changed his clothes and entered.
Mohammad Reza's attachment to Hossein was not comparable to his attention to Ali. Ali laughed and said, 'Sometimes I feel Mohammad Reza has forgotten me. I'm in front of him, but he only focuses on father.' I said, 'well, BabaHossein loves this baby so much that he forgets me and you and even his mother and doesn't pay attention to us.'
When Mohammad Reza had just began to talk, told all the events of the house to Hossein. Most of the time, he complained to Hossein about me and Ali. He said: 'BabaHossein, today, Mamana didn't take me to the yard to play. BabaAli didn't buy that toy racing car I wanted.'
Hossein asked, 'Honey, why didn't you take him?'
I replied, 'Hossein, I was tired, was busy.' In short, I should answer for the sake of Mohammad Reza.
To be continued…
Number of Visits: 273