The Days without Mirror (Part 23)
2019-05-07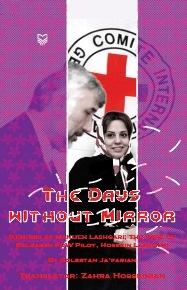 The Days without Mirror (Part 23)
Memoirs of Manijeh Lashgari; The wife of released pilot, Hossein Lashgari
Edited by: Golestan Jafarian
Translator: Zahra Hosseinian
Tehran, Sooreh Mehr Publications Company
‎2016 (Persian Version)‎
---
Early on, Ali felt strange to Hossein. He called his father, 'Hossein'; as if he could not easily call him, 'father'. I realized that he wished to hug and kiss Hossein, but something prevented him; neither Hossein had seen and felt Ali is growing up, nor Ali had never understood who his father was and what his feeling was to him. They could not attract each other. I and Hossein were wife and husband. We had a close relationship; so, the problems were resolved sooner. But about Ali, I think it never solved. If he was a girl, she might be more comfortable with it. Girls are more emotional and they are more successful than boys. Ali was introverted, and did not show his feelings, neither his happiness, nor his sadness.
Hossein tried so much to remove this gap between himself and Ali. He asked one of his acquaintances to employed Ali in his clinic as a dentist. Hossein wished that Ali gained experience.
A few months after Hossein's return, when six months of his leave of absence was not finished, I suspected that I was pregnant. I was almost forty years old. I was concerned. We made an appointment with a doctor and I took pregnancy test; it was positive. Hossein was extremely happy. He asked several times: 'Are you really pregnant?' I replied, 'Yes Hossein, I am, why do you ask? What's wrong with me?' He said, 'You're fine; I'm sick and tired. I was worried about myself.' Among my friends and acquaintances whose spouses were captive many years, I had seen their wife being pregnant several times. But the baby was aborted in different months. Even some of them said that their baby was aborted at fifth month; so, I was worried. I was scared the baby not to be safe and sound. We went to Mehrad Hospital and the doctor recommended that I should be regularly checked up until third and fourth month, and if it was diagnosed the baby is abnormal, I would be allowed to perform curettage.
It was as if the whole world had been given to Hossein. He was changed. Although he did not speak, I felt that he was happier this time. From the moment he found out I was pregnant, he only allowed me to get off my bed for going to WC. He had arranged several pillows around me. He himself brought the food tray next to my bed and I, like a child, rose on my elbows and ate. He said, 'Well, lie down Manijeh, doctor said you shouldn't sit; a complete bed rest. You didn't take it serious!' Despite Hossein's 24-hours care, regular medical ultrasound, and taking various vitamins and medications, the baby was aborted at the very beginning of the third month of pregnancy.
Returning from the hospital, Hossein cried in the car. It was the first time I saw Hossein's tears. 'Hossein, why do you get upset?' I consoled him, 'We try again, and we're surely able to have a child.'
'You heard what Dr. said,' he said, 'at least one year, we should take medication.'
I said, 'Well, we'll do it. This time we made a mistake to let this happens without consulting with a doctor and doing necessary treatments.'
I kept to my bed for forty days. I lost eight kg. I had constant dizziness and headache. Hossein was very kind to me, and took care of me until I got better. Six months after abortion, we sought medical treatment; and about three months, we went to clinic, took medication, and consulted with doctors... it was a serious matter for Hossein, but I thought that he finally had been tired. One day, when we returned from the clinic, he asked, 'Manijeh, you surely want to have a baby at this age?'
I asked too, 'What about you, Hossein?'
He replied, 'If you don't want, I'll don't too.'
We agreed not to continue treatment.
Ali, my son, was twenty-two years old. Hossein suggested that it was better to start thinking about Ali's marriage. Hossein's morale was strange to me. He was never disappointed with his future and life, or he was so strong that never spoke about his problems. He quietly and calmly resolved each problem occurred.
After six months, Hossein got to work in Studies and Research Office of Air Force. His job was executive; he had to work in an office. Of course, there were also visits. Hossein was a flight man, a pilot, and sitting behind a desk bothered him. On the other hand, he had no enough energy to fly. But I insisted him to go to work. I thought that it would be better for him instead of staying at home and constantly involving with putting down his memoirs of eighteen years captivity in the notebook.
When he came back home, I tried to put activities in our life that he liked. He liked to go to the restaurant. At least once a week, usually we went to the restaurant together. One night, when we wanted to go to a restaurant, it took me a while to get ready. I used to go out clean and tidy. He came into the bedroom, stood behind me in front the mirror and stared at my face. 'Manijeh, honey, you suffered for the sake of me.' He said.
I smiled and said, 'don't mention it, Hossein.'
He said, 'I'm right; you didn't enjoy your life. Now that I've returned, with 70% VA disability I've returned.'
I grabbed his hand and said, 'Don't say these words again. You're very nice. It's important we love each other.'
He took out a turquoise blue bead from his pocket and said 'Always carry this with you. You're so well-groomed that maybe will be casted an evil eye on you.'
I laughed at the bottom of my heart and took the bead. Everywhere we wanted to go, he used to get worried I was casted evil eye. Sometimes, when we visited some of our acquaintance, I became really sick one or two days after returning home. He said, 'You see, I'd tell you not to be well-groomed! People, willy-nilly, cast evil eye on you. In Islam's also advised to be simple.'
We went to Golestan Restaurant one evening. Beside our table, two young girls, who had worn inappropriate clothes, sat at another table. One of them, with blond colored hair and narrow tattooed eyebrows, maybe was sixteen years old. I had been dumb-founded. When we sat next to their table, the girls seemed to feel insecure. Hossein had thick beard, and everyone who saw him, felt that he was fanatic. I approached those girls and said, 'Be comfortable, my husband's very sensible. He's not as you think!'
The two young girls smiled and said, 'Wow, all Hezbollahi have a wife like you! It's so much friendly!'
I turned to Hossein and said, 'Honey, these ladies are a little worried to see you. They think you're fanatic.'
Hossain smiled bitterly, and said, 'my daughters, you're free to wear whatever you want. But if you wear more simple and covered, be sure, you yourself will be more comfortable and less disturbed.'
He was so mature in the community that I was surprised. It was like he had lived many years in the community and had seen all changes closely. He was the same with our son. In difference of opinions and tastes, Hossein always kept silent and allowed Ali to think.
I feel that Hossein had achieved that calmness and high tolerance in facing differences of tastes and beliefs from much studying the Quran and thought of its meanings. He memorized two-thirds of the Qur'an. The only book which was in his access during captivity was the Quran. He really had understood the great Qur'anic concepts and used them in his life and in facing people. The Qur'an had illuminated his heart. Hossein was a special man, whom God had sent him as a commissioner to this world. I, who was his wife and had lived with him for ten years, have felt this specialty with my heart and soul.
To be continued…
Number of Visits: 335