The Days without Mirror (Part 13)
2019-02-12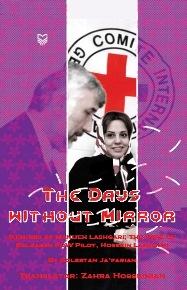 The Days without Mirror (Part 13)
Memoirs of Manijeh Lashgari; The wife of released pilot, Hossein Lashgari
Edited by: Golestan Jafarian
Translator: Zahra Hosseinian
Tehran, Sooreh Mehr Publications Company
‎2016 (Persian Version)‎
---
After four days, I was discharged from hospital and retuned home. I spent ten days resting at home. Hossein's parents and his sister came to my father's house. On the tenth day of my delivery, a big party was held to which all the family and relatives were invited. During the period of relaxation, the date of our monthly Rawda khwani ceremony came. It began from morning until 12:00 at noon and five preachers came and went. The last preacher was Seyyed Karim, whom my father believed in his religiosity and purity. After Rawda Khawni ended, my father took Seyyed Karim to his room and they ate launch together.
Hossein had called my mother a few days ago and told her: 'ask Seyyed Karim to recite Adhan in my son's ear. I've named my baby, Aliakbar. I've talked about it with Manijeh before. She's had no objection.'
My mother told me the story. 'He's right,' I said, 'Hossein was always saying that he wishes to name his son Aliakbar.' Hossein said, 'My name is Hossein, so my son's name should be the name of Imam Hossein's son.' On the day of Rawda Khawni, my father took the baby and handed him to Seyyed Karim. Adhan was said to my son's ear by Seyyed. He also had prayed on a glass of water which was handed me by my mother. She said, 'Seyyed Karim's said that baby's mother should drink this water.'
Ali was twenty-three days old when Hossein could get leave and came to Tehran. Haj Khanum has hugged Ali and I also came downstairs to welcome him. Hossein first walked toward Haj Khanum and hugged Ali. He looked at the baby amazed. Then he kept kissing him and said, 'Oh my God, thank you! What a boy you've given me such a big loss not to see him twenty-three days!'
Then he noticed I was there too! He came forward and comfortably hugged and kissed me. 'Hossein,' I said, 'it's not good, we're in my mother's and Haj Khanum's sight!'
He laughed and kissed me again and said, 'well-done honey that gave birth to such a boy for me!' he presented me a bunch of flower and a beautiful elaborate golden necklace. He himself put the necklace on me. He had hugged Ali an hour and did not laid him down. The baby had begun crying. 'Hossein, he's hungry,' my mother said, 'give him to his mother to suckle.' Hossein said, 'no, he'd been in his mother's arms all the time; now it's time to taste his father's.'
Hossein was very affectionate. It was perceived through his looks and his treatment with his family. After two or three days staying in Tehran, he got national identity card for Ali and then we were going to return home. My mother insisted, 'Hossein, let Manijeh and the baby stay here for a couple of months; this baby's diaper should be changed, he should be bathed, Manijeh won't pull them off.'
'Never, I myself will do all. I can't stand their absence' Hossein said.
We flied to Dezful. Entering our house, I had the same feeling as last year, when I had just come to the base with Hossein. I sat down on a sofa. You can imagine how a house looked like when it was not run by a woman for three or four months!
Hossein sat next to me and said, 'Why're you upset?'
I said, 'What should I do now? I'm not still feeling better; and all these works...'
He said, 'Don't worry. Just take care of Ali. I vacuum the house and tidy all things.'
I changed Ali's diaper, gave him milk, and put him to bed. Then I got up and began cleaning and tidying the house. I was careful to open the door of cabinets and closets very slowly.
We only powdered Ali's body for one week. We both scared to bath him. We were afraid that his eyes or ears were hurt by shampoo or he got cold. But then we came to the conclusion that his body could not be powdered every day, and we had to bath him. Hossein bought Johnson shampoo and turned off all of air conditioners an hour earlier. We let the hot water to be on, in order the bathroom to be warm. I entered the bathroom without taking off my clothes. My mother had taught me how I lay the baby on his back on my legs and then start washing his body first. Hossein poured water very slowly and I washed Ali's body. When it was finished, we reached to the hard part. I told Hossein, 'pour water on his head.' Hossein said, 'no, I'm afraid he is choked! Do it yourself.'
Hossein put his right hand and I put my left one on his face, in order the shampoo foam didn't hurt his eyes and ears. It was the way we washed his head very slowly. But the baby cried and screamed, and made both of us more frightened. We sweated so much that I thought we lost one kg weight.
Hossein took a quick shower and then fetched Ali's clothes into bathroom to dress him. 'Hossein, take the baby in your arms and keep walking until he become calm, while I'm taking a shower. I'll come soon to suckle him.'
From then on, we did not afraid and bathed him more easily.
Hossein had found a proficient pediatrician in Dezful. Ali was visited by him each month and he controlled the height and weight of our baby. When Ali was four months old, the doctor said that we should give our baby food except breastfeeding. 'No, doctor,' I said, 'my mother's told me I shouldn't give him anything else but my milk until he become six months old.'
'This's an old way; we don't make such a recommendation now' He said.
The doctor prescribed a German or English baby formula, which, I think, was named 'Vitarina'. Hossein went to several pharmacies in Dezful and Andimeshk, but did not find it. 'Thank God!' I said, 'now it's not needed to give food to the baby.'
The chores had increased. It took lots of time to take care of Ali. During one hour of his sleep, I rushed to the kitchen, turned on the rice steamer and made lamb stew and rice, in order the meal to be ready when Hossein would came home.
To be continued…
Number of Visits: 401