The Days without Mirror (Part 11)
2019-01-29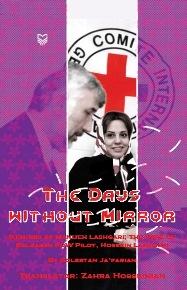 The Days without Mirror (Part 11)
Memoirs of Manijeh Lashgari; The wife of released pilot, Hossein Lashgari
Edited by: Golestan Jafarian
Translator: Zahra Hosseinian
Tehran, Sooreh Mehr Publications Company
‎2016 (Persian Version)‎
---
Chapter 5
In my paternal home, when it was near to my father's coming home at noon, if it was winter, Samovar was boiling and tea was brewing. At least one type of winter fruits, washed and clean, was in a dish on the table. If it was summer, a pitcher full of ice and mixture of flixweed seed and oxymel drink besides cold watermelon and honey-melon were ready on the table. My father saw these as a sign of his family's longing for his coming back home and would be happy. I had also learned. If Hossein did not fly, he came back home about 3:00 pm. There were a lot of flowers in the garden; I picked one or two flowers, any kind which was in my access, and put them in a Swarovski crystal vase filled with water. Usually there was flower on the dining table. As it was hot there, I always had a cold watermelon or honey-melon in the fridge.
An hour before Hossein came home; I changed my clothes, did hairdressing by hair stretcher or hair-curler, and applied perfume. Hossein liked a warm atmosphere in the house and he wanted me to be a well-groomed woman.
Whenever Hossein came home, he first drank a glass of honey-melon juice or chilled watermelon. Then he went to take a shower and I sat the table. At the dining table, we both talked about what we had done that day and or listed the items we needed for our house, in order to buy them at the first opportunity.
The very first two or three months our house was almost formed. Hossein bought three carpets, a washing machine (because I did not know how to wash our clothes), furniture, a bed, and a dining table. Within these two or three months, we almost had known each other's behaviors. Hossein spoke a lot. As he was ten years older than me, his sense of support of me was more and I liked this spirit. In the afternoons, when he left home, his absence was felt. I amused myself by phoning to my friends and my mother, by reading books, and by walking in the garden of base, which was lush and beautiful. Sometimes, I rang Hossein and asked his permission to go shopping along with Rouhangiz.
He called me at least three or four times a day and asked: 'What're you doing? Where did you go?' If he did not ring, I was sure he flew. On the days he flew, his hat made a trace on his forehead and it did not disappear until one or two hours after showering and resting.
Hossein was very clean. He changed his clothes every day and I had to wash and iron them. The first time he said, 'Manijeh, honey, please iron my shirt'; I said, 'I don't know how to iron.' He asked, 'Do you mean that you've not yet ironed any shirt?' I replied, 'I haven't.' He ironed his shirt and said, 'should do it like this, did you learn?' I said, 'I think.'
One or two times after I ironed his shirts, I said, 'Hossein! Don't ask me to do this; it's really hard for me.'
He himself did it one or two times and asked: 'It's really a time-consuming and hard work! You can't?'
I answered, 'I can't. It's better to collect all of them and then have a dry-cleaned.'
I was about to become a housewife. With his patience, Hossein gave me the opportunity to enjoy this new role. No one had a family in the air base, especially pilots, who came from different cities. Our husbands were flying or were busy in the battalion from morning to evening. And we young women made friendly relations with each other. We were invited to our friends' house for at least two nights a week, or our friends were our guests. The men gathered on one side and the ladies on the other side.
One night, our next door neighbor, whom we did not know, had told Hossein: 'Captain, we want to come to your house tonight.' They brought us a gift. A few nights later, Hossein said we should go to visit them. Hossein went to Dezful and purchased a few dishes and said: 'chose one of these fruit-bowels to give them as a gift tonight.' I looked at them and said, 'wow, Hossein! These're so beautiful, I like all of them.'
He said: 'Well, you take all of them. I'll buy another one.'
I said, 'No, doesn't matter.'
We took one of them and went to the party.
That was the way Hossein understood my interest in dishes and utensils. I did not like the clothes and bags and shoes of Dezful. I would prefer to buy them from Tehran. But fine porcelain dishes with reasonable prices were found there.
I remember the 26th of June, my first birthday after marriage, Hossein came home with a rose bouquet and a beautiful dish, and I was surprised. We went to the officers' club for dinner and then went to the cinema to watch a movie at 9:00 pm. I was seventeen, and it was the first year I had started marriage life. I had a nice and calm life. Hossein made a swing on the thick branches of lote tree in our villa. I liked it. All around our villa had been camouflaged by two meters shrubs of Buxus. The days he arrived home at 6:00 pm, we went out and he swung me. He kissed me and laughed while swinging me. I laughed and said, 'Hossein, I'd feel shame if someone see us.' He said, 'Why? You're my wife and I love you.' Hossein was an open-minded man. The hijab had become compulsory, but he did not force me to wear chador. He only did not like that I go out with short sleeve clothes or without wearing socks. He had bought me large beautiful headscarves which I wore.
Contrary to the first days, there was no crying and missing for my parents any more. I was accustomed to this city with its long and warm days and short nights.
I went to Dezful bazaar with Hossein once a week. It was an interesting traditional place with dome roof and brick chambers side by side. It had been designed in the way that the wind blew from every side and the air flew, so that the chambers did not need any air-conditioner. Tomatoes, eggplants, fresh garlic, and okras had been on large sacks. The black vendors wore long Arabic clothes. They smoked heavy and talked and laughed. I wondered if they did not sweat, nor did they complain about the heat.
The strangest thing to me was that in this bazaar live chickens were kept in the cage. You yourself could choose one of them and they killed the poor chicken in front of you and sold it to you. I could never eat those chickens which I could feel the warmth of their bodies. I asked Hossein to provide chicken from a supermarket in the base. Hossein liked warm and fresh chicken, but bought chicken from supermarket for my sake. One day in the Dezful bazzar, I saw a nice bear doll. Before I got married, my mother had kept my childhood dolls. I said, 'Wow, Hossein! See how pretty this doll is!' He quickly asked the shopkeeper to gift-wrap the doll for us.
'No, Hossein! Playing with doll has been over!' I said.
He laughed and said, 'Ok, I'll buy this drummer doll for our baby.'
I said: 'We've just got married, long way to have a baby!'
I put the doll in front of the mirror of my toilet table. I liked it. When I turned it on, it laughed and drummed.
To be continued…
Number of Visits: 490