The Days Without Mirror (Part 7)
2019-01-01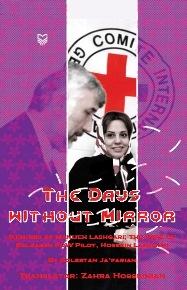 The Days Without Mirror (Part 7)
Memoirs of Manijeh Lashgari; The wife of released pilot, Hossein Lashgari
Edited by: Golestan Ja'farian
Translator: Zahra Hosseinian
Tehran, Sooreh Mehr Publications Company
‎2016 (Persian Version)‎
---
On the morning of March 27, symbolic items of sofreh aghd[1] was sent to our house. My mother had allocated a large room in the third floor for spreading sofreh aghd. At that time, it was customary that the bought items for bride and groom were decorated inside large round trays. Then, several men put these decorated trays over their head and brought them to the house of bride's family while singing. Hossein himself had decorated the mirror and candlesticks and the sugar-candy container, he also wrapped the sugar loaves with wrapping paper. He pulled out the stops. He had a good taste.
I wore the same white silk evening dress, and did not go to beauty salon. After Nowruz holidays I would go to school, so eyebrows threading should not be done. After all, my father said, 'don't do eyebrows threading until your wedding day.' Hossain asked me several times, 'Are you sure you don't want to go to beauty salon?' I assured him, 'I don't want to go.' With a very light make-up and no hairdressing, a chador was thrown on my head and I sat down next to Hossein on the top of sofreh aghd.
The big cooking pots were in the courtyard. The chefs, whom my father had hired for that day, were busy cooking. Those days, there was no gas stove and they had to cook with firewood. It was a rainy day, so cooking was difficult. At least one hundred guests were in our house. Hossein did not have any free time to see and speak with me. Under that torrential rain, the cleric who invited to officiate the marriage vow arrived, passed through the guests, and began his work and recite the marriage vow three times; Hossein and I said 'yes" one by one. We placed the wedding ring on each other's finger, exchanged our small finger dipped in the honey, took some photos; and then, it was finished.
It was around 12,00 pm when dirty dishes were still being washed in the courtyard. I wanted to help, but my mother said, 'you're very tired, get sleep.' I was really collapsing because of tiredness. Therefore, as lying down in my bed, I got sleep. My mother woke me up early morning, 'get up Manijeh. Hossein's come and sat alone in the room. Hurry up, get up!'
I rose groaning, and mumbled, 'God! As if Hossein doesn't want to let me go... I feel sleepy.'
As soon as Hossein's eyes set on me, his face was wreathed in smiles and said, 'I've come to take you out.'
'Where?', I asked.
'Let's just go till the guests haven't woken up...' he replied.
I got ready quickly. We first went to a café and had breakfast. Then, when the shops were opened, he took me to go shopping. 'Hossein, we did yesterday,' I said, 'why we're going to go shopping?'
He smiled and said, 'Yesterday, those who had come with us, didn't allow me to buy you everything I want. Today, we purchase with our own taste.' I tried on several dresses and some pairs of shoes. He bought me two dresses with a bag and a pair of shoes. We lunched in a restaurant at noon; and in the afternoon, we walked in a park and then went cinema.
He drove me home at night and told my mother, 'there you are, your girl! Safe and sound.'
My mother, who loved Hossein, said, 'dear Hossein, stay and dine with us tonight.'
Hossein quickly accepted and dined with us, then he kept sitting hoping to hear, 'stay the night', but when he saw there is no hope, said goodbye and went. My father did not allow Hossein to stay at nights. Those years these things were observed, so that the bride and groom should not be with each other at nights before their wedding ceremony. It went on until one day before the thirteenth day of Farvardin, when Hossein asked my father's permission to travel Qazvin with me. My father stood on ceremony, and since he liked Hossein, couldn't say no. Finally, after lots of pause and hesitantion, he said, 'Ok, take her.'
So, I got into Hossein's car and we started the first trip of our marriage life. He played cassette tape and talked and laughed in the entire route. Hossein was a man who expressed his feelings easily and drowned me in his love and passion. Reaching Qazvin, he said, 'we don't go to my father's house.'
'What for?', I said.
'It's populous, honey! All the family and relatives have gathered in our house. I've not been with you properly. Tomorrow I have to go to Tabriz.'
'So, where're we going to go?' I asked.
'I've said to my cousin, Aziz agha, we'll go to his home tonight.'
Hossein's cousin had gotten married a few months ago. We went to his house. His wife, who was from Qazvin and had impeccable taste, was pregnant. She had cooked baqali-polow with mutton[2]. Hossein served meal for himself and me in one plate; he insisted on shared dish. I liked the idea, but I felt ashamed in front of others. We dined and then slept.
We went to Hossein's father's house early morning. He was right; all the family and relatives were there. We stayed there for about two or three hours and then returned to Aziz agha's home. It was Sizdah Bedar[3]. Along with them, we picnicked outdoors to a beautiful summer resort with pleasant weather in the suburb of Qazvin.
Aziz agha's wife had baked delicious homemade cookies. We sat down under in-blossom trees and took tea and cookies and fruit. We set off to Tehran at sunset. The next day I should go to school and Hossein to Tabriz. I think it was Sunday. Hossein set off to Tabriz and I went to school.
At school, I said to one or two of my close friends that I have been engaged. They were surprised. As I did not do eyebrows threading, the school staffs did not realized I have been engaged.
To be continued…
---
[1]. Sofreh aghad or table of wedding is a richly-decorated spread, laid out on the carpet in the room where the marriage ritual is to be performed.
[2]. A popular Iranian rice dish made with broad beans and mutton or chicken.
Number of Visits: 402









Interview with the secretary of the twelfth Iran Oral History Conference

Oral history of the Holy Defense industry, engineering and logistics
According to Iran Oral History Website, the summon for the twelfth Iran Oral History Conference with focus of the Holy Defense industry, engineering and logistics was issued while the history faculty of the Isfahan University had the scientific leadership of the conference. Considering that oral history is the focus of this university, Dr. Aliakbar Kajbaf, member of the scientific board of the faculty of history of Isfahan University was elected as the secretary of the ...

Interview with the Lecturer of "Afghanistan Oral History" Training Workshop

Historical capacity, an incentive to enter oral history
Mohammad Khossravirad, the lecturer of "Afghanistan Oral History" training workshop in his interview with the Iran Oral History Website stated: "Khorassan Razavi Art Department sponsored the workshop which was held in the last months of 2019; where a group of interested Afghan nationals participated and it was focused on oral history and arranged in the Department of Farsi Speakers."

The Second National Conference on Oral History of Holy Defense-3

Engineering Collective Narrative in Basic Narrative of Oral History
According to Iranian Oral History Website, the 2nd National Conference on Oral History of Holy Defense was held in Ahle Ghalam Hall of NLAI on March 3, 2019. In the first part of report of the conference, you read speeches of the Second Brigadier General Pasdar (IRGC officer) Gholamreza Alamati, head of the Organization of Holy Defense Documents and Proofs and secretary of the conference, Basiji Sardar (General) brigadier, Bahman Kargar, head of the ...