The Days Without Mirror (Part 3)
2018-12-04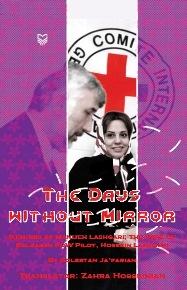 The Days Without Mirror (Part 3)
Memoirs of Manijeh Lashgari; The wife of released pilot, Hossein Lashgari
Edited by: Golestan Ja'farian
Translator: Zahra Hosseinian
Tehran, Sooreh Mehr Publications Company
‎2016 (Persian Version)‎
---
As I said, my older brother's name was Gholam Hossein. We all revered him. At that time, it was believed that the eldest son was the father's successor. We called Gholam Hossein, 'Agha Dadash[1]'. If I wore a dress and he would say, 'change it', I accepted without any offence.
My parents showed more affection to their daughters than their sons. They always said that a daughter gets marry and joins another family; she is somehow a subordinate and should grin and bear her man and live on. But a son is a leader and reigns. Those days it was the prevailing thought.
Gholam Hossein was a serious and sullen person who was sensitive to the girls' behavior. We were not allowed to stop on the way or to buy something from local shops, when we went school. Also, we were not allowed to leave the room when our guest was a man. We prepared everything for entertaining, and Gholam Hossein himself took the tray.
I remember it was a hot summer afternoon. The heat had just lowered. We washed the courtyard and spread rugs and carpets on wooden Iranian seats and threw some watermelon and melon into our small pool to be cooled. Meanwhile, the door was knocked. It was Hossein; the same gentleman in military uniforms whom I had seen. Before Gholam Hossein pointed us out, we girls went to the kitchen. Invited by my father and welcomed by my parents and my brother, Hossein came into and sat down on the seat beside the pool.
Hussein wore a military uniform with a neck tie, very stylish. It was interesting to me. We did not have any military man in our family. My brothers wished to go to officers' university for continuing their education, but my father disagreed. 'The system takes away freedom from you and makes you a servant for the government.' he said.
Hossein was humble and gentle in front of my father. Almost all family knew my father and revered him much. That day, Hossein left our home without meeting me. I was in the second grade of junior high school. It was 1973 or 1974.
We performed our prayers on time and observed our obligatory fasts; it was an unquestionable matter. Before the revolution, the girls did not wear hijab, but, we in front of non-mahram people, we did not put on sleeveless dress, and we wore socks too; but we did not wear chador or scarf. Haj Khanum and my mother both wore chador, but they were not strict in girls' hijab. The school uniform was a sarafan over which a blouse was worn. We put on thick socks and in winters, woolen hat and scarf.
I chose the Humanities for continuing my education in high school. I wished to study law at university. Returning from school, we lunched and had to sleep for an hour; but we girls usually ran away from sleeping in the afternoons. Then, each of us sat down in a corner of room, surrounded with our books and notebooks, and did our homework; the room was looked like an old style school. My older sister was responsible for dealing with our homework one by one.
My father had a Volkswagen. At the beginning of every season, he drove us to go shopping. In Salsabil Street there was a shoemaker named Ganjawi, from whom we bought our bags and shoes. The owner of the shop knew my father well; he knew my father is a family man and had two wives. So, as soon as my father entered his shop, he said, 'Hello sir, Mashallah, you've brought your family to shop. Welcome ...'
We had a dressmaker who made clothes for us. The tailor's shop was near Jey Street. The dressmaker came to our house two or three times a year and fitted us and made dress.
Also a hairdresser came to our house every month for eyebrows threading of my mother and Haj Khanum. We girls did not do it; only sometimes, the hairdresser trimmed our hair. My father had forbidden us to go to the hairdresser's shop. He said that it made us shameless.
My father had land and orchard in Qazvin. We went Qazvin in summers. I think it was September 1978, when we went Qazvin. It was grape harvest season. Two of my older sisters had just married and their husbands were with us too.
We girls were walking into waterways of orchard, in which cool water was flowing, and we talked and laughed loudly. 'Wear your Hijab, Hossein is coming here.' Suddenly my mother said.
'Who is Hossein?' I asked and saw him in distance as I looked up. I rolled down my trouser legs quickly. This was the first time Hossein caught my eye. He put on a stylish jeans and short sleeve blouse and worn an American Ray-ban sunglasses.
At that time I was sixteen years old. Hossein approached us, and first greeted with my mother, then he shook my two brothers-in-law and greeted with my sisters one by one. Then he turned to me and said, 'you're Manijeh, aren't?'
'Yes.' I replied.
'How grown-up you've become! You've changed!' He said.
'Thank you.' I said and looked down.
Hossein stayed and lunched with us, and then he left in sunset. Later on, Hossein said, "I liked you the same day I came to your orchard and selected you as my wife. I sank into thought how to propose, because your sister, Azar, did not get married yet.'
To be continued…
---
[1]. An honorific title for 'older brother'.
Number of Visits: 360