Interview with author of biography of a shrines defender martyr
Writing Based on Reality and Interview
Shima Donya-Dar Rostami
Translated by: Fazel Shirzad
2018-11-06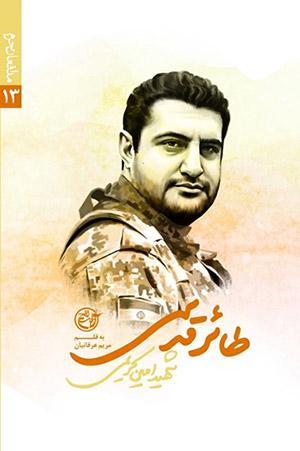 The book of biography of a shrine's defender martyr named Amin Karimi Chenbaloo titled "Taher Qudsi[1]", was unveiled on the last days of Mehr in 1397 (October 2018) on the occasion of the third anniversary of his martyrdom. According to the Iranian Oral History website, this book is written by Maryam Erfanian Noorozadeh. He has already written books such as "The Fall of Those Years", "The Last Flight", " A Drinking Water from Heaven," "The Underwater Tunnel," "Sultry Eyes," and "the Wishes of Restless Hearts" in the form of biography, are memoirs that all are the result of hours of oral history interviews.
The author of the book "Taher Qudsi" said about the reason for writing about martyr Amin Karimi: "In early 1395(2016), I receive a number of interviews, which I think was more than 10 or 12 interviews from the Fatah[2] Narration publication, and I read all of them. All the interviews were not effective or even perfect. Since I do interviews for almost all the books that I write, I initially wanted to ignore writing this book, because I found through interviews prepared for me that I should write about a martyr surnamed "Karimi".
He added: "once, I accidentally turned on the TV; the martyr's wife talked about their shared life, about the good and romantic morals of husband who had gone to Syria. I was very impressed. I said to God that I wished to write the life of this martyr. Even, when the martyr's wife was talking about his martyrdom, I cried with the martyr's wife. Suddenly, the television showed the martyr's photo and his name was "Amin Karimi". I went quickly to telephone the martyr Karimi's wife that I had already received her phone number for completing interviews from Fatah Naration; I saved it in a social page, and I saw the photo of this martyr in the profile of the martyr's wife. I believed that the martyr Amin Karimi who had a special obsession in everything, chose me to write a book. When I took absolute decision to write a book, I telephoned the martyr's wife, brother and friends, and make a date to do an interviews."
He explained about the quality of his interviews with Martyr Karimi's family: "I believe that an author who wants to write a biography about each martyr should conduct interviews himself. Otherwise we face a cluttered text that does not have time sequences."
Asked about how the historic sources of sacred defense and shrine's defenders are affective, he replied: "When I write a biography, I refer to online and library resources for referring to dates, operations and places. Mostly, I try to get help from the narrator and those who are on a specific date and time associated with the subject."
He advised interested writers who are going to write biographies:" they do not distort biographies of martyrs and try to write their works based on the facts mentioned by narrator, of course, these must be researched and verified. Also, they should mention the dates and the sequence of times in their book, even in appendix. I did not use the imagination to write "Taher Qudsi", and all that is mentioned in the book is the result of interviews with the family and comrades of martyr.
The Erfanian Noorozzadeh also said about the reason for naming the book: "It also has an anecdote; when I asked the martyr's wife to tell about the first gift received from the martyr, he replied that the first gift was "Hafez Divan[3]" that I received after the ceremony. When I asked her: "Did you read the book of Hafez after his martyrdom as you are in sad?" I want to know what kind of poetry read for his martyrdom that relieved your spirit? "He replied:" I opened a page randomly and read a poem that I loved the third couplet of it:" if, by my door, that Taher Qudsi (holy bird) come back/ to me, early of head, my passed life may come back. With these my tears like rain, I hope that/ the lightning of fortune that departed from my sight, may come back. That one that true Beloved the dust of the sole of whose foot was the crown of my head/ I will exercise sovereignty, if to my He come back." Therefore, I named the book "Taher Qudsi". As if Amin Karimi had chosen the name of the book himself.
Stated that "Taher Qudsi" is his the twenty sixth book, he added: "Of course, I have written 10 books that are ready to be published. The book of life of Seyyed Mehdi Lajevardi, the commander of armored guards, is to be published by 27th Besat Publication. There is also a pocket book collection that is to be published by Martyrs and Veterans's Affairs Foundation of Khorasan Razavi; its name is "the Book of Altruism" about the provincial commanders. A book titled "Cracked Glasses" has been sent to Surah Mehr Publications for final correction. This life story- searched book is about one of commanders, who is alive, of transportation, and brother of two martyrs. I started the interview since 1394(2015) and is now final. I started to do the interview since 1394(2015) and is now near to be finished. Because four of my books have been published this year, I intend to keep myself distance from writing but study. I need to find new topics. So, for the moment, I'm waiting for my next books to be published, and at same time, I will read new published books. The sacred defense is full of events that are very valuable and readable and our younger generation must be informed of such events.
Shrine's defender Amin Karimi Chenbaloo, was an electronics student of university who was martyred during a confrontation with takfiri[4] terrorists in the suburb of Aleppo in Syria on Mehr 30, 1394(October 22, 2015). The thirteenth book of the "Shrine's Defenders", published by Fatah Narration Publication, is dedicated to this martyr titled "Taher Qudsi". This book has eight chapters and 256 pages
Number of Visits: 446