Memoirs of Marzieh Hadidchi (Dabbagh) (Part 60)
2018-10-09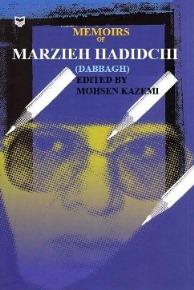 Memoirs of Marzieh Hadidchi (Dabbagh) (Part 60)
Edited by: Mohsen Kazemi
Tehran, Sooreh Mehr Publications Company
‎2002 (Persian Version)‎
Translated by: Zahra Hosseinian
---
Mrs. Dabbagh was very buoyant. She made use of anyone who was expert. It was very interesting. I had a bachelor degree in economics, for example, and she asked me to recite the Qur'an and to tell her my interpretation according to my expertise. I said, 'Mrs. Dabbagh, at last you make trouble for me. 'Anyone, who interprets the Qur'an in his own words, has chosen a place in the fire of Hell.'' She said, 'Don't worry! I wouldn't be misled. Tell me.' She pumped me for words and impressions which were new for me too. Now, when I read the Qur'an, I see that I do not understand the things that I did at that time; like Mrs. Dabbagh who became a special person when the verses of the Quran was recited and pumped us for words. In this way, she encouraged us very much and paid attention to us like a mother of young girls, and advised us.
Sometimes our close relationship with the leftists would make her sense danger, and she warned us. Susan Haddad Adel was a girl in fourteen whom the communists had surrounded a lot. Mrs. Dabbagh told us, 'I'm worried about her; lest they attract her to themselves; don't leave this little girl alone. She became intimate with you; don't let her to be dominated by them.' I knew Susan and I knew that she, despite her little age, was very alert and experienced; so I said to Mrs. Dabbagh, 'Don't worry, she's just looking for motherliness and found it in Vida Hajibi.' Vida also had a boy in fourteen who was by chance devout and religious. When he came to visit his mother, told her from behind the bars to read Abouzar Ghaffari. He introduced such books to his mother.
We were on the watch for Susan, she was a tolerant girl. Her brothers brought useful books, such as Ibn Battuta's Rihla, which had been sent hardly into prison by Dr. Haddad Adel. Mrs. Dabbagh read this book, but we did not understand such books at that time, but Mrs. Dabbagh had read them. And it should not be ignored that, after all, Susan herself had an absolutely religious family. Therefore, while paying attention to Mrs. Dabbagh's advice, we also watched Susan not to be attracted by them in intellectual terms. But we did not see her emotional affinity as a wrong; perhaps even when Susan was in our cell, sometimes went out and guided interrogators, which of course made trouble for her and they searched her for a short time and kept her in prison for six months; because they said that she was the leader of a group. However, Mrs. Dabbagh kept mentioning that she was worried about Susan.
Even I felt that Mrs. Dabbagh was worried about us as well, because she saw that I went to study Spanish and to read book before with one of leftists, Roghayeh Daneshgari. Mrs.Dabbagh also complained that why I had not supported her several times, when she was speaking about a certain subject. I said, 'Mrs. Dabbagh! Everyone has their own way. When you entered from religious position, you should be so; I mean that it's necessary to express your religious direction very clearly. Don't afraid of us, don't worry. We're aware of your concerns, but if we get involved with them because of everything, the emotional aspects would hurt. Be sure, we have our mind on them.'
Mrs. Dabbagh's concerns, of course, were not wrong, because when we released from prison, they mistreated religious ones. For example, they threw Mrs. Manijeh Bostan's Turbah with their foot and left there. In our time, they never had any opportunity and one of reasons was the presence of Mrs. Dabbagh. She was an important person among religious prisoners and defended and supported them in front of the leftists. The leftist, who was led by Vida Hajibi, despite lots of their kindness, tried much to push away anyone who was with Mrs. Dabbagh and lead her to a single intellectual position; but, of course, it was not successful. Sometimes, Mrs. Dabbagh offended and thought that we were with them; while the way of encounters was different. When I was released from prison, Vida told me, 'Your duty was only propagandizing.' And Roghayeh Daneshgari said, 'In fact, you did not speak a lot.' I said, 'It's a paradox.' Vida said, 'generally, you religious ones, behave in a way that other people feel that you want to say "I'm Muslim.' in all your actions, even in standing up and sitting down.
To be continued…
Number of Visits: 581