Memoirs of Marzieh Hadidchi (Dabbagh) (Part 59)
2018-10-02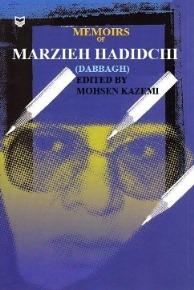 Memoirs of Marzieh Hadidchi (Dabbagh) (Part 59)
Edited by: Mohsen Kazemi
Tehran, Sooreh Mehr Publications Company
‎2002 (Persian Version)‎
Translated by: Zahra Hosseinian
---
B: Along with Dabbagh in Prison
Mrs. Rezvaneh Dabbagh: "After being sent to the Joint Committee, I was interrogated. In the first and second stages, I was interrogated alone, but several times I was interrogated while other people were being tortured and I heard their loud lamentation and sometimes I heard they shouted Allāhu akbar and Allah Allah. I was constantly asked, 'where is such a person?' Sometimes I was interrogated in front of my mother.
I do not recall exactly, but after many tortures, I was hospitalized about seven to eight days, in police hospital, where I was like a prisoner not a patient; because I was tied down to the bed and two guards watched over me. I was transferred to the Qasr prison after a while. In court, I was sentenced to one year correctional imprisonment, but it was reduced to four months because of little age. When I was in the Qasr prison, I guessed my mother was also sent there by the specifications that other prisoners talked about."
Mrs. Mirkhani: "Unfortunately, it has been a long time since those days and I don't remember much. I only remember Mrs. Dabbagh's silence. I recall that we and they [the leftists] held a meeting. Six of us [Muslims] with six of them sat together and we discussed about the interpretation of the Qur'an and they spoke about natural history. Sometimes we came to some commons and sometimes we had different of view and each one adopted their position [...] I remember that Mrs. Dabbagh was very sick. She suffered a diseases specific to women and could not participate in our discussions. She had fallen full length on the bed and only listened to our discussions..."
Mrs. Khayyer: "... Mrs. Dabbagh is the best manifestation of prison. She was imprisoned before us. She had been tried, but her conviction was still unclear and her case was in progress. It was as if she was first in the committee, but we first were sent to the Qasr, and then Mrs. Dabbagh was transferred there. She was very sick and it seemed that she needed a surgical operation. She had a suppurated injury which was possibly due to the severity of tortures and injuries. Drug and treatment were not effective. She was very sick and in a difficult situation in prison. She had a heart problem and bled severely. The religious and non-religious prisoners both cooperated in helping Mrs. Dabbagh; all of them took care of her passionately. Even special clothes had been prepared for the time that she felt very ill. A loose long dress had been sewed of prison sheets to cover freely all Mrs. Dabbagh's body and her wounds less bothered her.
Despite all these considerations, her body suffered with lots of problems. She really was a personification for me. She was older than all of us. She was mother of eight children who had stepped in this way, and that was odd to everyone. She performed night prayer despite bad condition of her body. And when she was fine, she kept a vigil until morning. It was interesting and educational for us who were young and not in such spirit.
Mrs. Dabbagh had said something in interrogation and had pretended to something that we later realized it. She had said that she was completely illiterate; and when she came to prison, could not appear a literate person. So, in prison, she acknowledged that she is illiterate. Then she chose one of communists, Sedigheh Sirefinejad, to teach her. It was questionable why Mrs. Dabbagh asked me to recite the Quran for her, when I sat next to her, but she didn't want me to teach her? Later I understood the reason. After a while, she wanted to declare that she was literate and the communist person testified it too.
Mrs. Dabbagh's plan was completed quickly in a short time. It was thought that this is because of Mrs. Dabbagh's talent. Interestingly, she played her role so good that no one really realized it. She tested all the books of elementary school and passed. We even celebrated for her success in learning how to write and read.
In her play, Mrs. Dabbagh opened books and pretended practicing; but in fact, as she could not sleep because of her wounds and condition of her body, she read all the useful books, which had been somehow entered our block of cells, during night to morning.
At first, we religious and non-religious individuals were at the same block. When we wanted to pray and fast, the Marxists protested that we awaken and offend them. These excuses were good reasons to separate their room. One of these communists, Atefeh Jafari, requested to stay in our room. We asked, 'why do you want to be here?! We'll come and go and bother you; there is no reason to make trouble for yourself.' She replied, 'you religious ones who have good characteristics but I can't tolerate them.' We said: 'very well, if we have good characteristics, so you also became a religious one.' She said, 'no! I just want to be your roommate!' We finally accepted and she came to our room. During this time, Mrs. Dabbagh kept waking at midnight to pray, until one day, when Atefeh Jafari rose and said, 'How much do you pray? You drive me mad!' We said to her, 'For this reason we told you not to come and stay here; now that you've come, you must endure.'
We did not know what happened to Mrs. Dabbagh. Her daughter, Rezvaneh, had already been taken and had been so tortured that caused she suffered with pulmonary and heart problems; so that, even today she suffers with their effects in her body. She had tolerated many terrible tortures in front of her mother's eyes; and Mrs. Dabbagh did not speak at all and did not want to weaken the spirits of other prisoners. She was the confidant of prison.
Mrs. Dabbagh was really a personification for me; and even now I will be influenced and strengthened when I think about those things and her behaviors. When their family and her husband came to visit her from behind the bars, we earlier held her arms to help her walk and took her behind the bars and helped her to stand. She tried not to express signs of her illness. She stood in right spirit, as though her body had no problem. She was open-minded. From behind the bars, she told her husband, 'Haji, go and marry for second time, be thoughtful of yourself, and get rid of me. I'm not a good woman for you.' Of course, her husband, Mr. Dabbagh, was also a devout and honest man, and although he criticized her and said, 'see what the hell you've given yourself!', but at the same time he said, 'don't worry about our kids, they're ok and have no problem.'
To be continued…
Number of Visits: 567









Interview with the secretary of the twelfth Iran Oral History Conference

Oral history of the Holy Defense industry, engineering and logistics
According to Iran Oral History Website, the summon for the twelfth Iran Oral History Conference with focus of the Holy Defense industry, engineering and logistics was issued while the history faculty of the Isfahan University had the scientific leadership of the conference. Considering that oral history is the focus of this university, Dr. Aliakbar Kajbaf, member of the scientific board of the faculty of history of Isfahan University was elected as the secretary of the ...

Interview with the Lecturer of "Afghanistan Oral History" Training Workshop

Historical capacity, an incentive to enter oral history
Mohammad Khossravirad, the lecturer of "Afghanistan Oral History" training workshop in his interview with the Iran Oral History Website stated: "Khorassan Razavi Art Department sponsored the workshop which was held in the last months of 2019; where a group of interested Afghan nationals participated and it was focused on oral history and arranged in the Department of Farsi Speakers."

The Second National Conference on Oral History of Holy Defense-3

Engineering Collective Narrative in Basic Narrative of Oral History
According to Iranian Oral History Website, the 2nd National Conference on Oral History of Holy Defense was held in Ahle Ghalam Hall of NLAI on March 3, 2019. In the first part of report of the conference, you read speeches of the Second Brigadier General Pasdar (IRGC officer) Gholamreza Alamati, head of the Organization of Holy Defense Documents and Proofs and secretary of the conference, Basiji Sardar (General) brigadier, Bahman Kargar, head of the ...