The Report of Accompaniment and Interview with Mrs. Jomai Ahmad Karoufi
Fatemeh Dostkami
Translated by: Fazel Shirzad
2018-09-05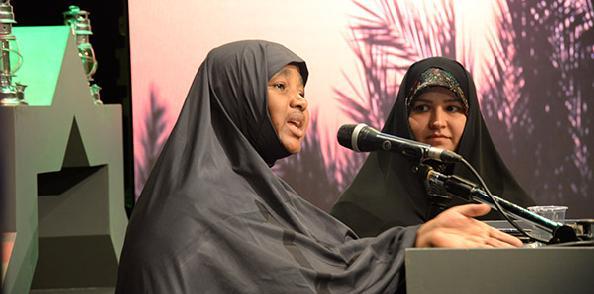 Mrs. Jomai Ahmad Karoufi is a teacher, writer, director and active members of the Islamic Resistance Movement of Nigeria. She is graduated in two fields of English language, information and library science from Ahmad Billo University. I met her six years ago in Tehran on Tir, 1392(July 2012). She, along with 1,200 guests from 86 countries, was one of muslim, revolutionary and active women who had come to Tehran to attend in summit "Islamic Awakening and Women". she, along with a number of women activists in "the Islamic Movement of Nigeria", Mrs. Zeenat Malma Ebrahim, the wife of Sheikh Ebrahim Zekzaki, daughters and sons as well as Sheikh were dear gusts of the Islamic Resistance Movement of Nigeria.
As I had a prior knowledge and interest in the movement of the Islamic Resistance Movement in Nigeria, although my area of responsibility was at the summit of 12 guests from South Africa, Tanzania and Somalia, I used of any short opportunity to communicate and familiarize with dear friends of resistance in spite of the limitations and stringency. Part of my activities were based on my personal interests and troubles including: "the meeting with Mrs. Karoufi, the meeting and interviewing with Mrs. Seyed Batoul Mousavi (the daughter of martyr Seyed Abbas Mousavi and former Lebanese secretary general), Mrs. Hura Raghebharb (daughter of martyr Raghebharb, Lebanese Sheikh Shahada), Mrs. Nasrin Sang Vingh (one of Resistance Activists of in Thailand) and etc.
When guests returned, I tried to maintain the relationship them as much as possible. These friendships were shaped according to individual characteristics of individuals, sometimes intimate and in depth, and sometimes as a matter of having news of them. In the meantime, Mrs. Karoufi was among those who were interested in maintaining this relationship. Later, in the course of a research on "what is origin of the Boko Haram's terrorist group", she helped a lot and collected valuable information from her country for me.
About a year later, during the wild attack of Nigeria army on Quds[1] marchers, Sheikh Ibrahim Zekzaki presented his three educated sons to Islam. Through the photos that Mrs. Karoufi sent to me from the funeral ceremony of these three martyrs, I was aware of ceremonies, magnificent and value approach of Sheikh and his wife in this divine test, and I felt I was along with them. Few times later, I asked Mrs. Jomai Ahmad Karoufi to introduce me to Mrs. Zeenat Ebrahim and take permission from her for a conversation focused on the calamity of Quds and her mothers' martyred children. Sheikh's wife agreed to this request earlier than I thought. The acquaintances and the first conversations were made and, while coordinating the time of the Greenwich, I had a great moment in a telephonic conversation with her for one hour.
An interesting point in this conversation was Mrs. Zeenat Ebrahim's persistence on addressing the issue of the Islamic Resistance Movement of Nigeria rather than talking about her martyred children.
That day, the moments when I was talking with her, I never imagined that the interview would be set up in a situation where Mrs. Zeenat Ebrahim and her husband were captured by the ruthless government of Nigeria. The text of this interview, titled "A Mother from the Generation of Amal Banin[2]" was published in the Kayhan newspaper and was highly welcomed.
After a while, about two hundred and forty years ago, on the eve of the month of Rabi'Al-Awl[3], the ruthless army of Nigerian Army took an extraordinary step. Those who had strong desire to hold a magnificent march of Arbaeen Day[4] in Nigeria, launched a massive massacre by invading a crowd gathering to replace the flag of Husseinia Baqiyatallah (AJ). They took guns toward women and men and children who were defenseless so that the statistics of the martyrs and the lost of Karbala Zaria were estimated at nearly 2,000.
I call Mrs. Karoufi, who called her in her first name, Jomai, and found her in a hospital; she had a bullet in her chest and near heart, a bullet in the waist and a spinal cord and a bullet in her thigh.
It was really a miracle for her to be survived in this situation, although thirties quiver were in his waist, lungs and arm.
Worrying situation of Jomai was less important than what news I heard from her. As she was talking hard about because of her injuries, said that the three boys (Khalid, Mahmoud, Abdurrahman) and two of her stepsons (Faisal and Ali), all of whom were strong and educated young people, were lost by the attack on Zaria[5] and it is less likely to be alive.
Jomai was one of the people who, until the last minute of alertness, was along with hundreds of other members of the resistance movement in a human fence, had been watching Sheikh Ebrahim Zakzaki's home. She had a lot of words to say. She said that Sheikh's sister was burnt in front of her brother's eyes and other members of her family. She said that three children of Sheikh were martyred in front of eyes of him and his wife, and after he had been beaten and injured, his incapable body was carried over corpse of the children, and eventually he was laid in a wheelbarrow and carried out of house And moved to an unknown location. As an eyewitness, Jomai had a lot of unsaid words in her painful heart, but her dire condition did not allow her to talk more about.
Two years passed; during this time, I was in constant contact with her and knew that the Nigerian doctors could not do anything for Jomai. She was suffering from his pain and was constantly hospitalized in the hospital. In an effort to provide conditions for inviting her to treat in Iran, I was informed that through the pursuit of the members of the Islamic Resistance Movement of Nigeria, international affairs of the Office of the Supreme Leader has been responsible for her treatment and several others who have been injured in Zaria's tragedy in Iran.
Last June, she came to Tehran with a small group in a similar situation with Joomla, and was treated. The result of this treatment was only to remove 9 quivers. During a visit with her in Baqiyatallah Hospital, I was seeking a course of treatment for her. I got to know that it was not possible to remove them because of the three bullets in the sensitive positions of his body, and then her life would be endangered.
On the same day, Jomai, with a great enthusiasm, spoke to me about the Hajj Ghassem Suleimani visited them at the hospital. She said that he asked us:" Do you have any request? I also answered that we need to send us to the pilgrimage of the shrine of Imam Reza (AS). She said that he had laid their hands on their eyes and said: "you bet!" tomorrow morning they were on the way to the shrine.
On the same trip, I discussed the valuable writing memoirs of Jomai. She was very welcome. One of the reasons for accepting and expressing his readiness was a visit that we had on the 3rd of Khordad of last year (May 24th), along with writers, narrators and the leader of the revolution at the night of memory. With the coordination and attempts of Mrs. Azam Hosseini, the presence of Mrs. Jomai and her daughter and son were provided. When I translated for her the statements of the leader about the necessity of recording and memorizing the memories of the narrators of resistance, Jomai listened carefully and seemed prepared herself for another jihad[6].
I talked to her about the importance of work and the difficulties ahead. Fortunately, she was an author and was familiar with many of problems on this way. On the other hand, he was the mother of five martyrs, and succeeding in dealing with problems, he had found a jihadist spirit, flexible and ready to serve Islam.
I tried hard to start this work while she was in Iran, but this did not happen due to the shortness of his time and treatment. However, she promised to accompany me in interviews after going to her country. Although doing this works with all his hardships seemed somewhat distant, but as a first work of writing memoirs in the field of Nigerian Shiite community, it was highly valuable and considerable. This work could have been a soft narrative about the issuance of the Islamic Revolution and a model for other oppressed nations.
In addition, Jomai was an eyewitness to Zaria's catastrophe. A woman who has lots of words to say about the oppression imposed against Shiites in Nigeria. Her presence in various activities of Islamic Resistance Movement and her close relationship with Sheikh's wife during all these years had given her a position that her words can be considered and documented. As a witness of the claim, sheikh telephoned her from captivity. Sheikh contacted Mrs. Karoufi and congratulated and also gave solace her on the martyrdom of her children in one of the opportunities he had in her room to make phone calls with her closest friends. Sheikh said her that whenever you remembered your children and you became sad, compare this affliction with affliction that came upon Imam Hussein (AS), and see which one is more difficult ?!
The interviews were, at first, conducted in English, online and through cyberspace. About 9 sessions of the interview were held in the same way. The audio file of these talks were delivered to Mrs. Fatima Batula Gilima, who is the daughter of Mrs. Karoufi and nursing student, to be transcribed for translation.
Given the inadequate physical condition of Mrs. Karoufi and her occasional presence in the hospital, there were various difficulties in coordinating the interview for time difference about four hours. In order to continue the interviews, I asked the Center for Art Center's Studies and Research on the Culture and literature of Resistance and for an invitation to Iran; I got an agreement.
At the initial premise, the recording of memoirs of Mrs. Karoufi was estimated at about fifty hours of the interview, but when they came to Iran and got read to be recorded, I realized that she had a lot of memories more than I had expected.
In the meantime, what aroused my surprise was the systematic activities of Islamic Resistance Movement of Nigeria led by Sheikh Zakzaki. What I has been heard and read about it in various ways so far, and I have found out in the relation with Sheikh's step-daughters (Badia and Zakia) and sheikh's wife in Nigeria, without an exaggeration, was one from hundred. Sheikh Ebrahim Zekzaki was a student of Imam Khomeini[7] (RA) who, using the model of Islamic Revolution and the Imam's regime, had come up with an effective and practical model and implemented it in his country.
Before the meeting of Mrs. Karoufi, I thought that a Shi'ite frm Islamic Resistance Movement in Nigeria was constituency, activist, anti-tyranny, supporter of the weakness and Islamic Revolution, which was sensitive about the events in the Islamic world and held good positions by organizing various marches with million people. I did not know that it was just one page from the book of the movement's activities since about forty years ago!
In the first part of the interviews conducted in Iran, 73 hours of audio were produced in 46 independent sessions. The conversations started about his childhood and continued. Mrs. Jomai's memories of childhood and adolescence, due to the new nature of many cultural and social issues as well as the customs of the people of Nigeria, have strong and attractive points for the readers.
At the age of nineteen and after getting married with her wife, Mr. Yahya Glima, she is the first woman to attend in the secret meetings of the Islamic Resistance Movement of Nigeria led by a yang man Sheikh. Her admittance from Sufi religion to Shiite, tolerance of many distress during her husband was being held captive by the government for about one year, fighting with the financial poverty and creativity of this young mother to keep her children in her father's absence will create memorable moments for her memory book's readers; God willing.
What made her word more pleased to listen was about the various activities of members of the Islamic Resistance Movement of Nigeria. Establishment of hundreds of Islamic schools, dozens of Islamic hospitals, various gatherings such as the Imam Khomeini's Week that are held in the anniversary of Imam Khomeini, which are highly considered to explain the character and school of Imam Khomeini, holding Islamic Holiday Week for children and teenagers with useful entertainment programs is just one part of our hearings.
It is no exaggeration to say that if I claim that many of the explanations and memories I heard about Mrs. Karoufi during these hours were introduced for first time in Iran. Because of my personal interest in Islamic Resistance in Nigeria, I have always been looking for a new source for new information, but I have never encountered such precise details with such unsaid words so far. Noteworthy, Mrs. Karoufi's active presence in more than 90% of the activities is highlighted. The videos and photos about the celebrations and events, which I received and continue to receive from Mrs. Karoufi, was another result of this companion.
The pleasure and attractiveness of these memoirs, as well as the responsibility of Art Center's Studies and Research on the Culture and literature of Resistance, brought me along with Mrs. Jomai during the most of her time in Iran, as far as she hoped for a good use and recorded an interview more by traveling to Qom and Mashhad, and I did not ignore the slightest opportunity to advance the project. Nevertheless, our conversations were completed until the end of the Zaria disaster, and due to the time of his return, we had to stop the interview at this stage.
One of the things that I asked her during the last days of her presence in Iran was to receive answers to important questions that I want to ask to the main members of the movement and the organizers of some of these programs. They include Mrs. Soheila Zekzaki, the daughter of the Sheikh, and the only eyewitness of the severity of Nigeria at Sheikh's home in Zaria's catastrophe, to include other prominent figures. After transcribing and translating the interviews, we are entered, by getting from God, into the writing the memories of this magnanimous lady, and ultimately we hope that It will be a deserved work for the dignity of mujahedin of the Islamic Movement of Nigeria and be able to show their oppressed conditions and produce and present them to the readers. Also, I hope that I make a small contribution as much as possible for me to the introduction of one of the influential women in the Islamic Movement of Nigeria.
2018-June-9
Number of Visits: 687









The accomplished way and the path ahead from the viewpoints of Gholamreza Azizi, Ali Tatari and Hamid Ghazvini

Issue 400 of weekly magazine released
Iranian Oral History website – Media activities in the fields of professional subjects such as history and oral history and the continuity in this way need the continuous efforts of the authorities. On the other hand, paying attention to the viewpoints and criticism of serious and diligent audiences is a way to update and preserve the novelty and attractiveness of the content. On the occasion of the release of the issue 400 of the electronic Oral History Weekly, we have asked the viewpoints of three experts and audiences of the weekly magazine.

Library of Memories

"Pray for me not to give up", "Ambushed by the Komala terrorists" and "Tikrit with five five taste"
In this text, you become familiar with three books produced in three Iranian provinces: "Pray for me not to give up: Martyr Abbas Najafi narrated by wife and others" from Markazi Province, "Ambushed by the Komala terrorists: Oral memoirs of Mohammad Amin Qaffar Pour" and "Tikrit with five five taste: Oral memoirs of Amin Alipour" from Gilan Province.

Interview with the secretary of the twelfth Iran Oral History Conference

Oral history of the Holy Defense industry, engineering and logistics
According to Iran Oral History Website, the summon for the twelfth Iran Oral History Conference with focus of the Holy Defense industry, engineering and logistics was issued while the history faculty of the Isfahan University had the scientific leadership of the conference. Considering that oral history is the focus of this university, Dr. Aliakbar Kajbaf, member of the scientific board of the faculty of history of Isfahan University was elected as the secretary of the ...