A memory of Emir Suljagic
Those 239 men
Mehdi Khanbanpour
Translated by Ruhollah Golmoradi
2018-08-29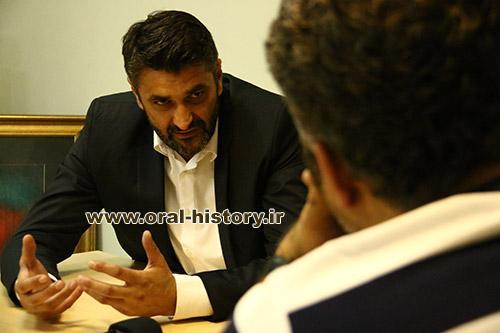 Emir Suljagic', author of "Postcards from the Gore", was born on May 21, 1975 in Bratunac, Bosnia and Herzegovina. After start of the war and ethnic cleansing of Muslims by the Serbs in 1992, he sheltered with his family in Srebrenica. He learnt English there and was able to work as an interpreter with United Nations forces.
After the war, , he studied political science in University of Sarajevo, and from 2002 to 2004, he set up reports on holding process of International Court of Justice about the case dealing with the war in former Yugoslavia to the Institute for War and Peace Report. Suljagic served as a Minister of Education, and in 2014 he also participated as Muslims candidate in the presidential elections in Bosnia.
An opportunity was provided for correspondent of Iranian Oral History Website to talk with him for a few minutes.
■
● Mr. Suljagic tell us a memory from Bosnian war days?
I had to see more than I should see. But what always follows me was what happened after fall of Srebrenica.
When Srebrenica collapsed, I was interpreter of United Nations forces, and naturally many displaced families had sheltered in their settlement. I was one of the few employees who did not have a family. My mother had left the city much earlier, and my father had died long time ago. It was much better for me because I had no affiliation.
It was three to four days that displaced families came to this garrison. I had a friend named Hasan Nohanovich who his whole family was there. Hasan had a younger brother; we all tried to keep Hasan brother in United Nations and the garrison to be in safety.
●How old were you at that time? How old was Hassan's brother?
I was about twenty and Hasan's brother was not more than 16 or 17 years old.
● did you succeed to keep Hasan's brother?
No. The commander of UN forces told me to write names of all men inside the garrison in a sheet. The first list was names of Bosnians who were UN employees and cooperated with the organization. The first list was about 16 or 17 people. But the second list was civilians who had been allowed to enter the garrison by UN forces themselves and they were about 239 names.
● Do you remember name of UN commander in Srebrenica?
Robert Frankie was commander of UN forces.
● In Which list Hasan's brother was registered?
It was supposed to be added to the first list that was our names who were about 16 or 17 people. We went to Robert Frankie in a very spacious room in which many tables had been arranged around it, and we gave him the list. We did not think he read the lists, but he started to read. He read form the number one so as to arrive at Hasan's brother, Mohammad Nohanovich. He put his finger on his name and said: Who is this name? I also said: he's just hired, he's one of the service guys and he's contract wasn't yet prepared. We are waiting for administrative formalities and ... and I said whatever came to my mind so that I could only keep Mohammad and save him from certain death. But the commander gaped in my and Hassan eyes and marked name of Mohammed with a pink pen. Naturally, he sentenced Mohammed to death by doing this. I do not really know why did he use pink color with all those colorful pens, why didn't he mark Mohammed's name with a black or blue pen?
● What was fate of Muhammad and rest of the refugees?
Hasan's brother was fired from the garrison, and later we found that he had been killed and many years ago Hasan could find remains of his brother's body in a mass grave. We left Srebrenica and went to Zagreb and something happened that I was amazed. No one had news from the 239 men who had been registered in the second list. Six months after fall of Srebrenica, very accidentally I found list of the 239 people among the wastepaper, and it was there that I understood that surely all of them, including Muhammad, had been killed.
● How much do you know from judges of Saddam's Army against Iran?
I do not have much information because I was not more than 6 to 7 years old and I only saw reports that were broadcast on Yugoslav television. Of course, they did not have a specific meaning to me, but when I became a student, I saw majority of films that were broadcast in Iranian films week.
● You were minister of education; Is there something about resistance of Bosnian people in textbooks that is taught?
I was also deputy of secretary of defense. Unfortunately, our biggest problem is that there is no talk about this big event in schools.
● Why? What's the problem?
This is the biggest cultural problem in Bosnia, and it's because of the pressure that the West has put to prevent these materials from being included in student textbooks. Representatives of international community in Bosnia and Europe all oppose to tell the disaster to new generation, and we must narrate like a trafficker for our children that what happened to people of Bosnia in the very same twenty years ago.
● That is not even a ceremony to be held for martyrs of Bosnia?
Formally no talk is made, and even anniversary of Srebrenica deaths will be held in public, and government has no role, and this is a pity.
● Thank you for having chatted with me with all the fatigue, I hope you enjoy during your presence in Iran.
Thank you, yes, of course, I will enjoy all minutes of my presence in Iran. I and all people of Bosnia will not forget services and support of Iranian people.
Number of Visits: 800









The accomplished way and the path ahead from the viewpoints of Gholamreza Azizi, Ali Tatari and Hamid Ghazvini

Issue 400 of weekly magazine released
Iranian Oral History website – Media activities in the fields of professional subjects such as history and oral history and the continuity in this way need the continuous efforts of the authorities. On the other hand, paying attention to the viewpoints and criticism of serious and diligent audiences is a way to update and preserve the novelty and attractiveness of the content. On the occasion of the release of the issue 400 of the electronic Oral History Weekly, we have asked the viewpoints of three experts and audiences of the weekly magazine.

Library of Memories

"Pray for me not to give up", "Ambushed by the Komala terrorists" and "Tikrit with five five taste"
In this text, you become familiar with three books produced in three Iranian provinces: "Pray for me not to give up: Martyr Abbas Najafi narrated by wife and others" from Markazi Province, "Ambushed by the Komala terrorists: Oral memoirs of Mohammad Amin Qaffar Pour" and "Tikrit with five five taste: Oral memoirs of Amin Alipour" from Gilan Province.

Interview with the secretary of the twelfth Iran Oral History Conference

Oral history of the Holy Defense industry, engineering and logistics
According to Iran Oral History Website, the summon for the twelfth Iran Oral History Conference with focus of the Holy Defense industry, engineering and logistics was issued while the history faculty of the Isfahan University had the scientific leadership of the conference. Considering that oral history is the focus of this university, Dr. Aliakbar Kajbaf, member of the scientific board of the faculty of history of Isfahan University was elected as the secretary of the ...