Memoirs of Marzieh Hadidchi (Dabbagh) (Part 52)
2018-08-07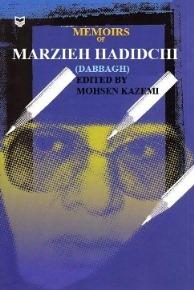 Memoirs of Marzieh Hadidchi (Dabbagh) (Part 52)
Edited by: Mohsen Kazemi
Tehran, Sooreh Mehr Publications Company
‎2002 (Persian Version)‎
Translated by: Zahra Hosseinian
---
The Barbecue
In battles and firefighting, many natives joined us voluntarily and helped us to cleanse the areas. A number of people, who were formerly members of the Komala and Democratic small groups, now had joined us. One of the former members of the Democratic Party, who had joined us by getting a draft of freedom and a safe- conduct, really worked hard and informed us about everything he knew. He also was very skillful in firing RPG. He tried to show that he was a great supporter of the regime, the revolution and Imam very much. But I did not trust him completely. Therefore, I always took him with me everywhere I went in order to be under my control. It was interesting that he was truly tireless. No matter it was night or day, he did not protest at all even if he had not slept for forty-eight hours.
But it was interesting that he went crazy about kebab and whenever he saw a herd of sheep desired kebab. Once he saw a herd of sheep and said with Kurdish accent, "sister, barbecue!" interestingly, he had in mind to attack the herd, to steal a sheep, to kill and skewer it. I told him, "Come off it! Get this money… this one hundred Tomans, and go and eat kebab as much as you want" He said: "No, the sheep I myself cut its head and grill is another thing and taste." We met very much the people like him who showed their real nature in such situations. They showed in practice that they could not remain faithful and committed to the covenant they had accepted.
The Nojeh coup d'état
As I mentioned earlier, making an intimate and mutual (not one-sided) relationship with people and relying on their help had many blessings in stabilizing the revolution, such as discovering espionage and conspiracy centers according to reports of brave women of Hamadan.
One day a lady phoned and gave me some weird information. She told she was trying to phone a person, but got her line crossed and listened two other people's conversation. They were arranging to meet each other in Naftshahr. They arranged one of them went there by a brown Toyota and the other one by a red BMW. She emphasized that their conversation was very suspicious and they spoke of night of the incident and the preparation of the forces and etc.
The woman, who informed us about this strange conversation, cut off the phone without introducing herself. I quickly sent a few brothers to the address, so that they could investigate the appointments, conversations, moves and even subsequent appointments. Therefore they were completely under our anti-intelligence penetration net. The pursuit of this meeting brought us into very valuable information which was about a huge conspiracy and a military coup.
At that time I did not trust in telex and phone then; therefore, I sent a special herald to Tehran to report our achievement. Through these plans, and after near three months all agents of the Nojeh coup d'état were identified and arrested[1].
The failed assassination attempt
In the memoirs related to the pre-revolution time, I said that before being arrested and imprisoned, I was in contact with student militant groups in Science and Industry University, the National (now Shahid Beheshti) University, and Ariamehr (now Sharif industrial) University, in addition to the militant clerical community. This contact was established through my husband's nephews [Sajjadis, Aräghchees, and Qeitänis], who were students of those universities. Unfortunately, some of them joined the hypocrites after the victory of the revolution, because of ideological weakness or extremism. On the other hand, I, as the commander of Hamadan IRGC, behaved very decisive and rigid with counter-revolutionary small groups. Hence, I was severely hated by these two groups.
One day, one of my husband's nephews invited me to take apart in a sermons meeting which was held in a house. Although I was unaware of his joining to the hypocrites, but I was prudent and took about seven guards with me and we all went to the Farhang Street in Hamedan.
Two brothers were positioned outside the house, two on the roof, and the rest waited in the car. We agreed that I went into house alone and if I did not come back after twenty minutes, they entered the house.
Entering the house, I found out that it was strangely very quiet and there was no sermon meeting. Apart from my husband's nephew, there were only two men. After greetings, I realized that one of them was Kurd. They did not say anything. Apparently, they were waiting for someone else to join. "I don't know these gentlemen?" I said to the son of my sister-in-law. He replied, "He has come from Tehran, and he has come from Kurdistan." I said, "It was supposed a sermon meeting is held?" He answered, "Yes! The tragedy of your life is to be recalled." I found my guess was true, and now I had to keep them waiting for more fifteen minutes by hook or by crook. So, I said, "We aren't enemy of each other. If there is a problem, we can discuss." One of them said, "No, we don't discuss." I said, "Really! Look, even when you want to kill a sheep, you bring some water, recite the Bismillah, and anoint some henna on its head and shoulder, then cut its head. Sit and tell me what do you want? Why do you want to kill me? Tell me your suggestions; maybe you have a logical and reasonable statement which will be useful for us, or vice versa." They questioned, "Are you alone or somebody is out?" I answered, "The driver and guards are waiting in car." I suspected that they had seen them, so I wanted to kill the time until determined twenty minutes pass.
We were arguing, when an angry and very strong man suddenly appeared from behind the curtain and cried out, "Did you think you're the champion of Hamadan?" Poor miserable woman, we cut you to pieces here to make you a lesson for others. Now tell me very quickly how much does the IRGC have weapons? Where is its ammunition dump? How many forces do you have? And ..." I said, "Well, say this earlier, we don't want to kick up a row. You've trapped me, so why you are so embarrassed. You need not be in a hurry. If you're afraid of the guards, feel easy in your mind. They are waiting outside the house until the sermon meeting finished. This house also isn't unfamiliar for me, and they know this place also and don't have any doubt. So let's sit down, you ask your questions one by one and I'll reply them; then if you don't obtain good result, fire the coup de grace. The silencer is attached to your arms too, so you won't get into trouble. You've left here before anyone wants to come in and to see what happened..."
I was busy arguing with them when two brothers jumped into the yard. They were distracted for a moment, and I immediately pulled out my pistol. The mustached man was also armed. He aimed me with his pistol; the scene was like a duel, it was unclear who would shoot sooner. To get this decision done, the awesome brothers entered the room and said that the whole house has been besieged. Therefore, those four men were arrested.
When my husband's nephew was arrested and interrogated, it turned out that he was duped somehow that he did not know he has become one of hypocrites and worked for them. He was not educated and was a mechanic's assistant. Later, he was tried at the Islamic Revolutionary Tribunal and was executed along with two others.
In 1981, I also survived a terrible assassination accidentally. In Hamadan, there is a factory called "Lord" which manufactured fan. I lived in the house of janitor of the factory for a while. There was a vast desert-like land behind the factory.
The conspirators had been able to get to my place from behind the factory and positioned, so that they could implement their plot at the crucial moment (when I entered the house). In those days, my four-years-old baby of my daughter had come to Hamadan for a few days and was with me.
On the day of incident, I arrived in front of the factory along with my grandchild with a car. "Mommy Marzieh! Mommy Marzieh!" my grandchild said suddenly, "That man has a gun, look. He's aimed you." at the very moment when the terrorist started firing, I made a U-turn and the bullets hit the body and tire of car. I derived to the street before he could change the clip of cartridges.
It did not take long before people gathered there and the guard brothers came. But unfortunately, we did not succeed in arresting that terrorist, and he escaped from the desert land behind the factory.
To be continued…
---
[1]. On July 10th 1980, from 'Nojeh' base in Hamadan, the elements of coup decided to attack and bomb the major centers in Tehran and Qom, including Imam Khomeini's residence, Feyziyya School in Qom, Presidential headquarters, Prime Minister's office, centers of IRGC, Vali Asr Garrison [current staff of Air Force of IRGC], and major ammunition dump; and after domination on the situation, they wanted to establish a government called "Social-Democratic government of Iran". The coup and plot of America failed by IRGC, the Committee, the Islamic associations of Air Force, and people; and several pilot officer and senior officers of army were arrested subsequently (the press, July 12, 1980).
Number of Visits: 396