Memoirs of Marzieh Hadidchi (Dabbagh) (Part 51)
2018-07-31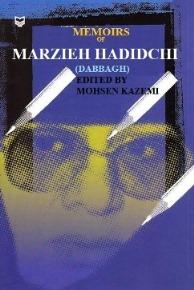 Memoirs of Marzieh Hadidchi (Dabbagh) (Part 51)
Edited by: Mohsen Kazemi
Tehran, Sooreh Mehr Publications Company
‎2002 (Persian Version)‎
Translated by: Zahra Hosseinian
---
Disclosure
A man named Hadi Roshanravan, husband of Behjat Teeftakchi (one of the assistants of Massoud Rajavi in Iraq), established an organization affiliated with the MKO in Hamadan with the help of a number of like-minded persons like him.
Two sons of Haj Taghi Älami (Damghäni), the leader of Friday prayers in Hamadan, collaborated with Roshanravan's organization. After a short while, their collaboration and support led to membership. Unfortunately, his two sons were enjoyed of spiritual and financial support of their father and provided the necessary equipment, such as car and tape recorder by their father. Thanks to these supports, they have been able to provide a large amount of light and heavy weapons and vehicles and handed them to the MKO.
One day, I saw one of Damghani's sons was driving a Toyota. It was a confiscated property which had been obtained from one of the leaders of Taghut regime in Hamadan. Therefore, I ordered the group to sequestrate it, wherever they saw it, and arrest its passengers too.
It did not take long before Mr. Damghani's two sons and his car were brought to the IRGC office. After being informed, Mr. Damghani came to the office very quickly and cried out angrily, 'this car is in the hands of my sons. Why have you sequestrated it? My children have committed what crime which has led to be arrested? I'll call Imam's office today and say that the guards have insulted and done injustice to me. I'll take action against you [Mrs. Dabbagh] and dismiss you. You had no right to behave like that with my children.'
He was leader of Friday prayer in Hamadan and should be respected, so I calmed him in any way and promised him to go his home to resolve the problem and to clarify the matter as soon as possible.
I kept my promise and went to Haj Taghi Damghani's house and explained how the MKO worked and recruited. While I was explaining the reason for arresting his sons, I felt that someone else was listening to my words. Despite the feeling of insecurity and uncertainty, I ended my speaking and before saying goodbye, I got up quickly and climbed down the stairs on tiptoe. I opened a door on the first floor and saw the wife of Mr. Damghani had put a voice recorder beside a house phone set and was listening and recording our conversation. The woman startled when she saw me and said, "Hello! Sorry, you're here! Come in!" she became embarrassed and did not know what to say. "Traitor!" I said. "What did you say?!" she said. "What the hell are you doing?!" I said. "Be careful, you're insulting the wife of leader of Friday prayer!" she said. "The one who fed the poison to Imam Hassan (AS) was his wife." I said, "If the dignity of Mr. Damghani and also the revolution wasn't matter, I would just handcuff and take you." I clutched the house phone and tape recorder very quickly, and as I was going out of room, Mr. Damghani climbed down and said, "Sister Dabbagh! You're still here?" I replied, "Yes sir! I've come to disrupt your wife's spy network." Hajj Agha said, "What are you saying?" I replied, "Your wife recorded our conversation with this tape recorder." Mr. Damghani said, "There's no microphone in the upstairs room." I said sarcastically, "There is! You don't look under your Aba or cushion!" He was offended and began arguing with me. I did not get any good result of this discussion, so I left the house with discovered spyware.
After this incident, I visited Imam very soon in order to report and present the evidences. Imam Khomeini, after being informed, said, "Do whatever you deem is corret, with the attention to preserving the revolution." Imam was very sensitive toward the representatives and leader of Friday prayers. He wanted everything to be done in such a way that the dignity of Islam and revolution not to be in question.
After a short time, during inspection of Mr. Damghani's house, several weapons were discovered in the basement and under the tank pool of his house. It was reported to Imam and he deposed him of leading the Friday prayers of Hamadan and elected Mr. Reza Fazelian instead.
We learned a great lesson from Imam, and found out that the revolution and Islam were more important than everything, and whoever stands in front of them, should be inevitably removed; even though he is a clergyman and has suffered a great deal of misfortunes for revolution victory.
The hypocrite
Fighting with small groups of counterrevolutionaries had been harder due to hidden support of some of well-known personalities and authorities from them; and if there weren't such supports, these small groups would be decimated much easier.
One of the well-known personalities and leaders of the National Front, who was from the west of the country, had an administrative order from provisional government to watch out the western borders along with his group. Sadeq Qutbzadeh[1] made relationship with counter-revolutionaries and supported them in various forms through the same person and his group.
Qutbzadeh wanted to give weapons and ammunition to this group to increase its combat and defensive power. I was one of those who disagreed with his opinion and this kind of relationship. In several sessions, I discussed with Qutbzadeh about three hours and a half, and believed that giving arms and ammunition to the counter-revolutionaries and to this group, which claim guarding frontiers and watching out the zone, was wrong. I said, 'we should not throw caution to the wind'. If weapons and ammunition are given them, there is a possibility of any kind of danger. And if you insist and want to allow them to guard the frontier or to do any other duty, a number of us, a few hundred people, should be among them just to exercise caution. Qutbzadeh did not agree with us. Finally, our discussion led to controversy. I remembered, but not, precisely, that I spoke with him harshly in a garrison in Sar-e Pol-e Zahab. At the end I said, "You're not in charge here, although you've been commissioned as the representative of provisional government and the Prime Minister, Mr. Bazargan. I don't care about these issues. You don't have any right to comment or decide on military matters. If you have a suggestion, present it in writing, but decision-making should be made in the Central Council of IRGC. Right now our condition is unclear, and we trust nothing. We may confront any danger at any moment."
This conflict offended Mr. Qutbzadeh. He went and I do not know what he told about these meetings and what he reported. I only know that by passing of time my point and the opinion of those who did not believe this strategy will be proved.
Unfortunately, in spite of these meetings and negotiations and conflicts, these figures all together were able to put us in dire straits and made the situation complicated and difficult. In addition, on one hand lack of cohesion and coordination between army and IRGC, whose main cause was a man named Bani Sadr, and on the other hand, the presence of people as representatives of provisional government in the region, made our task harder and more difficult.
With the efforts of Qutbzadeh, more than three thousand hafts of weapons, such as rifle and G3, were given to that group and they found power to achieve their goals. After clashes with counter-revolutionaries, we found weapons and ammunition, which had been provided previously by ourselves for that group.
To be continued…
---
[1]. Sadeq Qutbzadeh Esfahani was born in Tehran in 1936. He studied primary and secondary education in Tehran. After 1953 Iranian coup detat, he joined the National Resistance Movement as a representative of the students, which ended up to his twice arrest and imprisonment. He traveled to America in 1958 to study. Reaching United States, he joined other political students soon. In December 1960, he gave a revealing speech in protest to celebration of Ardeshir Zahedi and Shahnaz Pahlavi at Statler Hotel. He was deported from the United States in 1962 and traveled to various Asian and African countries. After events of June 1963, he went to the Arab Middle East and made initial preparations for an armed struggle. He returned to America in 1967, and was expelled after a few months and wen to Canada. In 1969, he went to Europe and the Middle East and worked in PLO and the Islamic Student Association of Europe, and he organized the Iranian Freedom Movement abroad along with his friends. Qutbzadeh visited Imam Khomeini in Najaf several times in year. He eventually joined Imam Khomeini in Paris and entered Iran along with him on February 1st 1979. After the victory of the Islamic Revolution, he was assigned as director-general of IRIB in the provisional government; and later he was in charge of Ministry of Foreign Affairs. After the collapse of the provisional government and his inclination towards Bani-Sadr, Qutbzadeh changed his policy, and his views about revolution and leadership became hostile. After Bani-Sadr's escape, he provided preparation of a coup against the system, but it was discovered and he was arrested and executed on Thursday, September 14th 1982.
Number of Visits: 471