Memoirs of Marzieh Hadidchi (Dabbagh) (Part 44)
2018-06-12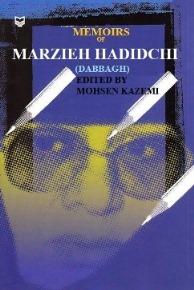 Memoirs of Marzieh Hadidchi (Dabbagh) (Part 44)
Edited by: Mohsen Kazemi
Tehran, Sooreh Mehr Publications Company
‎2002 (Persian Version)‎
Translated by: Zahra Hosseinian
---
Footprint of Boots
At the first night when I deployed four guards to cooperate with non-commissioned officers and gendarmes at Hamadan-Tehran checkpoint, an interesting incident happened.
That night I was having dinner when the brothers in the police post called me by radio telephone and said they obtained a haft of automatic pistol plus some opium when inspecting a car driven by a young man. I told them to arrest the young man and keep the car and what they've found until I arrived. Reaching there and seeing the young man, I thought he was a military person, therefore, I ordered to transfer him to the IRGC detention center for interrogation and identification. I wrapped the cartridge and pistol in a cloth and handed it to one of the guards and asked him to keep it in the police post until morning when the minutes of meeting was prepared for it, and then I left there.
At 4:00 am I was in a patrol car on the city when I was called by radio again. It was reported that I should go back to the police post because something had happened. I quickly returned. When I arrived at the police post, I saw that brother who had been given the weapon last night was crying. I asked him, 'what has happened? Why are you crying?' He said the weapon has lost. Well, there was no place for talking and reproaching; how on the earth it was possible something was lost in the police post. The guard said that he has slept at the end of his watch and when he had woke up, he saw that the lock of his closet was broken and the weapon had disappeared. I told him, 'don't cry. No matter, don't worry, we'll find it. Play reveille and gather all here.' He said, 'they've all slept.' I said, 'they've made a mistake, wake up everyone, call on every guards and gendarmes and bring them here.' I ordered very firmly, without any doubt, and abruptly.
When all gathered, I said: "all of you have opportunity until 7:00 am to find the pistol and cartridge, otherwise, no one can get out of here. If this weapon isn't found, I will send all with one car to Tehran, before Mr. Qodousi[1] (The Attorney-General of Iran).' I knew that they were all afraid of Mr. Qodousi. And then I said, 'Now you can go and sleep.'
It was still dark. I came outside and with the help of a flashlight, I searched around the building which was a dirt ground. I found a new footprint of a pair of boots. I went back to the building and again woke up everybody and asked them to pull off their boots. I took all the boots and tried one by one over that footprint. One of them fitted perfectly and I figured out to whom this footprint belonged. I searched more around. There was a plowed land where I saw that a section of the land was different from the rest of it and it was like it had been turned up. I dug up and I found the cloth containing the pistol and cartridge. I went silently and I took out the piece of muddy soil on which there was footprint of the boots and put it in another cloth. In the morning, I phoned the representative of the ruling jurisprudent, the representative of gendarmerie, and the representative of the police department, and I asked all of them to come there. They asked me to go to the city, but I did not accept and somehow I informed them about the matter. When they came and heard the report and encountered with documentary evidence - a cloth contained the pistol and cartridge, and another cloth contained the piece of soil on which there was footprint of boots – they ordered the offender to be introduced. I called the guilty person to come and to pull off his boots. All were amazed. I took the boots and placed them over the footprint. It was the end of the story. The minutes of the meeting was written and the offender was arrested and sent to the military prosecutor office in Tehran.
The news of this incident dispersed in the informal and formal circles of Hamadan, which had a good reflection and some, who had no purity in their works and relationships, knew which ends was up.
To be continued…
---
[1]. Hojatoleslam Ali Qodousi was born in 1927 in Nahavand. In 1942, after completing the third grade of high school, he decided to go to Qom to study Islamic sciences. In seminary, he has enjoyed the presence of mullahs such as grand ayatollah Boroujerdi, Imam Khomeini, Allame Tabatabai and he married Alameh Tabatabai's daughter. He created "secret population" along with some of his friends for their campaigning. The "secret population" was identified by SAVAK in 1965, and all its members, including Martyr Qodousi, were arrested and imprisoned, and released after a while. After his release, Qodousi accepted to be the principal of Haqqani School and since then this school became one of top schools. During his principal period, he was able to establish 'Tohid School' for women to learn special seminary courses. After the victory of revolution, martyr Qodousi became the general prosecutor of Iran by order of Imam Khomeini. And eventually in August 1981, after two years of continuous work and attempt, he was martyred by the hypocrites due to a bomb explosion at the general prosecutor's office.
Number of Visits: 372