"Compilation in Oral History" Narrated by 15 Articles
Mohammadali Fatemi
Translated by: Fazel Shirzad
2018-05-29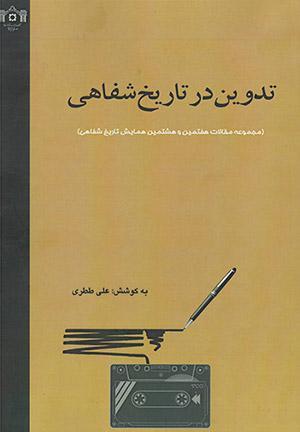 In late 1396, Library, Museum and Documentation Center of Islamic Consultative Assembly published book "Compilation in Oral History: the series of articles of the seventh and eighth oral history conference." This 272-page book has been compiled by Ali Tatari.
In book's identification, it was mentioned that seventh oral history conference was held in the Library, Museum and Documentation Center of the Islamic Consultative Assembly on February 31, 2011 and the eighth conference was held in Isfahan Ordibehesht 23, 2013. So, the papers of seventh conference and then the papers of eighth conference were presented respectively.
Therefore, these articles can be seen and read as follows:" Boundary Between Memories and Oral History in the Compilation of War Books by Looking at the Book "DA" and its Content Criticism (Gholamreza Azari Kakestar), Introduction, Analysis and Review of Ezatshahi's Memory Book (Mehdi Abolhasani Taraqi), A Survey on Oral History and Priority of Speech on Writing (Faezeh Tavakoli), Training in the Findings of Oral History (Hossein Rouhani Sadr), Criticism of Book" Ambassadors of Seven Thousands of Days": Memoirs of Seyed Taghi Mousavi Darchei (Seyed Mahmoud Sadat Bidgoli), Methods for Preserving the Oral Sense of the Text and Examining the Truth of Narrations in Oral History (Aliasghar Saeedi), How and Where Does Text Editing in Oral History Come From? (Hamid Qazvini), Sha'ban Ja'fari; from Lampenism to Narration (Saeedeh Muharrami), Do and Does in Compilation of Oral History (Abu Al Fateh Momen), Editorial Range in Oral History (Habibollah Mehrjou), Analysis in Oral History: A New Approach in Qualitative Research (Morteza Nouraei, Mohammad Reza Firoozkoohi), Speech-to-Text Conversion in Oral History: Approaches and Methods (Seyed Mitra Hashemi), Oral History in Schools: Necessity and Strategies (Mehdi Abolhassani), Application of Phenomenological Method in the Teaching of Oral History (Faezeh Tavakoli) and Oral History and Applied Academic Education (Morteza Nouraee and Mehdi Abolhasani).
This list shows that the book "Compilation in Oral History: the series of articles of seventh and eighth oral history conferences". There are 15 articles in which four of their titles directly reviewed books containing oral memories.
Number of Visits: 485