Three books included memories:
"The Seeds of Pomegranate", "You Are Iranian; Are not You?", "Thirteen in Seven"
Mohammadali Fatemi
Translated by: Fazel Shirzad
2018-05-01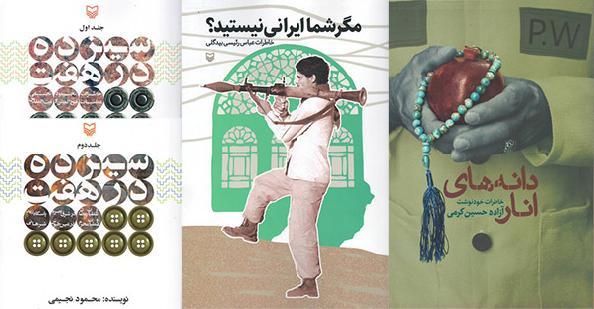 Note: By reading this book, you will be familiar with books "The seeds of pomegranate", "You are Iranian, Aren't you?" and "Thirteen in seven". These books include memories about Saddam's army imposed war against Islamic Republic of Iran.
The seeds of pomegranate
The book "The Seeds of Pomegranate" involves autobiography of Hussein Karami. This book, with 414 pages, is prepared by Art Center's Office of Culture and Studies of Resistance in Lorestan, and published by Sureh Mehr publication in 1396 ( 2017).
The eleven chapters, from twelve chapters, includes one year of narrator's memories: from years 1359(1977), 1360(1981)…to 1369(1990). Chapter 12 is last chapter and there is a photograph album. Of course, at the end of each chapter, there is a photograph album related to memoirs are in the chapters, but the numbers of photos are less than ones in last chapter's album.
Hussein Karami, in his area (Lorestan) encountered with evacuees, and after that, he became militant. He received training and went war in north of country. Until the end of year 1361(1982), he was captured by the Saddam Hussein's army. He attended in the important events of sacred defense such as operation Ramadan, and the memories of this attendance are mentioned till page 160 of the book. The characteristic of this part of memories is that the narrator has tried to tell about situations, circumstances, and observations which had a special status for him. Therefore, the reader, by studying this section of the memoirs, approaches the real character of narrator, and s/he momentarily believes further the position of narrator in various situations.
The memory of captivity begins from page 161. In a scene of defence of homeland, he was wounded by the invasion of Saddam's army and captured by the enemy forces. The memories of his captivity are also in the process of believing, because the narrator tried to tell reader both about external changes and his inner state. This effort, on the other hand, causes some incidents of captivity to be written that has been rarely paid attention on them; the photos brought in the book also help this process. Naturally, there are also memories in the narration of the sacred defense's freedman as the words of freedmen of captivity because they experienced a common climate. But, it is clear that the narrator of book "the seeds pomegranate" make an attempt to narrate a new one. This view also comes from the details of those days, and even from the attention to the text of the letters and photos exchanged between the narrator and his family in those days.
You Are Iranians; Aren't You?
"You Are Iranians; Aren't You?" is book's title of Abbas Raisi Bidgoli. This is a book with 481 pages. Prepared by the Art Center's Office of Culture and Studies of Resistance, it was published, as the first edition, by Sureh Mehr publication in 1396( 2017).
In the reference of book, the autographies of the one of sacred defense's warriors have been introduced. The book's list partly shows readers what areas and operations narrator has written about. Dazli Highlands, Chazbah, Zayed Police Station, Kanimanga, Talaieh, Khandagh Road, Abu Mukhtar Pond, Operation Valfajr 8, Shalamcheh , Operation Karbala 5, Halabcheh and etc.
Based on a series of books that have been published in recent years about the memories of sacred defense's warriors, this book also begins with the childhood of the narrator. The geography of origin of his family are somehow introduced in this part of book. With general memories about the beginning of Islamic Revolution's victory and the first years after this victory, the narrator informs reader, on page 43 of the book and below the title "First deployment into frontage of war", that he entered front and war on June 13, in 1360(1981). When he is sent for military training, within a year after this time, many events were taken place for the narrator; He is deployed to western frontiers of country (Iran), and went to the southern frontiers of the country and experienced injuries in war.
Operations Muharram, Valfajr 1, Valfajr 2, Valfajr 4 are battles in which the narrator continues to focus on them, texts and their margins, their special training programs and military unit (division Imam Hossein) and the commanders (Hossein Kharrazi and Ahmad Kazemi) seen in the scenes. He has tried to give details of the atmosphere of battles and events witnessed them. These details, as it was possible to be mentioned in narration and text, are somehow as combatants' praxeology in battle scenes.
Abbas Raissi Bidgoli also has memories of Khyber and Badr operations; he went to western fronts of country and returns to the southern fronts and takes part in operation Valfajr 8. His memoirs from operation Valfajr 8 area are more detailed than other operations. Operations Karbala 3, Lebanese mission and operations Karbala 5 are some of the other issues of the narrator's memoirs, and the events of his attendance on sacred defense fronts until the last days of Iraq's imposed war against Iran, and sometime later, were retold. The book "You Are Iranians, Aren't You?" ends with an album of pictures of letters and writings and a narrator's photo of sacred defense.
Thirteen in Seven
The two-volume book "Thirteen in Seven" by Mahmoud Najimi was published by Sura Mehr Publications in 1396. This volumes were prepared at the Office of Culture and Studies of Resistance in Provincial centers of Art Center and Isfahan Branch, and was sent to the publisher for publication.
The first volume of book "Thirteen in Seven" is devoted to memoirs of Mahmoud Najimi about operations Fath ol-Mobin and Beit ol-Moghaddas. This book is compiled in five chapters: "Childhood", "Being sent to the Front of Susa Daniel", "Starting Operations Fath ol-Mobin ","Armored Training and Preparations for Operation Beit ol-Moghaddas", and "Being Engaged in Operations Beit ol-Moghaddas", with the addition of "Images of Operation Beit ol-Moghaddas", "Images of the Operation Fath ol-Mobin" and "Images of Kalk's Documents" and with 425 pages.
The feature of this book is that warriors mentioned in text anyway, whether they were martyred or alive, are introduced and some information are presented about them. in this book, Thus, a database of warriors who most of them was sent to the war from Isfahan Province or division Imam Hussein (AS) is provided.
The second volume of book "Thirteen in Seven", is devoted to Mahmoud Nejimi's memoirs of operations Ramadan and Muharram. At the end of this volume of book, he wrote: "the memories will be continued in Volume 3..." This phrase shows that his collection of memoirs has different volumes. The second volume is compiled in 352 pages and following list: Amiss Waiting, Loneliness, Re-sent to the Frontage of War, The Starting of a Operation in Iraqi Territory, The end of Operation Ramadan, Being Sent to a War Area for Operations, Operation Ramadan, The Photos of Operation Muharram. The feature of first volume (i.e. the introduction of warriors and commanders presented in the scenes of the narrator's memoirs) is also considered in the form of appendix in the volume.
In the first and second volume of book "Thirteen in Seven", reader comes along with memories of a teenage warrior who grew up in sacred defense's scenes and gained experiences, as he, in a his young age, entered into the construction of a bulwark and ditch:" I did not pay attention to the explosions taken place around me. Sometimes enemy's bullets were blown up so close that smoke and dust of explosion spread over my head and face. Even, loader was being injured by quivers, but I did not stop working ..."
Number of Visits: 708