Familiarity with three books
"The Custom of Jihad", " One another Person" and "From Mashhad to Johannesburg"
Mohammadreza Fatemi
Translated by Fazel Shirzad
2018-04-11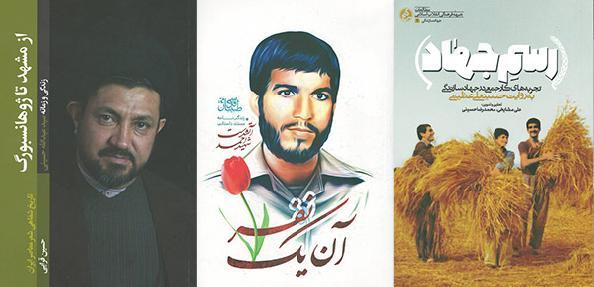 The books "The Custom of Jihad[1]", "One another Person" and "From Mashhad to Johannesburg" have been recently issued at bookstores. These books are in two common features; first, these are resulted from a number of interviews. That is why, they include memory and oral history. Second, each one is related to set of works, and the works are in the right way of recording memory and oral history.
The experiences of Jihad of Construction
The book "The Custom of Jihad: Collective Experiences in the Jihad of Construction Narrated by Hossein Ali Azimi" was researched and compiled by Ali Mashayekhi, Mohammad Reza Hosseini and Mohsen Jafari, and it is prepared by Oral History Unit of the Office of Studies of Islamic Revolutionary cultural Front, and published by Rah(Road) Magazine. This book is also classified in the Office of Studies of Islamic Revolutionary Cultural Front, as the first book about Jihad of Construction and in the group of Studies of Islamic Revolutionary Cultural Front.
"The Custom of Jihad", published in winter 1396(2018), has 198 pages and eleven sections titled: Establishment of Jihad System, Jihad in the Provinces, the Regional Structure of Jihad of Construction, the Relationship of Jihad with other Organizations, Trust, Consultative Structure of Jihad, Relationship with People, Cultural Committee, Being Nationalized Jihad, the Jihad of Construction in war, and appendix contained Statutes of Jihad of Construction and photos. The narrator of book "the Custom of Jihad", is one of experienced staff of Jihad of Construction; he narrated the process of the activities of this organization both as an adventure and analysis. Thus, the ext of this book is different from usual ones in the field of oral history. These books include detailed observations with certain adventures, but the narrative of this book uses of a general perspective, and story's adventures are also narrated in general. This method is one can be evaluated and criticized in oral history of organizations and institutions.
The result of 37 hours of interview
Another book, published in winter of 1396(2018), is the 20th book of a collection named "Holy Physicians"; " One another Person: is a narrative documentary about the life of martyr Ahmad Atash Dast" researched and written by Marzieh Nazarlo. This book, with 227 pages, has been published in collaboration with publications Sepid Jamegan Asmani (Holy White-cloth persons), the Basij[2] Medical Society and Basij Medical Society of Sistan and Baluchistan province.
In the preface of ten-chapter book "One another Person" stated that "the book is written on 37 hours interview with the family and friends of martyr Ahmad Atash Dast in cities Tehran, Mashhad, Isfahan, Iranshahr, Zahedan, Birjand and Nehbandan" He presented the interview information in a documentary text that is related to Ahmad Atash Dast's story. This text includes the years of life of this martyr (1960-1982), and has been able to show his militant and cultural figure and its influence on the geography of his birthplace (Sistan and Baluchestan province) and his accompaniment to the Islamic Revolution and the sacred defense.
As Ahmad Atash Dast are described in these memoirs, how he became familiar with Ayatollah Seyed Ali Khamenei, and his interest in Ayatollah is also expressed. The familiarity with Ayatollah Seyed Ali Khamenei was concerned with years when Ayatollah Khamenei was exiled by Pahlavi government to Iranshahr. This familiarity was in so large extent that Ayatollah wrote after the martyrdom of Ahmad Atash Dast: "In Iranshahr, among all the teenagers and comrades, there was only one person, who was in mood and courage for fighting; he was Ahmad. He was my only hope in there. He tried to gather the comrades and increased activities in mosque with their enthusiastic presence. He used to take book from me and distribute among the comrades, make speech. His gentle father went to Birjand after the flood, but he wanted to stay in Iranshahr and use me. He was the only representative of his generation had really interest in fighting against Pahlavi's regime. Later, he never stopped the connection with me, I heard he became young and student of university, I thanked God that he was a godly man still. I was worried that I lost him as only product of the city; I thanked God he has never been lost…few months ago, I performed his espousal sermon, but now I heard the news of his martyrdom. May God have mercy on the heart of his father and mother and father of all the martyrs, and mingle him with great martyrs of Islam! May I be sacrificed for all martyrs and I wish I had the dignity of their rank."
With memories and journeys of poet
A collection named "The Oral History of Contemporary Poetry in Iran", the book "from Mashhad to Johannesburg: The Life and Time of Seyed Abdullah Hosseini" was published in the publication martyr Kazemi in Qom, winter 1396 (2018). This book, with 301 pages, has been compiled by Hossein Gharai, written in four seasons. In the introduction, he wrote: "The result of thirty sessions and about thirty interviews with Seyed Abdullah Hosseini is this book as you see."
The first chapter of the book is the longest chapter titled "Time and Life" and Gharai, the writer, brought life and time of the book's narrator into the text in the form of questions and answers. The second chapter includes the sample of narrator's poetry, and the third chapter includes some writings about him, written by: of Zakaria Akhlaghi, Hamid Reza Shakarsari, Hossein Gharai, Mohammad Kazem Kazemi, Reza Esmaeili, Mostafa Mohaddesi Khorasani and Hadi Saeedi Kaysari. At the end of this chapter, two lectures by Ayatollah Seyed Ali Khamenei presented: on the 5th of Farvardin 1366 and 1367 (March 25th in 1987 and 1988) in Mashhad, and at the meeting with Poetry members of Islamic Propagation Department were. The fourth chapter also includes photos related to memoirs and travels of the book's narrator.
The study of book "from Mashhad to Johannesburg", as its name implies, includes narrator's journey. His memories and recollections are not limited to his hometown (Khurasan) and his land, although the emphasis of the text of book is on the narrator's words about contemporary Iranian poetry is clear. Among the memoirs of Seyed Abdullah Hosseini, the story of his turban-wearing ceremony with Imam Khomeini (RA) and the conversation, as he had with him, is a special point in his life story.
---
[1] It is the name of an Iranian organization involved with road building, piped water, electrification, clinics, schools, and canals. It also provides "extension services, seeds, loans," etc. to small farmers.
Number of Visits: 656