Holding the First Session of "A Night with Author"
Bakhtiari Daneshvar as narrated by memories
Maryam Rajabi
Translated by Ruhollah Golmoradi
2018-03-14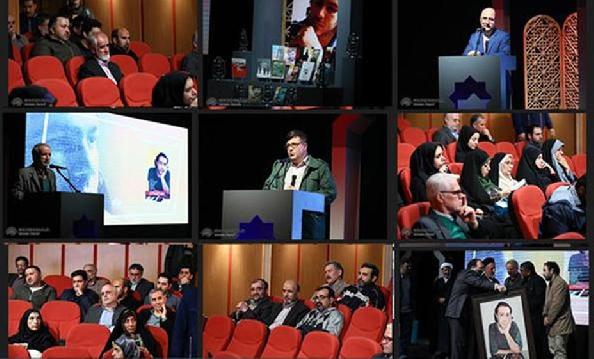 According to Oral History Website of Iran, the first session of "A Night with Author", specific for the late Davood Bakhtiari Daneshvar, was conducted by Center for Studies and Research of Resistance Literature and Culture, in Mehr playhouse hall of Hozeh Honari on March 03, 2018. In this program, Morteza Sarhangi, founder of Office for Literature and Art of Resistance, Davood Amirian, story writer, and Hamed Khajejvand, nephew of the late Bakhtiari Daneshvar, narrated some memories about this writer.
A skilled writer alongside a courageous fighter
The first lecturer of the program was Morteza Sarhangi. He told, "We published a book called "The Third Day of Siege", which was a small pamphlet, and Mohammed Hadi had written it. Mohammad Hadi was commander of a battalion, whose forces were captured in Shalheh Island. This compact book is memories of the commander and his troops that what they were faced and what they did. Part of the book comes a point where the commander should go and bring force. There are three or four injured people lying next to a road that goes to the island. They talk together. Someone tells the commander that Iraqi tanks are coming, you go and do not want to bring troops; I stay with the guys. The commander says he had studied medicine for several years in Germany and he had not been able to continue, he had returned to Iran, and studied agricultural engineering; we also sometimes called him doctor, sometimes engineer. He had said that I would stay with the injured guys that if Iraqis came couldn't kill them.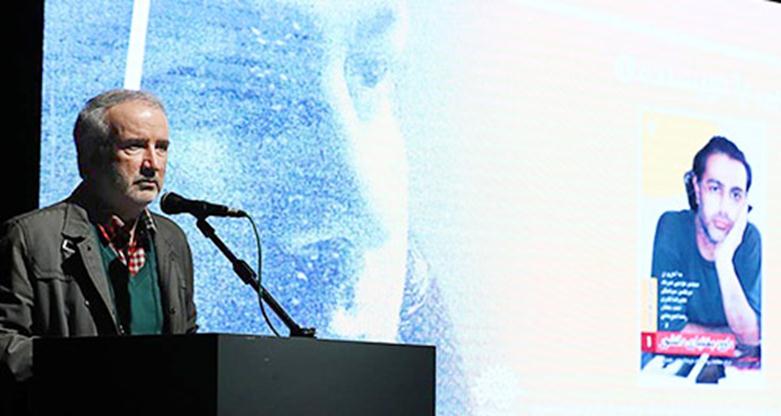 This book (The Third Day of Siege) was published and for many years it preoccupied me that how was the man? While he knew if he stayed, he might die, he did stay still? Is he alive now or not? Years passed, and my relationship with Mr. Mohammad Hadi became stronger and we went with some of friends to their Heia'at (religious group) in Chizar. In that Heia'at, the commander told his guys to write your memories; once Mr. Mohammad Hadi came after years. I asked "what are you doing?" He said: "I am driver of school children. A commander of a battalion that had controlled at least four hundred people! He said: "I got very upset some time ago, because father of one of the children came and gave me a second-hand sweater and thought that I am deserved to help. He said: "I have heard that the prisoners have been released, I have come to see you who have influence in the regime, are you aware of Khaledi's release?" I said: I do not know and he went. Once again, he came and told: I have heard from the guys that engineer Khaledi was released, I want to see him, do you come too? I said: I'm busy and cannot come, say hello me to him.
Several years passed after the story. One day I was in my office that I saw a well-dressed old man with a white sparse beard and an olivaceous raincoat came and said graciously are you X? I said yes. He said: I am also engineer Asadollah Khaledi. It was not at that time in my mind that I knew such a person. He said: I was released recently from captivity. Someone introduced you to me and I came to tell you memories of my captivity. I asked: were you captured in Shalheh Island? He said yes. I asked: were you the same person who stayed with the wounded? He told yes. I asked: had you studied in Germany? His answer was again positive and I became very happy. I said: "You've been for twenty years have preoccupied me, and recording your memories is proud of us."
I thought to myself whom should I place in front of him for interview in order to can show greatness of this man? I thought the guys one-by-one until I reached Davood. I said to myself someone who can do this is Davood Bakhtiari. I called Davood and connected him with the engineer. I also participated in two sessions of interviews. The interview was over and Davood was compiling it. Mr. Engineer Sometimes came to me and said: Mr. Sarhangi! When will my book work to be ended? I explained to him, he went and came again. So that once he came and said: "do you know why I'm coming and going?" I'm afraid to die and don't see my book. Shortly, Davood came one day and informed end of the book. It took a few days that I read it and we made the necessary corrections. I told Davood: It's over, contact Mr. Khaledi for photos and documents at the end of the book. Davood went and came back after five minutes and said: Today is the third after death of engineer Khaledi!
Davood said engineer Khaledi was Deputy Minister of Agriculture in the interim government. This is in the book that he said when I picked up my bag to go to the front with the guys, I saw in the courtyard in the morning that the pool lights had been light since last night, the servants were also asleep, I turned off the lights and looked at the mansion, and I told: Goodbye the small palace. Book of "A Man Who Did not Dream", with memories of Asadollah Khaledi, was published when literature of the war had not been yet raised, but Davood had brought all the details and it was one of the most beautiful and best works that he conducted. The warrior fought and our children have another war with these words and sentences."
An example of perseverance and seriousness
The second speaker of the first program of "A Night with Author" was Davood Amirian, one of the sacred defense writers and a colleague of Davood Bakhtiari. He told, "Davood's laughing and great politeness stuck in my mind. I was a joke relationship with him and said him if I had ten percent of your activity, perseverance and seriousness, I'd had won ten times Nobel Prize so far. When Davood came, he wrote his name with two "و", (in Persian داوود), I told him jokingly: do at least two, three books, then write in two و! Davood was very humble, because I have friends who feel after their first work they reach the summit and see themselves at the peak, but Davood wasn't immodest not despite his good works. Davood was not in Khorramshahr, was not in Bosnia, but studied and did research; for example, in book of "Taste of Life", there is a bitter that, although it may come from his own life, it is more beautifully connected to the adventure of Khorramshahr. Book of "Mersedeh" is a voluminous novel that is result of his research. This novel is one of the few Iranian novels that have been written about Bosnia. He used world content of love in this novel; love in heart of war.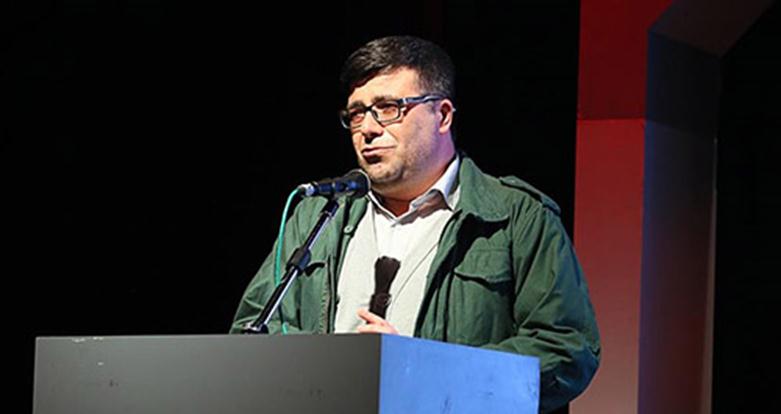 Davood came to ceremony of my father's death and his shoes had been stolen when he wanted to go. I asked him to wait so that I go and take shoes from house, but he did not accept at all. He was very modest, worked without being tired, and always helped others. Hajj Ahmad Dehghan, informed me message and funeral of Davood on March 20 or 21, 2008. First, I thought they joked with me, but when I called, I realized it was true, he had died on March 19."
I recognized him in service of his mother
Captain, pilot, Hamed Khajevand, nephew of the late Davood Bakhtiari Daneshvar, was the third speaker of the program. He told, "Davood was not just an uncle for me and my brother, but he was a very good friend. Davood was very sensitive to us; on our study, living etc... He always advised us. I remember that I had history exam and did not understand subject; he entered the room and asked: What are you doing? I said: I have an exam. He said: should you study in this way? He took the book in his hand and read it loudly so that I learn.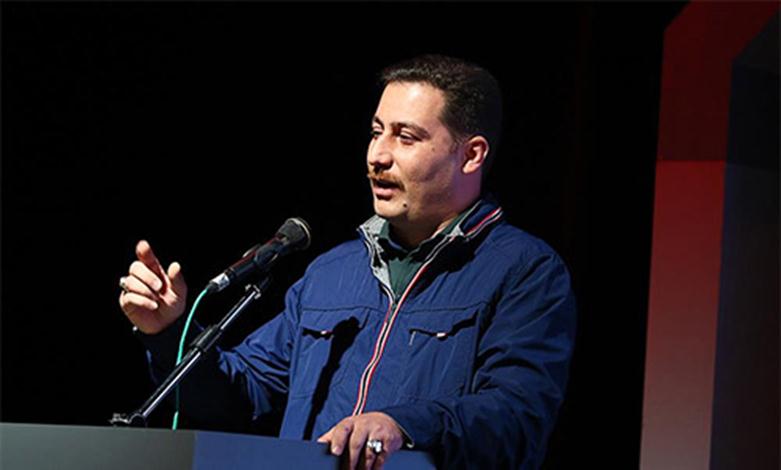 We cannot describe Davood just as a writer, but I recognize Davood in caring my grandmother. I found out that Davood had understood being in service of his parents a valuable thing in life. If Davood had a well ending and was succeeded, I can say with certainty that was because of my grandmother blessings.
Once he had an interview, and since he was sensitive about his wearing, asked me to take him a suit for him. I moved from Tehransar and when I arrived at Rasht Street and office of Resistance Literature and Art, I saw he had worn a dress and was interviewing. He was a simple man, and this led him to leave great works."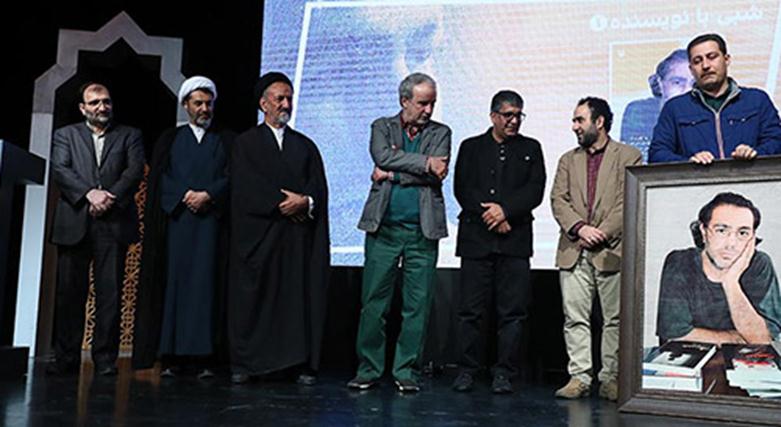 In final part of the first program of "A Night with Author", dedicated to the late Davood Bakhtiari Daneshvar, attended by Hojatoleslam Seyyed Mahmoud Doaei, Director of Institute of Etelaat, Hojatoleslam Saeed Fakhrzadeh, head of oral history unit of Office for Islamic Revolution Literature, Morteza Sarhangi, founder of Office for Literature and Art of Resistance, Mohsen Ghaniyari, vice-chancellor of Center for Studies and Research of Resistance Culture and Literature: Reza Amirkhani and Ahmad Dehghan, some gifts were presented in thanksgiving and appreciation to deceased Davood Bakhtiari Daneshvar's family.
In this program, a cultural package, contains several works of Davood Bakhtiyari Daneshvar, along with special book of the first program of "A Night with Author", includes "a look at life and works of Davood Bakhtiari Daneshvar with memories of good days" (Mohsen Momeni Sharif), "Goodbye the Small Palace" (Morteza Sarhangi), "Going into Privacy of Mob (Alireza Kamari), "The Story of Phone" (Mohammad Hossein Ghadami), "Thirsty for Reading and Writing" (Ahmad Arablo), "It Was Eid..." (Ahmad Dehghan), "the Respective Cultural Oficcer" (Reza Amirkhani), "One Can Go Lonely" (Mohsen Kazemi), "the Lost Shoes of Davood" (Davood Amirian), "An Appreciation of Silence and Loneliness" (Mahmoud Javanbakht), "Loneliness of Davood" (Asghar Kazemi), "Marsh Has in Its Heart Lotus" (Golestan Jafarian), "The Battle of Loneliness" (Mostafa Rahimi), "He Was not Allowed to Live His Second Volume of His Life" (Faranak Jamshidi), "Twin with Pain and Loneliness" (Asghar Fakour), "I Think About Davood These days! (Nosratollah Samadzadeh), "A Tired Man Who Did not Know Fatigue" (Ali Takloo), "A Man Who Went Alone ..." (Mahboubeh Azizi) and "Da'aie (uncle) Davood (Hamed Khajevand), and a compact version of a documentary film about life of Davood Bakhtiari Daneshvar in two parts titled "From White Flight to Eternal House" and "Taste of Life" was provided in Center for Studies and Research of Resistance Culture and Literature and presented to audiences. Parts of this documentary film were played for audiences during the first program of "A Night with Author" specific for the late Davood Bakhtiari Daneshvar.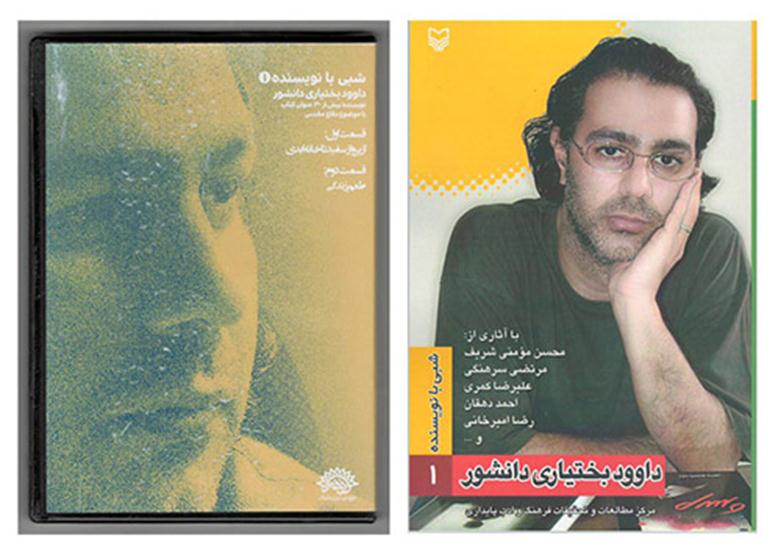 Number of Visits: 759