Two hundred and eighty-ninth program of the night of reminiscence (Part I)
Three Classmates, Three Comrades
Maryam Rajabi
Translated by Fazel Shirzad
2018-03-06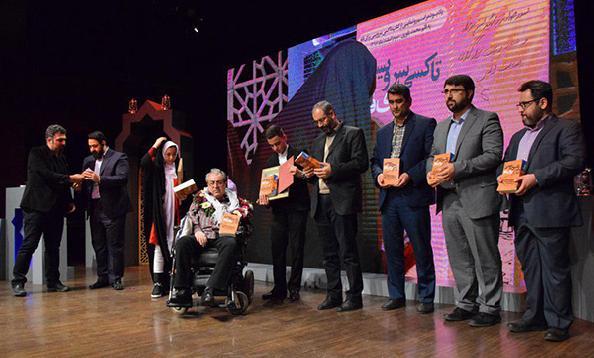 Note: According to Iranian Oral History's website, two hundred and eighty-ninth program of the night of reminiscence of holy defense was held on Thursday, Esfand 3 in 1396 at the Sura Hall of Art Center. During this night, Davood Mulla'i, Ali Fada'i, and Mohammad Boloori told their memories of Iraqi imposed war against Iran.
Golden quiver
Davood Mulla'i was the first narrator of this night. he said: "I want to begin my speech with a memoir about my mother who was a mother of martyr. When my brother was martyred, someone came to our house and said that Hassan (my brother) was injured and hospitalized, you could go and visit him. I was a child at that time and I did not know what the meaning of martyrdom was, I thought to myself that something was just happened and whenever my brother came I would speak with him, that's why I brought the pictures and delivered them. It is as if my parents were going to the hospital, Hassan gets worse and martyred and takes him to the cold storage. At that time, Mr. Reza Mobini was with my father. While they were returning, my dad was impatience, my mother tried to console him and said:" we had five sons; God take one of them from us. There is no problem. As if we pay khums[1], as if we return this loan to his original owner.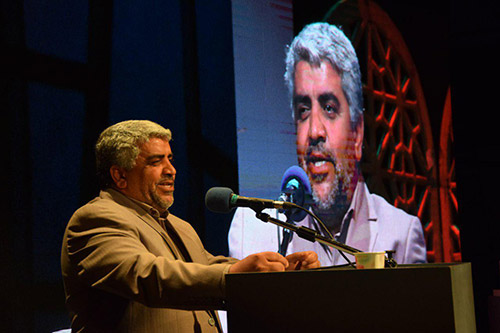 After a while, when I went to the war, my parents came to an agreement to speak with me whether I should rarely go war or shouldn't go there at all in that critical circumstances of the war or not. My father said me that we have satisfied our duty and you've also gone to the frontage of war for several times; therefore, that's enough. During the operations, absolutely there was no any way to communicate with the fighters of frontage of war, and when my parents saw our comrade, who were with us in war, martyred or injured, they were worried. In those days, rumor was common, and they were looking for me among the wounded in hospitals. Eventually, they came to a conclusion that they should enter into negotiations with me. My dad talked with me and tried to persuade me not to go war again. At this moment, my mother said that if all families, who had one or two martyrs and wounded sons, thought that they had satisfied their duty, then who would fight against the enemy? I was worried about what I should say my father, but my mother decided to speak with him; she ended this problem. These mothers were flowers of Fatima Zahra (peace be upon her) who raised, stand against the enemy that world was supporting it. We were in a class with Mr. Boloori and Fada'i. I was a senior in the classroom and when I came to war, they also came. In the next series, we were sent to the frontage of war in a group. When we entered division, we were in same unit, troop and group. First, we went to Kurdistan and then to Salt Lake in operational area Valfajr 8. We did operation somewhere martyrs were left, to bring the martyrs back and also remove the enemy partly.
In that operation, I was given a defense that Mr. Boloori was also wounded there. In that bulwark where we were together, I had a special shotgun equipped by camera. I had been trained for using this gun and comrades had ordinary weapons. Mr. Boloori used my guns at nights. My weapon was able to shoot the enemy's aflame bullets. It was more precise then other weapons and it used a Rasam (tracer) cartridge to be more accurate. Mr. Boloori was working on a line during the day looking for a Rasam cartridge to shoot enemy's aflame bullets.
We were a group had four social bulwarks. In the few days when we were there for defense, as water level was high, the bulwarks usually got wet. We decided get out the blankets to take sun and to be disinfected and dried. Someday, we got out all equipment. We had an anti- quiver for our bulwarks and I was standing behind it. A 120 bullet bullets came toward me swirly- These bullets were able to pierce ground and make explosion. When it came, all of comrades got injured except me. This anti-‌quiver prevented me from being injured. In other bulwarks, belonged to our group, one or two people were injured as well. When we gathered these people and got them back, I became alone. Everyone who came and said something and rubbed salt into my wound. At that time, I was young and we praised our friendship. I wrote a letter to Mr. Boloori in which I explained the situation of the area, and I wrote that smell of the Iraqis' corpses hurted us, when a breeze was blowing, it was very fuggy, and at night, the mosquitoes annoyed us a lot, they attacked us so that we do not know whether to fight against them or Iraqis. At that time we were young and we praised our friendship. At the end of the letter, I mentioned that one person was wounded in every bulwark, and only I was healthy in my bulwark. I sent this letter to Isfahan. Then I wrote a letter to my family and said them that the situation was good and I had no problems, the frontage of war was quiet, and I would come to see you soon. When the comrades went to the city, it was rumored that Davood was injured; the family was very worried. They came and found the comrades and although the comrade wanted to ensure them that Davood was not injured, they did not believe it. When the family of him got my letter, they came in a relief partly. In those days, Mr. Boloori went to our house and showed the letter, saying that it was from Davood; you should not be worried.
I have a sister who wrote to me at the time and wanted to know where I was exactly. What you write to your friends is very different from what you write to us! in the same line of war, I filled the place of a bullet by which the comrades were wounded , with a carton of cartridge, that I wrote the name of comrade on it, and took a memorable picture there. We had a friend named Mr. Mahmud Najimi who came by a motorcycle and asked: "Do you have any news of the comrades?"- We had two bulwarks on our battle line; a bulwarks that was in front of the enemy and another bulwark that was as a anti-quiver. That bullet that injured the comrades were hit at the back of the bulwark- I said to Mr. Najimi that he came, the comrades were here. He came and saw those boxes and names. "Were comrades martyred? Anxiously, he asked. "No, a bullet came and injured all the comrades" I said. A golden quiver was a quiver caused the comrades to come back, whenever they were tired, and take rest and return again. I told Mr. Najimi that the comrades had gone back for a golden quiver and they would return again hopefully. "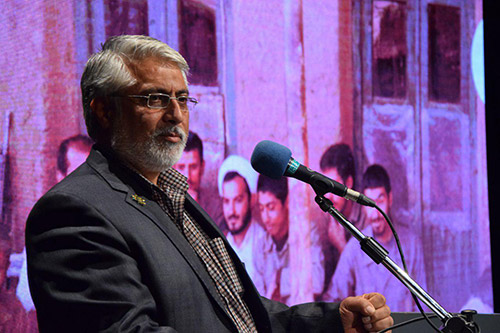 When you became martyr…
Ali Fada'i, the second narrator of Two hundred and eighty-ninth program of the night of reminiscence." He said:" it was about twenty days that we had attended in the frontage of war and we just found our position. At 9 o'clock in the morning, we were playing football. Suddenly, we saw the military station became quiet and empty of people. We looked and found the comrade had standing in front of logistics room. We went and saw that they lined to receive popular gifts. Usually, these gifts delivered to the combatants with the same packages that people have sent. I was the last person in the line and behind Hasan Aslani. I said to Hassan that I was tired, I sat down, whenever it was my turn, he would call me; I sat down and fell asleep. Then, He woke me up. I took my gift. Hassan went and I opened it in which there was a navy blue jersey. Considering its collar, I found that it had already used; I said in my heart that it was as a godsend. I opened it and wanted to wear it, I saw a piece of paper out of it. The paper was as big as palm and painted with colored pencil around it. Concerning script on the line of paper, I found that it was written by second or third-grade student. It was written in that paper: "Hello, warrior brother. Please, when you are martyred, tell my dad to come in my dream, because I miss him a lot. Hamid Reza Abbasi, the son of martyr Karamali Abbasi". This letter affected me so much; my mood got changed. I supposed myself as a martyr; I read this letter for several times during the day. Hassan became curious. "What is it that you are constantly getting out from a packet?" he asked." I might be martyred; I took my passport" I said. "What was going on? He asked. "I've been invited" I replied. Therefore, I showed that letter to Hassan." After seeing that paper, Hassan cried. I asked him why he were crying. I insisted but he just cried. He did not say anything. After few days, Operation Ghaem Al Mohammad (AJ) was started. When we returned from the operation, we saw that the corpse of Hassan was brought. Hasan was martyred. It was Friday night. The comrade was reading komeil[2] Prayer. Hamid Bidram, who was a member of logistic unit of army, spoke about the personality of Hassan and his forgiveness. He Said: "Hassan was merciful." He also looked me and said: "Did you know that gift was from Hassan? You were the last one and did not get to you. When he saw gift, he realized that he was responsible to transfer the message." We used meaningless and ambiguous words to talk with each other. Behrooz Davoodi and I were able to understand each other well by these words. The model of operation was made and we were waiting for Haj Ismail Sadeghi, the Commander of Battalion and Mohammad Reza Toujari came and explain the model. They were busy for coordinating and were late. From the nonsense and joke, with the provocation of Behrooz Davoodi and Mohammad Boloori, we started the‌ explanation about model and getting funny. I playacted as Haj Ismael with his cough. The comrade knew this figure. I began to explain the model with the same meaningless and ambiguous words. The comrades were laughing deeply. Suddenly I felt that they became a bit serious. I noticed that someone entered, I did not looked back and I went ahead to get out of there. Suddenly, someone said: "Go on!" I realized that he was Haj Ismail. "Sorry!" I said. "Go on!" he said again. I continued the play with the same state and words and he laughed. It caused that Haj Ismail laughed and didn't frown at me whenever he saw me."
To be continued…
---
[1] One-fifth of prizes of war that had to be delivered to any one of imams in Islam
[2] Kind of Muslim's(shia) prayer the
Number of Visits: 737