Memoirs of Marzieh Hadidchi (Part 30)
2018-02-13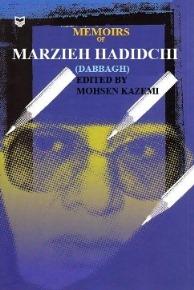 Memoirs of Marzieh Hadidchi (Dabbagh) (Part 30)
Edited by: Mohsen Kazemi
Tehran, Sooreh Mehr Publications Company
‎2002 (Persian Version)‎
Translated by: Zahra Hosseinian
---
During his stay in Syria, in proportion to time, martyr Andarzegou told us about his methods and experiences in combat. As an instance he said, "One day I had an appointment in Pahlavi crossroads (today named Valiasr). I heard that one of our members had been arrested. I was very sure of that man's resistance and silence under tortures. However, I decided to go to the meeting place. But when I got close to the place, I felt the situation was unusual. I got near the turning of a side-street; he was supposed to stand up in front of a stall, but he wasn't there. At one moment I noticed a woman who was walking along with a nagging child, I went ahead and told her, 'Madam, let me hold your baby, maybe I can calm her down. Anyway, she is just a little baby!' And then I gave the baby piggyback and began talking to the mother. A little away from the scene, I put the baby on the ground and fled…."
With such events and memories, Andarzgou wanted to share his experiences with us and teach us to make decision during the crises. His achievements and experiences were very expensive and valuable. Among the contributions was the participation of his family in accompanying him in such a dangerous path.
The information that was given to us during our mission was limited and only needed one, because there was the possibility of being arrested and betrayed at all times. Therefore, all aspects were not clear for us. Sometimes, the instructions and plans were presented orally, and we had to memorize them and rely on our mind and memory. We were told only a few apparent attributes of the associations, and we should only think about the goal in the missions and we should not ask about the reasons.
On one of the missions, I was supposed to go along with one of the men of the members to Iran - Iraq border. We should deliver a suitcase (we did not know what its contents were) to a person, whom we only knew his apparent characteristics, in a place between Ahvaz and Abadan. We were told, "You will see a person with a navy blue bag or a blue suitcase in that place. Once you exchange the password, you should hand in the suitcase without any question. And without any additional work, you should change the route and return." We did not even have allowance to enter the country or even contact with our family. Travel and mission were a completely secret and confidential.
The mission was done well to the stage of delivering the suitcase to the said person, but we got into trouble when we were returning. In the middle of the path, the boatman that was supposed to take us to the border through canebrakes said that the situation is unusual and suspicious. He asked us to get off the boat and wait in a swamp. He said that he would come back at night and he would take us in the darkness.
In such an unpredictable situation, we had to trust the boatman. We had a tough situation that day. We could not stand in one point, because there were a lot of crabs in the swamp and if we stopped, they would move on our body.
Fatigue and hunger also made the situation harder. We prayed that the boatman would not let us down and as he promised returned and took us at night.
After a long wait, he finally appeared and saved us from that swamp and took us toward the border.
To be continued…
Number of Visits: 554